28 Best Money-Making Apps That Pay Cash for 2020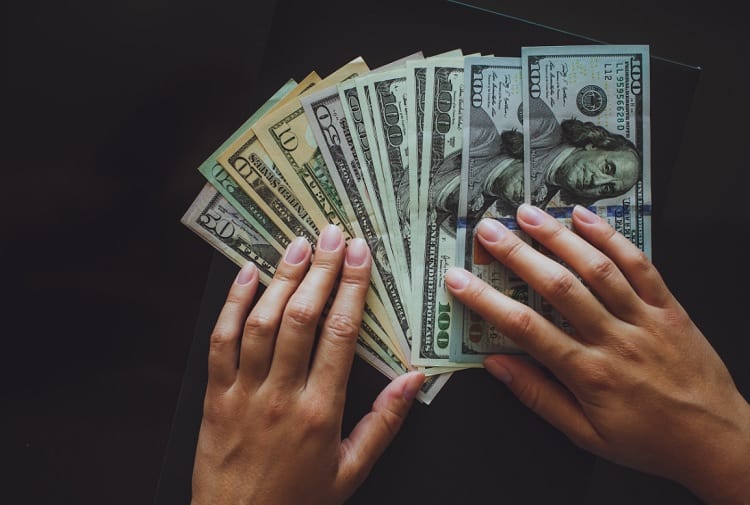 Everyone wants to make a little bit more money. Particularly when things are so unstable and you don't know what the rest of the year is going to throw at you. It just makes sense to be more prepared.
And one of the easiest ways to make some side cash is to utilize that phone you carry around so much. It's called a smartphone for a reason.
So make sure your phone earns its keep by checking out some of the best money-making apps of this year.
Apps That Pay You to Take Surveys & Play Games
You've heard of getting paid for your opinion but there are lot of shady survey sites that don't pay out. These are our favorites for being legitimate and all are free to join!
Swagbucks has been around for 12 years and have 10+ million members earning free gift cards just by doing surveys, reading articles, playing fun games, and more. Members can earn an average $50 a month! New members get $5 free.
Survey Junkie constantly has new surveys so you're less likely to be bored waiting around to be eligible. They pay cash to members who participate in surveys about their shopping habits, cell phone usage, and more.
Inbox Dollars members can binge on food, entertainment, health & tech news videos for money in addition to surveys. It's possible to earn up to $200 a month!
The following are some of our favorite games that pay out. They're fun, easy to pick up and some can be profitable!
Lucktastic is perfect for those that love to scratch off lotto tickets since you can play free digital ones whenever you want! Get a chance of up to $1M in cash prizes everyday along with many gift cards. To keep it free, they just have ads that play between games. 
Long Game makes banking and saving fun by serving up some games that reward you for responsible saving and spending. When you set up a savings account, you access games where you can win daily cash prizes up to $1M dollars. You'll never lose money and you'll get a full banking experience complete with Visa debit card.
Solitaire Cube is like regular Solitaire on speed and members have won up to $300K. This free-to-download game can net some serious rewards and each game only takes a few minutes to play making it easy to get in/out. Cash tournaments aren't available in some states but you can still play for other rewards!
Blackout Blitz is a free-to-download fast-paced and competitive bingo game where you can play anyone, anywhere on your phone. Cash game winners can win up to $1,000 or more in mini-tournaments! Cash tournaments aren't available in some states but you can still play for other rewards!
Bubble Cash is just as fun as it sounds. Free-to-download, pop bubbles and make some cash. Play practice games, and when you're ready, switch over to cash games to earn faster! Cash game winners can win thousands of dollars (no joke). Cash games aren't available in some states but you can still win other rewards.
Awesome Cash Back Apps That Pay
We don't do any shopping around here without opening some sort of cash back app. And it's just being smart. Why pay full price on something when you can get free money back on almost everything we buy? Here are our favs that's all free to join and use.
Ibotta pays you real money on your everyday purchases, from groceries, essentials, personal care items, to meal delivery to online shopping. Just open the free app, choose offer(s), and then scan the receipt or e-receipt! New members get $20 in Welcome Bonuses too.
Fetch Rewards lets you scan in any receipt from a store that sells groceries (even if you didn't buy any groceries) to get points for cash. Shop at any grocery store, convenience store, club store, neighborhood store, or big box store, take a picture with the free app, and that's it. Grab a $2 bonus when you use promo code REWARD 
Drop is a free app that rewards you for everyday activities. Earning points translate to free gift cards so the more you collect through shopping, surveys, and games in the app, the more gift cards you can redeem! Use promo code SMARTWALLET to unlock 10,000 points ($10!!) automatically when you earn your first 1,000 points.
Rakuten (formerly Ebates) is one of the best cash back tools you can have for online shopping. You can also earn $25 for every friend you refer!
Honey is a free Chrome extension that automatically finds you discount codes when you shop online.
Paribus makes sure you get a price drop refund if the item you bought goes down in price.
Apps That Pay Just by Using Your Phone
My hand doesn't feel complete without the weight of the phone in it. Since we're all pretty glued to them, here are some apps that just pay you to use them!
National Consumer Panel (NCP) program lets you score free gift cards when you scan barcodes of stuff you already purchased like groceries, household items, etc. By scanning, we've seen members get about $100+ a year. Plus tablets, cool tech, and much more from their gift catalog. All panelists are also automatically entered into weekly, monthly, quarterly, and annual drawings to win extra points and gift cards – even a quarterly sweepstakes to win $5,000!
Panel App is a free loyalty incentive app that gives you points for cash just by leaving the app running in the background. This is passive earnings at it's best. Because it gives you points on location, go ahead and enable location services. It's a great app that rewards you for doing almost nothing since there are no ads at all!
HoneyGain is another set it and forget it app but only good for those with unlimited data since it pays you by your unused net traffic with data scientists. For instance if you share 10 gb/day you can get up to $30/month. The more you share, the more you can earn up to $300/month!
Investment Apps that Make it Easy to Start
Your money won't do much if you're always on the defense. So get offensive with it and start investing! It doesn't have to be complicated and these following apps make it really easy to start even if you're not rich.
Stash, the investment app, only takes $1* to start and you'll also get a $5 bonus* after funding your first investment. Investing is for the long-term and you can choose where to put your money in based on your personal beliefs, interests, and goals. And when you use the Stash debit card, you can earn stock at over 11 million places!
Acorns is a popular choice amongst millennials and anyone new to investing since they make it so easy. For every purchase you make, Acorns automatically rounds it up to the nearest dollar and then saves & invests the difference into your Acorns account!
Apps That Pay You to Exercise
Motivational fitness is a thing. It's like telling yourself you'll reward your stomach with a donut after 20 more reps but with actual money instead.
HealthyWage lets you decide on a weight goal & amount of time to achieve it. You'll then bet against yourself and if you achieve that goal, you could win up to $10,000! Time to work on that summer, fall, and winter bod.
Achievement keeps you accountable by logging in your health actions like steps, food, and water intake. Start connecting fitness apps and earning money!
Side Gig Apps That Pay
For more substantial side money, consider these side gigs that take a little more work than just downloading an app. Who knows, it could grow into a full-time gig!
RVShare hosts can earn up to $40,000 a year or more just by renting out their dorman RVs! Since people are looking for safer ways to get out of the house after being cooped up, an RV can stay socially distant while still feeling like a getaway. Since it's free to list, just add your make and model to see how much you can earn!
Shipt grocery shoppers can earn up to $22/hr and more. Plus 100% of all tips are yours to keep! It's a legit and fun side gig grocery shopping for others that lets you work whenever you want and get paid weekly.
EF Online (Education First) is a teaching platform where you can work from home earning $20/hour to start teaching English to international kids ages 5-13 online. There are some requirements though so be sure to review! If eligible, this can be a very rewarding and long-lasting gig.
Food delivery apps have become more used during the pandemic, so earn some money delivering what people want! Become an Uber Eats driver, DoorDasher, Postmates fleet, or all 3!
Fiverr is known for their freelancers like graphic design, web developers, and other technical talents but if you don't feel like you have enough of a skillset, think again. You can help write comments on a blog for $5. Do voice overs for videos. Even offer to play games with people! (It's real).