Sponsored Content Disclosure
The 12 Habits of Savvy, Financially Stable People

Disclosure: We're letting you know that this post contains sponsored links which The Smart Wallet receives compensation for, which may impact their order of appearance because talking about money should always be an honest discussion.
We all have habits deeply ingrained into our brains. Some of those habits, like holding the door for others or tipping the pizza guy, are great instincts. Others, like ordering Chinese takeout when you know there's only $30 left in your bank account? Yea, maybe not so great.
If you want to stop living paycheck-to-paycheck and finally embrace a financially stable lifestyle, you need to change some of your habits. Luckily, you have plenty of role models to give you inspiration.
These habits of savvy, financially stable people demonstrate exactly how to improve your financial wellness.
Use these tips to stop wondering how you're going to afford the electricity bill and instead start wondering where to invest your growing savings.
Habit 1: Always Sticking to a Budget
Savvy folks don't tend to go astray on their budget because they know how much they have.
Truebill (iOS or Android) easily helps you budget, even if you don't know how to. Their simple to follow budgeting pulls your historical spending, organizes it, and allows you to clearly see your spending so you can set a target budget with context. (Aka you can see where you're wasting money on).
Truebill's five-star reviews come from people formerly bad at budgeting. Dawn H. said "LIFE CHANGING!!!! I was never able to save money or budget myself but with Truebill all the work is done for you! I am very grateful."
Truebill (iOS or Android) will also alert you if you're getting a little too spend-happy in your budgeted categories so you know when to curb it. Another user, Clee M. said "This app is 100% true in what it advertises. I am normally skeptical about connecting my bank info to apps. This app is completely safe and easy to use!"
It's simple but actionable budgeting that anyone can follow and it's free to use! Join the many users today and control your spending with Truebill!

Habit 2: Regularly Keeping an Eye on Credit Scores
It's smart to keep an eye on your credit score to make sure it doesn't fall too much due to forgotten and unpaid bills. Did you know that a low credit score could affect your ability to actually rent an apartment, get a car and even get a cellphone plan? Yea, let's try to prevent that from happening.
Credit Sesame is a free credit monitoring service that helps you improve and maintain your score.
You'll get an easy-to-read view of your total debt plus everything that is contributing to your current score like credit usage, credit age, inquiries, and payment history. It also comes with personal recommendations to help increase your score.
Credit Sesame alerted me immediately when my score decreased because of a credit card and I was able to fix it right away. It's free to use so this is definitely a must-have in everyone's life.
And Using Free Methods to Boost Scores
In conjunction with keeping an eye on credit scores, use this method to boost it up!
A new feature called Experian Boost™ can help instantly improve your credit scores for free.
Experian does this by adding your positive payment history from utility and telecom bills to your Experian credit file. This is huge, because previously, your gas, water, electricity, TV, internet, and phone bills that you already pay for didn't affect your credit. Now it does and to your benefit of potentially increasing your credit scores!
It's simple to start, and all you need is a free Experian Boost membership and a few minutes to connect read-only permission to the online bank accounts you use to pay bills. Experian will check only utility and telecom payments and get you credit for the payments you've already been paying.
This process doesn't hurt your credit at all and you can choose to remove the boost if you want.
Compared to expensive and drawn out credit repair services, this new alternative is the fastest and no-cost way to instantly improve your credit scores.
*Results may vary, see website for details.
Habit 3: Never Overpaying on Auto Insurance 
You're sharing the same roads with a lot of different people. Distracted people, oblivious people, road-rage people, etc. It's best to cover yourself with insurance when everyone is operating a giant motor vehicle.
That's why car insurance exists and is mandatory. You might be overpaying on your current insurance premium since it can be a hassle finding another provider.
However, you can search for quotes easily on EverQuote. They help match you among dozens of regional agencies and insurance carriers to filter the best matches to save on your car insurance.
It takes about 4 minutes to fill out the form and you'll see a list of matches that show potential online quotes, email, and potential phone quotes.
EverQuote can save drivers $610 a year on average* compared to their current insurance premiums. Once you see your list of potential matches, choose the online ones you want or wait for more information via email or phone.
It's a pretty simple process, so try it out to see how much you could be saving on the road!

Habit 4: Automating Savings for Maximum Effect
People who are comfortable with their savings know that the key to saving is automation.
You won't even notice it but Digit will make it happen.
Just link a checking account and their smart algorithm will determine small but safe amounts to withdraw into your separate FDIC-Insured Digit savings account.
Regular savers will get a 1% bonus every three months, netting you some free money!
It's the perfect set-it-and-forget-it app where the AI will watch your savings back.
You can withdraw your money at any time you need and it's free to use for the first 30 days. After, it's just $5 a month.
Average savings in a month (varies): $144 or more
What it could add up to in a year: $1,728 or more
Quarterly bonus: 1% on your total savings amount
Additional Referral Earnings: $5 per referral
And Making Savings Fun!
Savings doesn't have to be synonymous with the word "boring."
Go ahead and download Long Game Savings a savings app on iOS or Android that turns saving into a game.
Just play 1 game a day, and you could win cash daily.
Yes, it's safe. Your money is FDIC-insured up to $250,000 and you can withdraw money at any time.
After setting up your savings account, you'll be able to play quick games like Spin to Win, Flip Cards, Slot Machines, and more for chances to win money to increase your savings. Eons better than 0.01% interest rate.
It's like you're getting paid to save and it only takes less than a minute of your day to play. And there's no judgment on playing too many games this new year so try it on iOS or Android today.
Habit 5: Always Optimizing 401(K) Account for Retirement
Planning for retirement. It's a life task that everyone knows they need to do, but it gets brushed aside.
However, let's say you set aside $1,000 a year from age 25 – age 64 in a retirement account that earns 5% a year* (just a conservative rate, for example, it can be more), that's a total of $39,000 that you'll invest. By the time you turn 65, you'll have $126,840. But if you don't get started until age 35, you'd only have $69,760. So starting just 10 years earlier would have doubled your total!
It doesn't have to be complicated though. Just use a robo-adviser called Blooom, an SEC-registered investment advisory firm that optimizes your 401(k) and keeps it gunning toward retirement.
Take a few minutes and get an initial checkup analysis on your 401(k) for free.
Afterward, if you sign up, it's just $10 per month to have Blooom maximize your 401(k) account. A small fee to pay compared to expensive advisors who would essentially be doing the same thing for $100-$300 an hour.
Habit 6: Investing Money (Even if You're Not Rich)
If you feel a little clueless whenever there's talk about investment portfolios, you're not alone. It can sound overly complicated.
However, there's an app that's like an easy gateway to investing.
It's called Stash, an investment app that only takes $5 to start and you'll also get a $5 bonus after funding your first investment!
They curate from over 250 investments which include stocks and Exchange Traded Funds. You'll get to choose where to put your money based on things like your personal beliefs, interests, and goals.
Finally, investing is no longer for the elite 1% with Stash helping to make it so easy for the rest of us.
Habit 7: Saving on Grocery Trips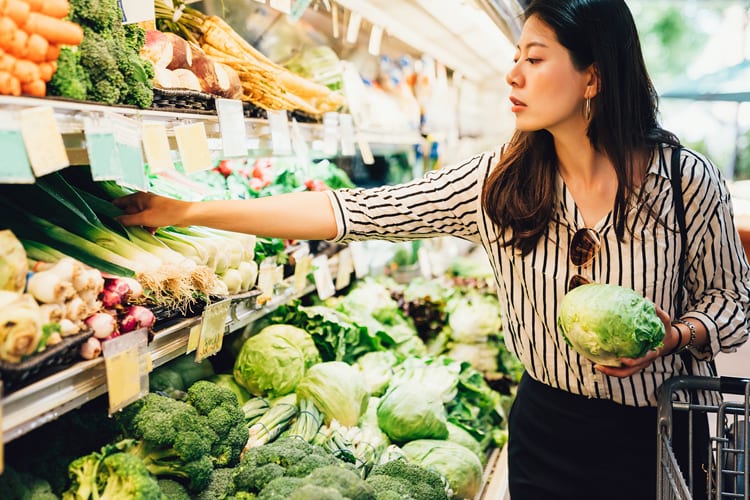 Did you know that it's 325% more expensive to eat out versus eating at home*? That's why one of the best habits is to cook more at home while saving a lot of money.
You'll be aware of all the ingredients in your meal,  in addition, you can get paid just for shopping!
It's simple. All you have to do is take a picture of your grocery receipt and Ibotta (iOS or Android) will pay you cash.
Here's how it works:
Before you go to the store, search for your shopping list items in the Ibotta app. After your store visit, take a photo of your receipt to get cash back.
Ibotta is free to download on iOS or Android and you'll also get up to $20 in Welcome Bonuses when you sign up!
Some offers we found:
25 cents back on any item
$3 – $5 back on various wine
$2 back on KIND Protein Bars
25 cents – $4 back on ice cream
$2 back on Herbal Essence Haircare
Popular stores are Walmart and Target, but Ibotta also works at restaurants, online shopping sites, and at the bar! On average, active Ibotta users save up to $240 a year or more. What would you do with that extra money?
Welcome Bonus: Up to $20
Average savings a month: $20
What it could add up to in a year: $240
Additional Referral Earnings: $5 per referral
And Don't Toss Receipts Until They've Been Scanned for Free Money!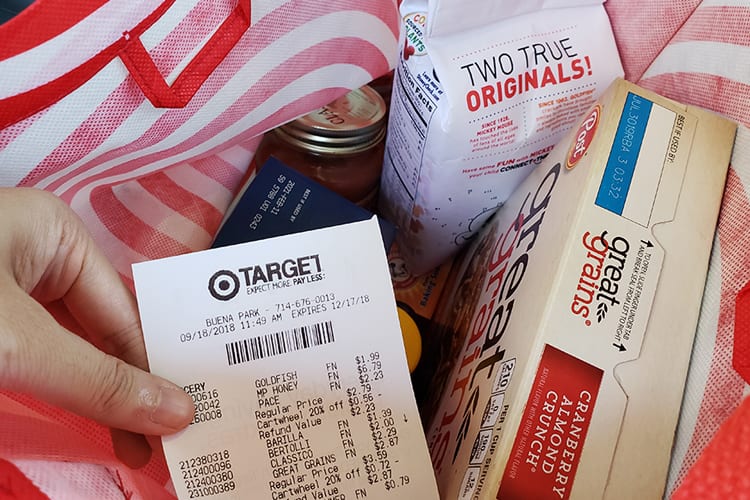 Before you crumple up that receipt in your pocket or forever lose it in the abyss of your purse, scan it into the Fetch Rewards app for iOS or Android, and earn points towards free money. I repeat, free money.
It's ridiculously simple and actually fun to use.
Shop at any grocery store, convenience store, club store, neighborhood store, or big box store, take a picture with the app, and that's it. (Favorites include Target, Kroger, and Walmart!)
Unlike other apps, you don't have to go to specific stores, there's nothing to pre-select prior to shopping, and there's no minimum spend. Just scan in any receipt (iOS or Android) from a store that sells groceries (even when you didn't actually buy any groceries) and boom, points for money.
You can start cashing out as soon as $3 (3,000 points) and you can grab a $2 welcome bonus on us (2,000 points) when you use promo code REWARD before scanning your first receipt!
Welcome bonus: $2
Average savings a month (depends on purchases): $25
What it could add up to in a year: $302
Additional referral earnings: $2 per referral
Habit 8: Never Overdraft or Get Suckered with Hidden Fees
These types of fees are the silliest to get involved in, and you can bet savvy folks avoid this expertly.
Traditional banks can tack on monthly maintenance fees ($10-$12 per month) and out of network ATM fees ($2.75 per transaction), both of which can add up over time. With those fees and overdraft fees of $35, you could be spending up to $329 a year (*) on hidden fees alone!
Skip all the bank fees and download Chime, a mobile banking app with absolutely no hidden fees (yes, seriously).
With no monthly fees, no minimum balance requirement, no overdraft fees, and no foreign transaction fees Chime makes it easy to switch over. It's also FDIC insured up to $250,000 and allows members to get direct deposit paychecks up to two days earlier than their coworkers. Chime processes your employer's deposit immediately, giving you access quicker than traditional banks.
No hidden fees and potentially earlier payday. Chime is free to use, so why not give it a shot for a while and see how you like it?
Habit 9: Maximizing Cash Back on Shopping Whenever Possible
You can spot the people who loves deals when you make a remark on their outfit or accessory and they respond with "Thanks! I got it on sale!" Make it a habit to adopt that "shop smarter" mentality.
You can start by using Rakuten (previously called Ebates) an app on iOS or Android that helps you get cash back on everyday shopping as well as apparel, beauty, and more, automatically. With Rakuten, you don't even have to upload your receipts after your purchases. They'll send you simple push notifications when your favorite stores increase their cash back deals or have a good sale.
Offering simple one-tap savings with no points or fees helps ensure that you get the most out of your purchases. So, before buying anything, hop into the app (iOS or Android) to see if you can get up to 40% cash back at over 2,500 stores.
They also have an amazing referral program where you can earn $25 for each eligible friend. New members get a $10 bonus too!
Adopt the Shop Smarter Mentality for Everyday Purchases Too
If you have room for 1 more app on your phone, then it needs to be this.
Actually, delete another app to make room for this one. It's that good.
It's called Drop, a free app on iOS or Android that gives you gift cards on stuff you already buy from your favorite stores and brands.
Your everyday purchases from Amazon, Trader Joe's, and Walmart? You'll get points for that. Points translate to gift cards so the more you collect, the more you can redeem!
The only thing you need to do is link any credit or debit card you usually use for buying stuff and that's it! Drop (iOS or Android) will automatically recognize when you buy from your activated offers to reward.
There's literally no downside to using this free app (iOS or Android) to get more gift cards. Use it on top of your loyalty points and credit card points for even more rewards!
LIMITED TIME OFFER: Use promo code SMARTWALLET to unlock 5,000 points ($5) automatically when you link your first card on Drop!
Habit 10: Handling Debt the Smarter Way
Credit card debt can be crushing if not held in check, especially if the APRs are crazy high. Why pay back even more interest when you can potentially get a lower rate via debt consolidation instead?
Debt consolidation may sound complicated but it just means you're borrowing money at a low-interest rate and using that money to pay off the outstanding balances from your high-interest credit card. Over time, you'll save money by not having to pay the higher APR.
Keep things simple by using Credible, as they'll help you find prequalified personal loan rates from multiple lenders in just minutes. It's free to use, has zero fees, and checking rates has no impact on your credit score.
Just fill out one simple form and compare your options.
Since Credible's lending partners offer broad options, just choose the one that fits your needs!
What About Student Loans? Consider Refinancing
44.7 million Americans have student loan debt, making the total student loan debt in the United States above $1.47 trillion dollars(*). However, there are options to ease that financial burden.
One way is to refinance your student loans (whether they're federal, private, or ParentPLUS), consolidating that debt at a lower interest rate.
Once again Credible has made that part easy. Their loan marketplace helps you find prequalified rates from multiple lenders in just 2 minutes.
They can help you find options to lower your interest rate, reduce your monthly payment, or both! To see your options, just fill out a quick information sheet and compare your prequalified rates – without impacting your credit score. You can even get your finalized offer in as little as one business day.
There are no prepayment penalties, loan application fees, or origination fees through Credible's lending partners, and the marketplace is free to use!
Habit 11: Keeping Up With the News
Do you feel like you want to keep up with the news but it's just too dry, dense, and boring? How do people understand it?
Enter Morning Brew – the free daily email that delivers the latest news from Wall Street to Silicon Valley. Written in a conversational tone and sprinkled with punchy humor, it makes reading the news actually enjoyable.
From Elon Musk's latest move to the stock market's highs and lows, Morning Brew covers the top news shaping the business world. With a touch of culture and lifestyle stories, you'll get up-to-speed on what you need to know in just five minutes.
Find out why over 1 million people start their day with Morning Brew — sign up for free here.
Habit 12: Keeping Peace of Mind for Loved Ones
When you hear "life insurance" the first 2 things that might come to mind are death and finances. Ultimately it's "I love you" money to your family after you've passed away.
So for most people, life insurance is logical but the long process could be deterring. Some life insurance companies can take up to 2.5 months for the approval process to complete, including lots of paperwork and a comprehensive medical exam which may be inconvenient.
But one company is trying to change all that. Bestow's mission is to offer affordable term life insurance in under 5 minutes without you having to talk to anyone (iOS or Android). No exam needed either.
You can get up to $1 million in coverage and they offer 2 years, 10 years and 20 years term options.
All of Bestow's policies are underwritten by North American Company for Life and Health Insurance®, who's been around for over 100 years and holds an A+ (Superior) rating with A.M. Best, a global credit rating agency for insurance companies.
In plain English terms, it means your policy is provided by dependable insurance giants who have been serving customers for many years.
So if you're between the ages of 21-54, here's what they'll ask:
Your basic information (Name, Email, Address, SSN etc)
Some Life questions (medical history, hobbies, lifestyle)
Beneficiaries (who would receive the money after insured's death)
Policy and payment details (If approved, you choose the monthly payment and enter credit card info)
Each policy has a "free look" period (usually 30 days) which means you can cancel if it's not right for you and get a full refund.
And you can easily change your policy at any time based on life events like marriage, job loss, divorce, etc.
Life insurance talk isn't fun but Bestow is attempting to make it as easy as possible for people to get covered quickly. Go ahead and see what your rates (iOS or Android) are in just under 5 minutes. It's the biggest "I love you" you can give to your loved ones.
*Bestow is currently not available in New York
*EverQuote's individual savings, if any, and premiums will vary by customer. Savings amount based on countrywide survey of users from Nov 2018 to Apr 2019 who reported old and new premiums.
*Investment advisory services offered by Stash Investments LLC, an SEC-registered investment adviser. This material has been distributed for informational and educational purposes only and is not intended as investment, legal, accounting, or tax advice. Investing involves risk.
Some of the sponsored links that appear on this page are from companies that offer investment advisory services. They compensate us; for details on our compensation arrangements, please click here.