Apps to Try When You're In The House Bored

Disclosure: We're letting you know that this post contains sponsored links which The Smart Wallet receives compensation for, which may impact their order of appearance because talking about money should always be an honest discussion.
Since we're safer at home, everyone is burning through content and activities to a point where you can get tired of it.
So when you want to take a break from binge-watching shows, making Instagram-worthy coffee whip, or putting together puzzles, we've got some ideas.
All you need is reliable internet and your smartphone that's already glued to your hands to check out the mix of productive and fun apps below that can ease some of that boredom!
1. Scan the Stuff You Buy & Get Free Rewards
The exclusive Nielsen Panel program is opening up again for more participants! This is your opportunity to make your consumer voice heard! (And get paid for it!)
When you become a panelist, just use the app to scan the barcodes of items you purchase, provide a few additional transaction details, and you'll earn points for:
Gift Cards
Tablets
Electronic Equipment
Flat Screen TVs
and much more from their gift catalog!
Plus, all panelists are automatically entered into weekly, monthly, quarterly, and annual drawings to win extra points and gift cards – even a quarterly sweepstakes to win $5,000!
The more you share your shopping habits (scan barcodes), the more rewards you can get. You can also answer surveys and share information about your overall shopping trip.
"Scanning my purchases is fun! I also enjoy taking the surveys. Earning points is fast and easy and they have a great selection of rewards." – Jennifer B.
It's a fun way to earn more rewards on items you've already purchased and at no extra cost to you.
Register now to see if you're eligible to be a Nielsen Panelist. Eligibility will be based on your location. If you don't get accepted this time, don't worry! They're always expanding locations, so check back again.
2. School Competitors in Solitaire and Ca$h In
When you're looking for something to do at home, check out Solitaire Cube, which is like regular Solitaire, except you get to play for real cash.
The game matches you with players of the same skill level, so all is fair. If you're a good Solitaire player, you could win some serious cash, like Katie N. who took home $380,984 last year as one of the Top 10 Solitaire Cube players! Even casual players like Amanda, a stay-at-home mom from IL, won a 55″ TV, $6,000 and more!
So if you think you can handle playing some Solitaire Cube to win legit cash, definitely download this game for free. 
Cash tournaments aren't available in AZ, AR, CT, DE, FL, LA, ME, MT, SC, SD, TN, IN.
3. Not Your Grandma's Bingo - Play Anywhere for Cash
Classic bingo is a game based on both luck and skill since it takes strategy to beat the odds of the house and the players around you.
However, you can ditch the paper sheets and giant stamps in favor of Blackout Blitz, a fast-paced and competitive bingo game that you can play anywhere on your phone. And even against your friends virtually.
2 minutes. That's all you need per game where you play against another person around the world. Everyone sees the same card and balls so by daubing (tapping the number) fast and correctly, you'll get bonus boosts for more points! Tap the incorrect number and points will get docked so don't get sloppy!
This easy-to-learn game is awesome for killing time and earning cash all at once, anywhere which is perfect for home.
You can play for free against real people for prizes or switch over to cash games to win…cash! Cash game winners can win up to $1,000 or more in mini-tournaments.
Cash tournaments not available in AZ, AR, CT, DE, FL, LA, MT, SC, SD, and TN.
4. Stack Your Cash Back Earnings with This App
When the coronavirus outbreak passes and the economy starts to rebound, we can get back to racking up rewards through our credit cards and travel reward programs.
In the meantime, free cash back apps like Drop offer a practical and rewarding alternative that gives points back for shopping online at all your favorite brands, completing super-quick surveys, and playing fun arcade games in-app.
There's virtually limitless earning potential and the points you earn turn into free gift cards that you can redeem at places like Amazon, Tim Hortons, Starbucks, Uber Eats and so many more. Double-dip on earning points with their Stacked Deals section too.
Here are some of our favorite offers on Drop right now:
Uber Eats
Sephora
Indigo
Old Navy
Lululemon
Sport Chek
Staples
American Eagle Outfitters
Well.ca
Adidas
Glossier
Groupon
This app is a no-brainer for anyone looking for new and fun ways to stretch their dollar at home!
Kickstart earnings today by using promo code SMARTWALLET to unlock 10,000 points ($10!!) automatically when you earn your first 1,000 points.
5. Fun Times in 3 Minute Increments – A Classic Game for $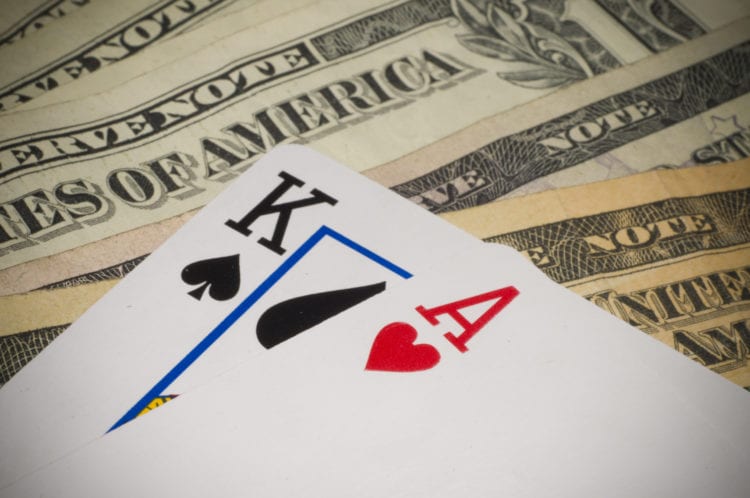 3 minutes.
Make as many 21s as you can within that time or until you run out of moves.
That's the basic gist of 21 Blitz, a modern take on a classic game where you're no longer just playing against the dealer but with actual people around the world.
It's fast-paced and it basically does all of the math for you. This game is great for killing time and earning cash all at once which is perfect for home!
You can play for free against real people for prizes or switch over to cash games to win…well, cash! Cash game winners can win up to $7,000 or more in the mini-tournament.
Cash tournaments not available in AZ, AR, CT, DE, FL, LA, ME, MT, SC, SD, TN, IN.
6. Get Paid To Share Your Opinion Anytime
Your opinion is valuable. So valuable you deserve to earn extra cash for sharing it.
You can do it with Survey Junkie. They pay cash to members who participate in surveys about their shopping habits, cell phone usage, and more. Basic stuff.
Completing a survey earns you 20 to 100 points. Each point is worth one cent, and when you hit 1,000 points (or $10) you can cash out.
Redeem via:
Online gift cards
Paypal cash
Bank transfer
Signing up for Survey Junkie only takes a few minutes and you'll earn your first 100 ($1 value!) points just by creating an account, filling out an intro questionnaire, and verifying your email address. Easy.
After that, you're free to dive into surveys. They have surveys with various durations (5 to 20 minutes) to complete and new ones pop up constantly so you'll never be bored! Fill one out when you're waiting for someone or have time to kill.
Survey Junkie won't get you rich quick (no survey sites ever do), but it's an easy way to make some extra cash by doing nothing other than giving your opinions.
7. This Paid Survey Panel Gives Out 7,000 Gift Cards Daily
There are a lot of survey programs out there, but none as popular as Swagbucks, a free rewards program where you can earn cash for your time and opinion. Members can earn an average of $50 a month!
You get rewarded for doing surveys, searching the web, reading articles, watching videos, and playing fun games but the one activity that earns you the most points is completing surveys. (Don't skip out on those!)
Points can then be redeemed for free gift cards, cash, and sweepstakes entries. All just by completing fun activities and giving your opinions.
New members can get a free $5 just for signing up, so join the other 10 million members already part of Swagbucks and start earning free rewards!