TesterUp Review: Test Products And Earn Real Cash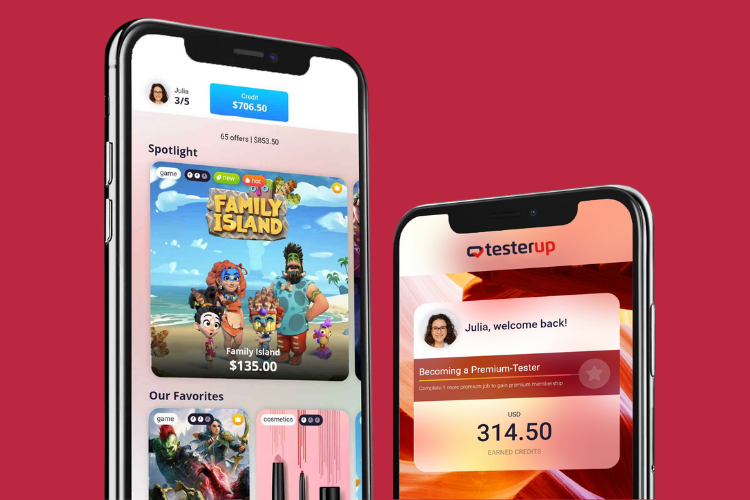 Disclosure: We're letting you know that this post contains sponsored links which The Smart Wallet receives compensation for, which may impact their order of appearance. This site doesn't include all available offers.
Are you searching for the next best platform to make extra cash online?
There are many sites where you can earn rewards while scrolling through your phone or laptop.
But with TesterUp, it's more than just another paid testing platform. You'll have the chance to play new games, test apps, and share your feedback.
Let's dive right into this TesterUp review and see what it offers!
What Is TesterUp?
Founded in 2017, TesterUp is a Germany-based platform that gives you a chance to earn some extra cash. Instead of the usual surveys, you can also test apps, products, and mobile games.
Each user can test up to 50 offers worth up to $800+ after registration. While you still need to apply for many of these tests, there are plenty of opportunities to make money on the platform.
So far, the site has over three million active users, making it Germany's largest online testing site with members from all over the world.
How To Earn Cash On TesterUp
TesterUp offers a few ways to earn money on the site:
Testing Games: Testing their mobile games is the most exciting way to start earning. Many pay a decent amount, but the time investment is higher. For example, a game may ask you to reach a certain level or finish a mission in a set amount of time before receiving your payout.
App and Product Testing: The platform gives opportunities to share your feedback on mobile apps, cosmetics, and other products. Like game testing, many offers are on the higher side.
Referrals: Do you know any gamers looking for a side hustle? Tell them about it and have them check out this TesterUp review. Once they start earning on the platform, you'll receive a 10% commission on their earnings.
Is TesterUp A Legitimate Site?
So, is this app safe to use?
The platform is transparent about how it uses your personal info and has robust security measures, like facial recognition before payouts, to ensure its members stay safe.
If you're still on the fence, TesterUp has an impressive rating of 4.4 out of 5 on Trustpilot, and many users enjoy their experience on the platform:
"Getting paid to find and play new games is fantastic. The games are far from boring, you're provided with a set timeframe and specific goals to achieve, resulting in money being deposited into your account. Easy and totally worth it," says GreatExperience, a satisfied TesterUp user from Trustpilot.
"I've made and withdrawn probably between $600-$800 and never had anything even remotely shady happen." – Sunny B.
How To Sign Up And Start Earning
Getting started on TesterUp is relatively easy and only takes a few minutes. Here's what you need to do:
Download the TesterUp app for the best user experience
Complete Your Profile: The more information you fill out, the better your chances of getting offers.

Choose the offers you're most interested in, and

remember to agree to tracking

so your progress can be checked, and they can pay you properly when you complete each task!
Once you meet the minimum threshold, the platform will direct deposit to your PayPal within 24 hours!
TesterUp: Pros And Cons
Pros
Many earning opportunities
User-friendly Interface on both desktop and mobile versions
If you meet the requirements, many assignments on the site pay well
Fast direct deposit when cashing out
Cons
The minimum threshold to cash out is $70 (but tasks pay more)
You may be tempted to make in-game purchases in some games to level up faster if you don't want to wait
You need to have a smartphone
Should You Give It A Try?
Compared to other sites, TesterUp is excellent if you love playing games and don't mind putting in the extra time to finish your high-paying tasks.
But other platforms have lower payouts and easier assignments if you're looking for quick cash in smaller amounts. Our TesterUp review recommendation is to try it and see how you like it.
Either way, TesterUp is not a get-rich-quick solution. Instead, consider it a fun way to monetize your free time.
Ready to give the platform a try? Sign up and start earning!
Read More: