10 Apps to Try When Your SO Says "I'll Be Ready Soon"

Disclosure: We're letting you know that this post contains sponsored links which The Smart Wallet receives compensation for, which may impact their order of appearance because talking about money should always be an honest discussion.
"I'll be ready soon!"
You hear this for the nth time and know it'll at least be another 15 minutes plus before your SO is officially ready.
So what do you do? Turn on the TV to kill time? Go pet the dogs? Stare off into the abyss?
Or you can whip out your phone but instead of doomscrolling, use your favorite device to check out apps to earn some side cash instead. Some only require 3 minutes of your time!
We list our favs below. Now you'll never roll your eyes when you hear "I'll be ready soon."
1.

Make Easy Money Just Trying and Playing Games
One of the best ways to kill time is to check out new games that you can play to have fun and still feel productive. How?
Check out AppStation, an app that pays you to try out new games. Yes, you'll get paid just to play games.
When you earn coins from trying new games, you can redeem for:
PayPal Cash
Amazon gift card
GameStop gift card
PlayStation Store gift card
Xbox Live gift card
And too much more to list
Nab a 4,444 coin welcome bonus too, which is basically around 50 cents in value. And if you don't like to wait, you can choose to payout as low as $1.
If your friends want to get it on the money action from afar, introduce them to AppStation, where you'll get bonus coins and 25% of all their earnings. To make it a supportive group, your friends will also earn 25% of your earnings too!
2. Try Games, Get Gift Cards. Play More to Earn More
We'll probably be the only ones to tell you this but, please play more mobile games.
Play more games so you can earn more gift cards through the Rewarded Play app, a free to download game platform that lets you try as many games as you want.
Popular games include Yahtzee, Wheel of Fortune, Words with Friends, mystery games, fantasy games, puzzle games, and a lot more.
You can then redeem for gift cards from 20+ retailers including favorites like Target, Amazon, Walmart, Best Buy, etc. The games are fun, it's an easy way to earn some cash especially when we're bored at home, and bonus, there is an active customer support team!
3. Don't Toss That Receipt! Do This First for Free Money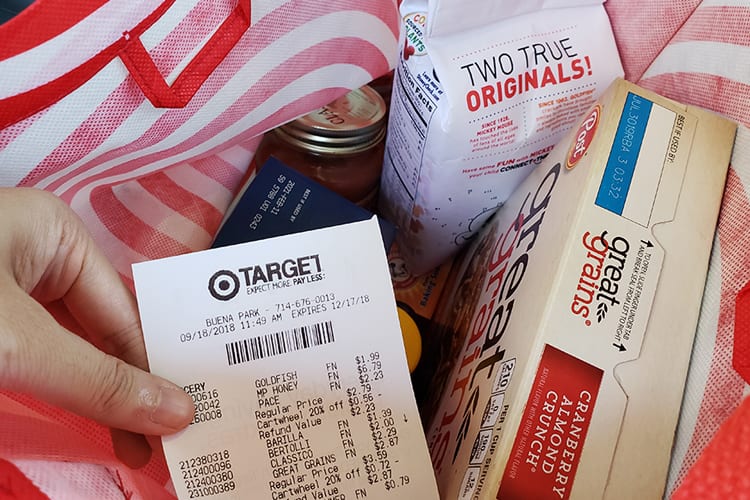 Before you crumple up that receipt in your pocket or forever lose it in the abyss of your purse, scan it into the Fetch Rewards app, and earn points towards free money. I repeat, free money.
It's ridiculously simple and actually fun to use.
Shop at any grocery store, convenience store, club store, neighborhood store, or big box store, take a picture with the app, and that's it. (Favorites include Target, Kroger, and Walmart!)
Unlike other apps, you don't have to go to specific stores, there's nothing to pre-select prior to shopping, and there's no minimum spend. Just scan in any receipt from a store that sells groceries (even when you didn't actually buy any groceries) and boom, points for money.
You can start cashing out as soon as $3 (3,000 points) and you can grab a $2 welcome bonus on us (2,000 points) when you use promo code REWARD before scanning your first receipt!
Welcome bonus: $2
Average savings a month (depends on purchases): $25
What it could add up to in a year: $302
Additional referral earnings: $2 per referral
4. Get Extra Cash Back on Groceries, Delivery, and More
Getting cash back has always been important but even more so now, where every bit helps.
Use Ibotta, an app that pays you real money on your everyday purchases, from groceries/grocery delivery, essentials, personal care items, to meal delivery to online shopping.
It's simple:
Just check Ibotta first to find offers, and when you purchase your items, scan the receipt to get cash back. Popular stores include Target, Ralph's, Trader Joe's, and more.
Online purchases including groceries? Just open Ibotta, and complete your grocery, Uber Eats, GrubHub, or purchase from 100+ online retailers that include Sephora, Under Armour, Gap, and more to get some money back.
And since these are especially trying times, Ibotta has teamed up with brand partners like Kellogg's, always, Huggies, and Suave to be committed to giving $10 million in extra cash back. This means you get more cash back than normal!
Ibotta is free to download and you'll also get up to $20 in Welcome Bonuses when you sign up so use it before buying anything!
5. Get Paid to Try New Games. Every Gamer's Dream.
Who would've thought you can play games to make some money? Especially now when that's easy to do from home.
All you need is Mistplay, a game platform where you can try new games to earn points redeemable for gift cards like Amazon, VISA, PlayStation Network, XBOX Live, and more.
In the app, all available free games are listed so just take your pick to try! The more time spent on each game, the more money you can earn.
You'll only get paid for playing games if Mistplay is running so be sure to always install games from the Mistplay app!
BONUS: You'll automatically get 200 welcome points upon sign up but use promo code Bonus_100 to get an additional 100 points for a total of 300 total points!
6.

Get Paid to Save and Bank Just by Playing Games
If you were rewarded for doing something, wouldn't it make you more likely to continue doing it?
In this case, Long Game is rewarding its members for responsible saving and spending just by playing free games on their app and making banking fun. Games are light and easy-to-play (think scratchers, slots, spin-to-win, and more) and you can win daily cash prizes up to $1M (yes, million) and crypto too!
When you set up a savings account, you access the games. You get a full banking experience with all the bells and whistles; an FDIC-insured savings account earning interest, a Visa debit card for instant access to your cash, custom savings goals, and more.
Here's how it works:
Set up a savings account (Note: They ask for SSN to verify your identity but don't worry, all info is encrypted and transmitted securely. Plus, it's required by law and your SSN will not be stored)
Link your bank so money can be transferred or withdrawn whenever you want
Start playing games!
The more money you save, the more you can play and the debit card lets you earn more rewards just by spending normally. The RoundUp feature lets your purchases be rounded up to the nearest dollar with the change going towards your savings. So every time you're buying a meal, getting stuff at Target, etc, you're contributing to your savings and earning interest!
Long Game is completely free when you set up auto-deposit or direct deposit and use your debit card. Otherwise, it's $3/month. There's no way to lose money, but plenty of ways to earn and win! Plus you can withdraw your money at any time.
7. Get Paid in Gift Cards if You're Chill with Lock Screen Ads
The average person unlocks their phone 110 times per day – that's a lot of time spent looking at a screen for free.
With S'more you get paid every day you unlock your phone. It's even easier than it sounds, and since you can cash out with as little as $1 there's no waiting around for your rewards!
They partner up with brands looking for more impressions (aka your eyeballs) and you don't need to click on anything to get paid either.
S'mores pays in gift cards so you can redeem for:
Amazon.com
AMC Theaters
Best Buy
CVS
Target
Domino's Pizza
Starbucks and more!
Just use your phone normally, and your earnings will apply daily. Pretty much the easiest thing to do and you'll be earning gift cards to use online while social distancing and for IRL fun when quarantining is over!
8. Get Paid for Playing Free Digital Scratch-Offs
Don't bother going to the liquor store to buy physical scratchers (they get expensive too).
Instead, play digital scratchers for free on Lucktastic.
There are a ton of different scratchers you can play, and you can earn both cash and tokens.
Scratched all of them for the day? Don't worry, there are specific night-time scratchers that are available every night too!
When you want to redeem your earnings, you can choose from:
Amazon gift cards
CVS gift cards
Dunkin' Donuts gift cards
Check mailed to you
Visa gift cards
Lucktastic keeps things free by showing a few ads here and there plus it's easy to play and multi-task at the same time. Get a chance of up to $1M in cash prizes!
9. Scan the Stuff You Buy & Get Free Rewards
The exclusive National Consumer Panel (NCP) program is opening up again for more participants! This is your opportunity to make your consumer voice heard! (And get paid for it!)
When you become a panelist, just use the app to scan the barcodes of items you purchase, provide a few additional transaction details, and you'll earn points for:
Gift Cards
Tablets
Electronic Equipment
Flat Screen TVs
and much more from their gift catalog!
Plus, all panelists are automatically entered into weekly, monthly, quarterly, and annual drawings to win extra points and gift cards – even a quarterly sweepstakes to win $5,000!
The more you share your shopping habits (scan barcodes), the more rewards you can get. You can also answer surveys and share information about your overall shopping trip.
"Scanning my purchases is fun! I also enjoy taking the surveys. Earning points is fast and easy and they have a great selection of rewards." – Jennifer B.
It's a fun way to earn more rewards on items you've already purchased and at no extra cost to you.
Register now to see if you're eligible to be a National Consumer Panelist. Eligibility will be based on your location. If you don't get accepted this time, don't worry! They're always expanding locations, so check back again.
10. More New Games, More Cash to Earn
When you're ready to add even more games to your lineup, then download Cash 'Em All, an app that pays you to try out new games for yes, you guessed it, for cash. All are free to download!
Just earn coins from trying new games, and then you can redeem for:
PayPal Cash
Amazon gift card
GameStop gift card
PlayStation Store gift card
Xbox Live gift card
And more good stuff
A 4,444 coin welcome bonus is yours immediately too when you sign in.  (Worth 50 cents!) If you're impatient, you can cash out as low as $1 as well.
Enjoy playing new-to-you games for some side fun money!