Bubble Cash: Shoot Bubbles To Win Real Money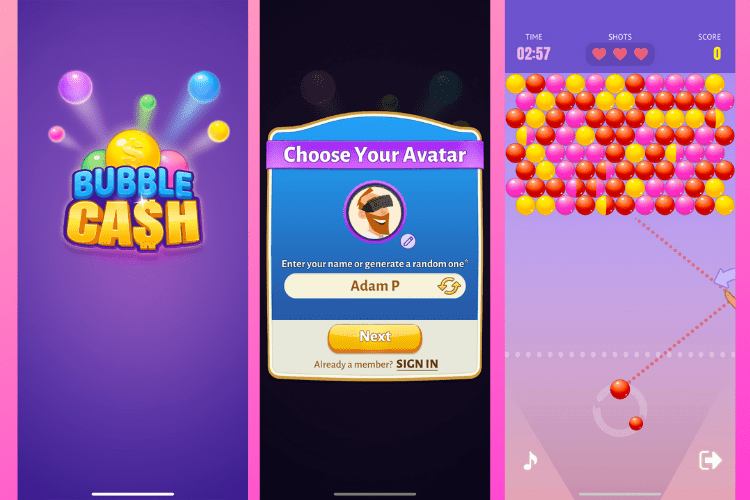 Disclosure: We're letting you know that this post contains sponsored links which The Smart Wallet receives compensation for, which may impact their order of appearance. This site doesn't include all available offers.
Let's be real and cut right to the chase: why play games on your iPhone for free when there's a game that PAYS you free money to play?
Bubble shooter games have become increasingly popular, but this is certainly one of the best: Bubble Cash! You can win up to $75 per game in just a few minutes!
So let's go right ahead and talk about why you should download this bubble shooter iOS game today:
What is Bubble Cash?
Bubble Cash is a free game where you match 3 bubbles of the same color to blast them away. Papaya Gaming, Inc. is the creator of this fun game and it's currently available on iOS.
Some fast facts include:
Papaya Gaming, Inc. was founded in 2016 and its HQ is in Saint Louis, Missouri.
Its mission is to turn the most popular and exciting gaming apps into skill-based, real money opportunities for all players.
Bubble Cash has an average 4.6/5 star rating on the App Store (iOS) based on a total of 77.1K ratings!
People are saying this game is "super fun" and that "you can actually win free money!"
How To Get Started on Bubble Cash
First, you'll want to download Bubble Cash on the App Store.
To play, simply tap on the screen and use your finger to aim to go on a popping frenzy against real players online to win actual cash! Drop a bunch of bubbles at once and get those high-scoring combos! You'll need to be strategic to get ahead of your competitors.
How Bubble Cash Works and Tips To Play
You complete a game by yourself and your final score competes with 4 to 10 other players with the same skill level. Not every board can be cleared, so just keep playing until time runs out to get the highest possible score.
To win, place in the top 3 scores and you'll get gems OR cash depending on the game. The more gems you have, the more access to special tournaments (with bigger prizes) you can get!
Bubble Cash is designed to reward you for gameplay. Simply log in daily and complete a new tournament. Each new tournament is an opportunity to win big and work towards the ultimate goal: to cash out for some free $$$.
How Much Money Can You Win with Bubble Cash?
Well, let's start with the different types of tournaments which can earn you cash: Freeroll Tournaments and Cash Tournaments.
You can play Bubble Cash for free and win real cash by participating in the Freeroll Tournaments. It only takes 120 Gems and you can enter a cash pool of $7. Regularly scheduled free events are constantly going on as well!
If you want to go for the bigger prizes, then the Cash Tournaments will have entry fees ranging from $1 to $13 with prize pools that go up to $83. Please note: Cash Tournaments aren't available to certain states like AZ, AR, DE, IA, LA, MD, & SC. If you live in any of these states, you can still play for fun!
Along with tourneys, there are Raffles to win BONUS cash on top of your regular winnings. For instance, win 1st place in any Cash Tournament and get entered in a raffle to win up to $100 bonus cash (get that money!). The more tickets earned, the higher your chances of winning.
What's more? You can watch short video ads to earn 10 gems at a time. Gems can be used as the entry fee for some tournaments, which can win you real money! Additionally, for each friend who signs up to play Bubble Cash with your specific promo code, you'll receive a $5 bonus as a new user. P.S.- Take advantage when it's $5 because it'll eventually go down to $1.
Is Bubble Cash Free-To-Play?
Yes! Bubble Cash is free-to-download and free-to-play with optional in-app purchases. You can play for free to earn gems and enter the tournaments with more modest cash prize pools. Or, you can deposit real money to enter the Cash Tournaments that have higher prize pools. It's up to you! We recommend practicing in the gem tournaments to get a feel before dipping into the real cash ones.
Plus there are free daily bonuses (just log in every day to claim) as well as free gifts being shared on their Facebook page every day.
There are also no annoying third-party ads either!
Is Bubble Cash Legit?
In short, yes! Bubble Cash has paid out millions in the past month to its players so it's legit as well as fun.
Obviously don't expect to get rich, but if you enjoy playing bubble shooters in general, you might as well see if you can win cash from it! Easily cash out via PayPal or Apple Pay when you win.
So, what are you waiting for?! Download the free app and start popping bubbles for cash!
Want to play more puzzle games that pay cash? Read more on How To Win Free Money on Match To Win App