13 Contactless Ways to Make Money at Home

Disclosure: We're letting you know that this post contains sponsored links which The Smart Wallet receives compensation for, which may impact their order of appearance because talking about money should always be an honest discussion.
With cases surging nationwide, people are feeling much more nervous about the pandemic than before. Those worried about a second wave should know that we never left the first wave. Due to our alarming COVID rates, even the European Union has banned Americans from traveling to their countries.
And what else are we nervous about?
The latest Fluent Pulse surveyed that Millennials and Gen Zers are more worried about personal finance while Baby Boomers and the Silent Gen are more worried about health and the overall health of the U.S.
And it makes sense. For Millennials and Gen Z, we still have years of life and will need the money to sustain. And since avoiding strangers is vital at this point, here are some contactless ways to make extra money from home.
1. School Competitors in Solitaire and Ca$h In
When you're looking for something to do at home, check out Solitaire Cube, which is like regular Solitaire, except you get to play for real cash.
The game matches you with players of the same skill level, so all is fair. If you're a good Solitaire player, you could win some serious cash, like Katie N. who took home $380,984 last year as one of the Top 10 Solitaire Cube players! Even casual players like Amanda, a stay-at-home mom from IL, won a 55″ TV, $6,000, and more!
So if you think you can handle playing some Solitaire Cube to win legit cash, definitely download this game for free. 
Cash tournaments aren't available in AZ, AR, CT, DE, FL, LA, ME, MT, SC, SD, TN, IN.
2. Not Your Grandma's Bingo - Play Anywhere for Cash
Classic bingo is a game based on both luck and skill since it takes strategy to beat the odds of the house and the players around you.
However, you can ditch the paper sheets and giant stamps in favor of Blackout Blitz, a fast-paced and competitive bingo game that you can play anywhere on your phone. And even against your friends virtually.
2 minutes. That's all you need per game where you play against another person around the world. Everyone sees the same card and balls so by daubing (tapping the number) fast and correctly, you'll get bonus boosts for more points! Tap the incorrect number and points will get docked so don't get sloppy!
This easy-to-learn game is awesome for killing time and earning cash all at once, anywhere which is perfect for home.
You can play for free against real people for prizes or switch over to cash games to win…cash! Cash game winners can win up to $1,000 or more in mini-tournaments.
Cash tournaments not available in AZ, AR, CT, DE, FL, LA, MT, SC, SD, and TN.
3.

Get Paid to Save and Bank Just by Playing Games
If you were rewarded for doing something, wouldn't it make you more likely to continue doing it?
In this case, Long Game is rewarding its members for responsible saving and spending just by playing free games on their app and making banking fun. Games are light and easy-to-play (think scratchers, slots, spin-to-win, and more) and you can win daily cash prizes up to $1M (yes, million) and crypto too!
When you set up a savings account, you access the games. You get a full banking experience with all the bells and whistles; an FDIC-insured savings account earning interest, a Visa debit card for instant access to your cash, custom savings goals, and more.
Here's how it works:
Set up a savings account (Note: They ask for SSN to verify your identity but don't worry, all info is encrypted and transmitted securely. Plus, it's required by law and your SSN will not be stored)
Link your bank so money can be transferred or withdrawn whenever you want
Start playing games!
The more money you save, the more you can play and the debit card lets you earn more rewards just by spending normally. The RoundUp feature lets your purchases be rounded up to the nearest dollar with the change going towards your savings. So every time you're buying a meal, getting stuff at Target, etc, you're contributing to your savings and earning interest!
Long Game is completely free when you set up auto-deposit or direct deposit and use your debit card. Otherwise, it's $3/month. There's no way to lose money, but plenty of ways to earn and win! Plus you can withdraw your money at any time.
4.

Don't Toss That Receipt! Do This First for Free Money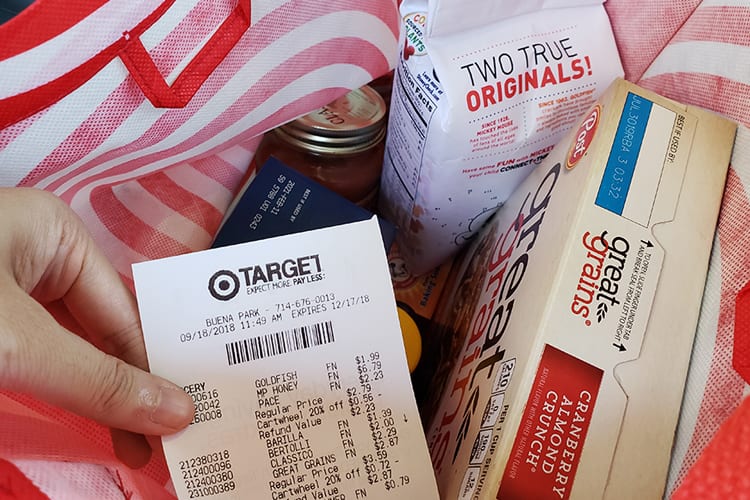 Before you crumple up that receipt in your pocket or forever lose it in the abyss of your purse, scan it into the Fetch Rewards app, and earn points towards free money. I repeat, free money.
It's ridiculously simple and actually fun to use.
Shop at any grocery store, convenience store, club store, neighborhood store, or big box store, take a picture with the app, and that's it. (Favorites include Target, Kroger, and Walmart!)
Unlike other apps, you don't have to go to specific stores, there's nothing to pre-select prior to shopping, and there's no minimum spend. Just scan in any receipt from a store that sells groceries (even when you didn't actually buy any groceries) and boom, points for money.
You can start cashing out as soon as $3 (3,000 points) and you can grab a $2 welcome bonus on us (2,000 points) when you use promo code REWARD before scanning your first receipt!
Welcome bonus: $2
Average savings a month (depends on purchases): $25
What it could add up to in a year: $302
Additional referral earnings: $2 per referral
5. Get Extra Cash Back on Groceries, Delivery, and More
Getting cash back has always been important but even more so now, where every bit helps.
Use Ibotta, an app that pays you real money on your everyday purchases, from groceries/grocery delivery, essentials, personal care items, to meal delivery to online shopping.
It's simple:
Just check Ibotta first to find offers, and when you purchase your items, scan the receipt to get cash back. Popular stores include Target, Ralph's, Trader Joe's, and more.
Online purchases including groceries? Just open Ibotta, and complete your grocery, Uber Eats, GrubHub, or purchase from 100+ online retailers that include Sephora, Under Armour, Gap, and more to get some money back.
And since these are especially trying times, Ibotta has teamed up with brand partners like Kellogg's, always, Huggies, and Suave to be committed to giving $10 million in extra cash back. This means you get more cash back than normal!
Ibotta is free to download and you'll also get up to $20 in Welcome Bonuses when you sign up so use it before buying anything!
6. Scan the Stuff You Buy & Get Free Rewards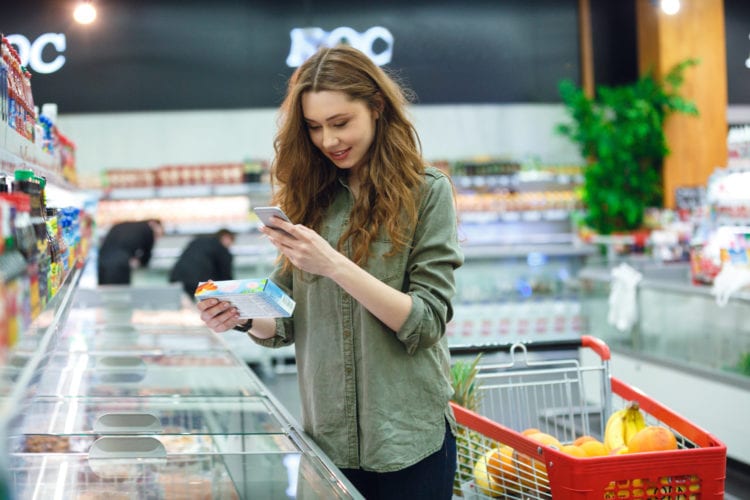 The exclusive National Consumer Panel (NCP) program is opening up again for more participants! This is your opportunity to make your consumer voice heard! (And get paid for it)
When you become a panelist, just use the app to scan the barcodes of items you purchase, provide a few additional transaction details, and you'll earn points for:
Gift Cards
Tablets
Electronic Equipment
Flat Screen TVs
and much more from their gift catalog!
Plus, all panelists are automatically entered into weekly, monthly, quarterly, and annual drawings to win extra points and gift cards – even a quarterly sweepstakes to win $5,000!
The more you share your shopping habits (scan barcodes), the more rewards you can get. You can also answer surveys and share information about your overall shopping trip.
"Scanning my purchases is fun! I also enjoy taking the surveys. Earning points is fast and easy and they have a great selection of rewards." – Jennifer B.
It's a fun way to earn more rewards on items you've already purchased and at no extra cost to you.
Register now to see if you're eligible to be a National Consumer Panelist. Eligibility will be based on your location. If you don't get accepted this time, don't worry! They're always expanding locations, so check back again.
7. Get Paid to Take Popular Surveys, Watch Videos, and Even Read Emails With This Site
If you're looking for an easy way to snag a little extra cash by being online, look no further. Inbox Dollars has a wide array of ways to make some money on the side.
Founded in 2000, Inbox Dollars has been around and paying customers for their opinions for over 19 years and counting! They are one of the most trusted survey sites with fun, multiple ways to earn extra cash that sets them apart from the others.
You can stick to sharing your opinion and take surveys, but you can also watch videos, play games, and even read email for some extra cash. Who wouldn't want to watch movie trailers for money?
They also offer cash back for online shopping and coupon cash rewards to use at the grocery store too!
So if you're looking for some extra cash and enjoy a wide array of options to earn, Inbox Dollars is a great platform to make a little side money. It's free to sign up, so give it a try today!
8. Get Paid To Share Your Opinion Anytime
Your opinion is valuable. So valuable you deserve to earn extra cash for sharing it.
You can do it with Survey Junkie. They pay cash to members who participate in surveys about their shopping habits, cell phone usage, and more. Basic stuff.
Completing a survey earns you 20 to 100 points. Each point is worth one cent, and when you hit 1,000 points (or $10) you can cash out.
Redeem via:
Online gift cards
Paypal cash
Bank transfer
Signing up for Survey Junkie only takes a few minutes and you'll earn your first 100 ($1 value!) points just by creating an account, filling out an intro questionnaire, and verifying your email address. Easy.
After that, you're free to dive into surveys. They have surveys with various durations (5 to 20 minutes) to complete and new ones pop up constantly so you'll never be bored! Fill one out when you're waiting for someone or have time to kill.
Survey Junkie won't get you rich quick (no survey sites ever do), but it's an easy way to make some extra cash by doing nothing other than giving your opinions.
9. Pop Some Colorful Bubbles to Make Some Bank
The classic bubble game comes back with a modern twist where you have 3 minutes each game to pop or clear as many bubbles from the board as you can.
It's called Bubble Cash, and no matter your skill level, you can have fun against real players around the world.
Our favorite strategy? Hang multiple bubbles from a "parent" bubble, and then POP the parents so all the bubbles drop at once! It's extremely satisfying to get those combos.
Play for free, and when you're ready, switch over to cash games to earn faster! Cash game winners can win thousands of dollars (no joke).
Cash tournaments not available in AZ, AR, IA, LA, MD & SC.
10.

Keep Calm and Invest - Starting with Just $1
Yes, the COVID-19 news that's bombarding your feed can be scary. In addition to the Fed cutting interest rates and events getting banned, you might not even think about investing.
But it's actually the time to start if you haven't already. It doesn't have to be complicated and you can easily start with Stash, an investment app that only takes $1* to start and you'll also get a $5 bonus* after funding your first investment.
Investing is for the long-term and in the app, you can choose where to put your money in as well as being a well-informed investor with Stash Coach, a fun way to increase your knowledge.
Consider investments in certain industries whenever there's political, economic, or financial unrest too. Stash offers investments in precious metals, pharmaceutical companies, major retailers, utility companies, as well as media, entertainment, and communication companies since more people will be staying home now. So keep calm, and invest!
11. Stack Your Cash Back Earnings with This App
When the coronavirus outbreak passes and the economy starts to rebound, we can get back to racking up rewards through our credit cards and travel reward programs.
In the meantime, free cash back apps like Drop, offers a practical and rewarding alternative that gives points back for shopping online at all your favorite brands, completing super-quick surveys, and playing fun arcade games in-app.
There's virtually limitless earning potential and the points you earn turn into free gift cards that you can redeem at places like Amazon, Whole Foods, Target, Uber Eats and so many more. Double-dip on earning points with their Stacked Deals section too.
Here are some of our favorite offers on Drop right now:
Uber Eats – 50 points per $1
Walmart – 20 points per $1
eBay – 5 points per $1
Glossier – 80 points per $1
Lululemon – 120 points per $1 (limited time 3x boost!)
Disney+ – 10,000 points for new members
Instacart – 400 points for new members
This app is a no-brainer for anyone looking for new and fun ways to stretch their dollar at home!
Kickstart earnings today by using promo code SMARTWALLET to unlock 10,000 points ($10!!) automatically when you earn your first 1,000 points.
12. Work From Home: Earn $20 Per Hour to Start Teaching English To Kids Online
The past few months have been rough on Americans and their livelihoods. If you've been considering a side gig to supplement your primary income or need a job working from home, teach English online to kids ages 5-13!
EF Online (Education First) is a teaching platform helping to connect students in China and native English speakers for 20+ years with their global network of 600+ schools. You'll experience a flexible schedule where you can work from home, earn up to $20/hr to start, with all lesson materials are provided. While teaching experience is preferred, it's not required. Earn extra rewards the more you teach!
Here are the requirements:
Must be a native English speaker living in the U.S.A with a Bachelor's degree in any field
By the start of your teacher's contract term, you must earn and submit documentation of a 40 Hour TEFL (Teaching English as a Foreign Language) certification (or higher)
Agree to an online background check (no cost to you)
Be available to work during a set range of hours
Have a solid wifi connection and headset
And lastly, be passionate!
Classes are 25 minutes each and since EF Online encourages repeat classes, you might be teaching the same students regularly. In addition, parents can book you up to 6 months in advance leading to a more stable income.
If you enjoy interacting with kids, this is definitely a rewarding and flexible gig from home!
Note: The following U.S. states are excluded from this gig – CA, IN, MA, NH, NJ, NY, and IL.
13. Find Curated Remote and Flexible Jobs With This Site
With a record 40 million people that filed for unemployment,* it's crucial to be able to hold a remote or flexible full-time or part-time position in these uncertain times.
Instead of searching through irrelevant job boards, use FlexJobs, a 13+ year old company that specializes in finding only remote and flexible schedule jobs. For a limited time, their membership plans are 50% off (with promo code JOB) so it costs just $3.50 to search through a highly curated job board for a week, $7.50 for a whole month, or the best value option – $34.95 for a whole year.
Memberships include access to jobs as well as resources like Career Coaching, Resume Review, 170 expert skills tests to better assess and promote your skills, and more.
Lori S. from Colorado Springs, CO said, "I would have spent hours trying to find these jobs on my own. I LOVE this website!! These are jobs that are not easy to find—I found the membership fee very reasonable and worth every penny considering I have found two wonderful jobs through FlexJobs."
Non-essential workers are being asked to stay home during these times but making money is essential to everyone so take advantage of the 50% off membership plans to look at what could be your next new job! Remember to use promo code JOB.
*For Securities priced over $1,000, purchase of fractional shares starts at $0.05.
The Smart Wallet is a paid solicitor of Stash. Investment advisory services offered by Stash Investments LLC, an SEC-registered investment adviser. This material has been distributed for informational and educational purposes only and is not intended as investment, legal, accounting, or tax advice. Investing involves risk.
Investment advisory services offered by Stash Investments LLC, an SEC-registered investment adviser. This material has been distributed for informational and educational purposes only and is not intended as investment, legal, accounting, or tax advice. Investing involves risk.
You'll also bear the standard fees and expenses reflected in the pricing of the ETFs in your account, plus fees for various ancillary services charged by Stash and the custodian. For current fee schedule, please see the Stash Wrap Fee Brochure. Other fees apply to the debit account. Please see Deposit Account Agreement for details.
*Promotions are subject to Terms and Conditions.
*40 million unemployed source: Forbes
Some of the sponsored links that appear on this page are from companies that offer investment advisory services. They compensate us; for details on our compensation arrangements, please click here.