Jackpocket Review: Play The Lottery From Your Smartphone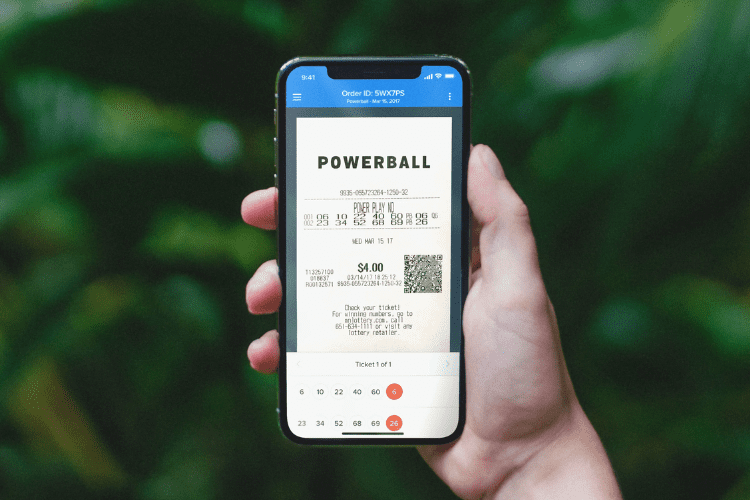 Disclosure: We're letting you know that this post contains sponsored links which The Smart Wallet receives compensation for, which may impact their order of appearance. This site doesn't include all available offers.
If you enjoy playing the lottery just as much as the next person but hate the thought of standing in long lines to make your dream come true, you're in luck.
Jackpocket is an app that allows you to play the lottery without having to leave your home, stand in long lines or deal with the hustle and bustle for a chance of a big win. Since its 2013 launch, JackPocket has been recognized as one of the safest and most convenient ways to play the lottery right from your smartphone.
What is Jackpocket?
Jackpocket is the only licensed third-party app approved by State Lotteries. It was created in 2013 to provide people who play the lottery with a secure way to play from their phones.
Jackpocket offers a variety of lottery games to play, and users can even join lottery pools to increase their chances of winning. Over 1.17 million people have won via the app with over $190 million in lottery prizes!
How Safe and Convenient is Jackpocket?
Jackpocket offers consumers protections, such as daily deposit and spending limits, self-exclusion, and access to responsible gaming resources from within the app. You never have to worry about losing your ticket because after you place your order, your lottery ticket is scanned and saved securely within your app, so your eyes are always on it.
Here's how secure Jackpocket is:
After you place an order, your ticket is purchased by Jackpocket on your behalf, and the ticket is scanned (front and back) and saved into the app as proof of purchase.
The barcode and serial number on the ticket are identifiable and watermarked with the player's name.
You get an order confirmation and receipt with the ticket serial number on every order you place.
Your order confirmation contains all the details you need to claim a win: name, lottery drawing, and winning numbers.
Your paper ticket is always securely stored in a locked, fireproof vault under 24-hour video surveillance.
Tickets can only be claimed with a government-issued ID and signature.
Jackpocket ensures security compliance when it comes to user information. Encryption is exercised, and personal financial information is never stored.
In addition, the app brings the convenience of never having to leave home or stand in long lines to get lottery tickets. With just a few clicks from your sofa, you could potentially be the next big lottery winner!
Another convenience about Jackpocket is that it allows you to play multiple games from the same lottery in your state. You can use the same order to add additional games using the same numbers. That saves you the trouble of having to place multiple orders. One order—multiple games—for the same set of numbers. Now, how convenient is that?
Is There a Fee to Play Jackpocket?
Yes, and no. There's no fee to sign up and no monthly fee to continue to play. Whatever you win is 100% yours. However, Jackpocket is considered a courier service because it buys your lottery ticket for you, and they charge a service fee when you fund your account to cover their costs.
What is this fee? Usually, you have to pay around 7% to 10% of the funding amount, but the specific amount is revealed to you before you make a transaction. You'll see the total cost of funding your account with fees before payment.
Is Jackpocket Legal?
Yes, Jackpocket is legal to play. It complies with all state laws and regulations. The app is officially licensed in the U.S. to offer people who play the lottery a more secure and convenient way to play. As with other state lotteries, a portion of the revenue from JackPocket is used to help fund essential state programs.
Jackpocket is a National Council on Problem Gambling (NCPG) member, which advocates for gambling responsibly and is certified through NCPG's International Responsible Gambling Compliance Assess Program (iCAP). iCAP has the highest standard for responsible online gaming in the U.S.
Can You Play Jackpocket in Any State?
Right now, the answer is no. This may be one of the limiting drawbacks of Jackpocket —it's not supported in every state yet. All states have their own lottery rules and regulations, which must be upheld. You can play the lottery in any state you're physically located and play Jackpocket as long as your state supports the app. Jackpocket is currently supported in the following states on iOS:
Arizona
Arkansas
Colorado
Idaho
Minnesota
Montana
New Hampshire
New Jersey
New Mexico
New York
Ohio
Oregon
Texas
Washington, DC
West Virginia
It's worth noting that on Android, only three states currently allow for gameplay: New York, New Jersey, and New Hampshire. Jackpocket is optimizing to expand in more states across more devices. You can even sign up to be a part of the test group in your state when it becomes available! Follow the instructions here to be notified when JackPocket will be available in your state.
What Lottery Games Can You Play on Jackpocket?
Jackpocket comes with a variety of lottery games you can play. However, you should know that each state offers its own set of games. So, just because a game is supported in one state on Jackpocket does not mean it's supported in another state. For the most part, most states support Mega Millions, Powerball, and Lucky for Life on Jackpocket. To get a complete list of the games, you can play on Jackpocket in your state, click here.
How To Get Started on Jackpocket
Follow these steps to get started on Jackpocket:
Click here to get the app installed on your phone. Just enter your phone number, and the link will be sent to your phone. Click on the link to download and get started for free.
Create your account. Include your bank information to fund your games.
Pick your game.
Pick your lucky numbers. Two ways to select your numbers are Quick Pick or your own numbers.
When you place your order, Jackpocket will buy your ticket from an officially licensed lottery retailer in your state.
Your ticket will be scanned and sent to your app for safekeeping, along with an email confirmation.
Listen for the numbers to win. If your ticket matches, you're a winner. Any winnings less than the threshold for that state (usually $600) go straight to your Jackpocket account, tax-free. Send your winnings to your bank account, or use those funds to play and win more.
More significant winnings will result in Jackpocket securely transferring your physical ticket to you so that you may claim your prize.
The Bottom Line
Jackpocket has proven itself to be not only legitimate but a safe and convenient way to win the lottery. Reviews for the app average 4.7/ 5 ⭐ on the App Store and 4.5/5 ⭐ on Google Play (Android). Over $100 million has already been claimed in winnings!
As with any lottery, you must be 18+ to play (in Arizona, it's 21+), and all users are cautioned to play responsibly. Plus, you get $10 for every referred friend that funds their account, and they'll also get a $2 bonus.
Good luck!