MSR App Review: Turn Your Amazon Purchase History and More into Money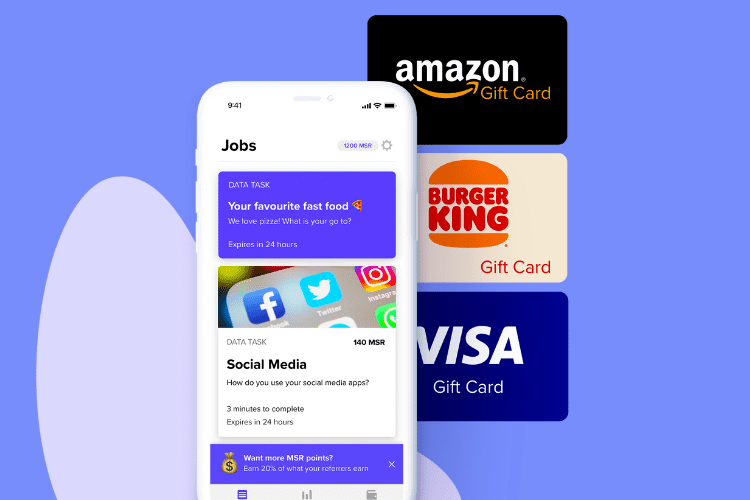 Disclosure: We're letting you know that this post contains sponsored links which The Smart Wallet receives compensation for, which may impact their order of appearance. This site doesn't include all available offers.
Are you looking for different ways to make quick cash on the go? Completing short surveys and tasks on a platform like MSR can be a simple way to make some extra bucks. All it takes is a few minutes, and you have the potential to start earning some rewards.
But with many other survey platforms available, how does MSR stand out from the competition? Let's find out.
What is Measure MSR?
The Measure MSR app is owned by Measure Protocol, a London-based marketing company that provides data solutions for companies they partner with.
MSR wants to give users a unique experience, and it's one of the few entirely mobile survey sites. Its primary mission is to give users power over their data by completing interactive tasks while earning rewards as they go. The free app is currently available in the US, UK, and Canada.
"I've made like 30 dollars on this app for only having it for a month. Not bad.. and the tasks are super simple." – Sincere Asher Phifer
What Makes MSR Unique?
Unlike other survey sites, the free MSR app genuinely values your privacy. It provides complete transparency to anyone wanting to complete tasks.
Here are a few of the features MSR offers:
Fair rewards based on the task size and information shared
Interactive activities that keep the user engaged throughout the experience
Gift card rewards to over 40 top global brands
Many older survey sites give you the task and expect the rewards to be the primary motivator. However, MSR is one of the first apps to emphasize the importance of the survey participant's experience. Their easy-to-use design and transparency make these tasks much easier to complete.
How To Earn Rewards On MSR
To earn rewards on the site, you can sign up for paid surveys, refer your friends, and do other quick jobs such as taking pictures of products or doing reviews.
The MSR app essentially uses simple "video tasks" instead of boring surveys like:
Amazon purchases
Netflix viewing history
Screen time
Battery life settings
YouTube viewing history
Instagram ad clicks
And more!
MSR also allows you to rate your experience regardless of your chosen task. If you found it complicated or didn't like the experience, you have the right to leave a poor review. Your ratings help the app's algorithm give you better-quality tasks and surveys in the future.
Every 100 points you earn is equivalent to $1. When you earn 10,000 points ($10), you can redeem and trade your points for gift cards or Paypal Cash. Their low payout threshold means you can start seeing rewards reasonably quickly!
How To Sign Up for MSR
Signing up for the MSR app is easy and won't take long. Here's how you can start earning rewards:
Download the iOS or Android version of the MSR app
Fill out basic information, including your name, e-mail, age, and address.
Confirm the e-mail address you used with your account
Start looking for surveys and earning rewards!
Remember, anyone who wants to sign up must be 18 or older and live in the US, Canada, or the UK!
MSR: Pros And Cons
Pros:
It's mobile-friendly, unlike other survey sites
The tasks are easy to get through
You don't need many points to cash out
A wide selection of reward options
Refer friends to earn 20% of everything they get for passive earning
Cons:
Video tasks can take more time than a picture
There is no desktop version
The Bottom Line
The Measure MSR app is slowly transforming the way we see taking surveys. While the tasks aren't as abundant as other more established sites, you're working with a brand that values transparency and puts the users first.
Are you ready to start earning some cash? Download the app and sign up for MSR now!