How To Win Money with the Solitaire Smash App

Disclosure: The Smart Wallet has partnered with CardRatings for our coverage of credit card products. The Smart Wallet and CardRatings may receive a commission from card issuers. Opinions, reviews, analyses & recommendations are the author's alone, and have not been reviewed, endorsed or approved by any of these entities.
Solitaire Smash, it's simple and easy!
Let's face it: the number of game apps these days (especially solitaire games) is crazy. You have so many options and it's endlessly overwhelming. Well, let me make a suggestion: what if you could win money to play solitaire on your phone? Well, with
Let's jump into why Solitaire Smash is the best solitaire game app and why you should download it today.
What is Solitaire Smash?
Solitaire Smash is a fresh take on the classic solitaire card game. The difference between this and the original is that you can play it on your phone and win real money in the process. You can download the app on the App Store.
If you're a fan of Solitaire Cube, for example, then you're going to absolutely love Solitaire Smash. Now, let's talk about how to get started with Solitaire Smash today.
How Solitaire Smash Works & Tips To Play
The objective of Solitaire Smash: To win real money in cash tournaments or play in free tournaments using in-game virtual currency, or gems. The goal is to bring players like you the best solitaire experience, where you can train and sharpen your skills, compete against others worldwide, win real money, and most importantly: have fun!
First, you'll go ahead and join a free tournament to practice or enter a cash tournament to win real money. (We recommend practicing first!) You'll put your solitaire skills to the test against other users at a similar skill level. This way, everyone has a fair chance. The object of solitaire? You'll need to build card sequences from ace to king of the same type of cards in the four foundations. If you uncover an ace, go ahead and place the card in one of the four foundations. Then, whenever you find the same card type in ascending order, place it over the ace. The image below explains itself: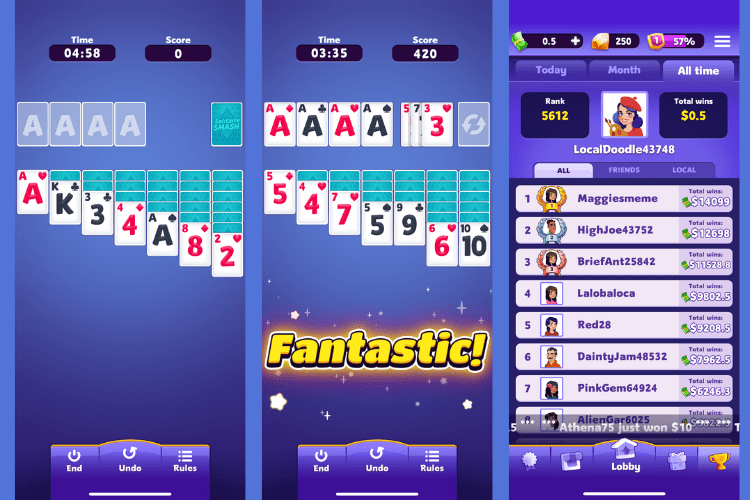 As for the tableau, there are seven columns of cards in the game. Tap and drag to play a card and build a sequence in descending order with alternating colors. It's worth pointing out that an empty column in the tableau can only be filled with a king card.
If you no longer have face-up cards to move (darn it!), just tap the stockpile on the top right corner to see if you can play a different card. With enough shuffling, you'll probably get a card that you can use.
If you happen to be out of moves, you can undo your moves to try a different play. But if you can't find another move (wah, wah), submit your score and take advantage of the bigger time bonus. Timing is crucial in Solitaire Smash. The faster you clear the board, the higher you score, which leads to a bigger bonus!
What's more? You can earn an extra 30 gems per day by collecting the "Daily Bonus" and deposit cash to buy more gems (and in some cases even get an extra cash bonus to spend just for depositing). Additionally, when your friends enter your unique invite code upon signing up for Solitaire Smash, you'll earn a $5 bonus! Check out the screenshots below which give you a better idea of what I'm talking about:
How Much Money Can You Win with Solitaire Smash?
Thousands of dollars are cashed out daily from the best active players, and you can join in too. Cash deposits and withdrawals are 100% secure, via PayPal or Apple Pay.
It's important to note that cash tournaments are not available in the following states: AZ, AR, CT, DE, IN, IA, LA, ME, MT, SC, SD, and TN. But don't fret: if you reside in a prohibited state, you can still play for fun.
Is Solitaire Smash Legit?
1,000% yes! Solitaire Smash has already paid out a lot of money to their players, with their top player winning over $14K so far, so it's time for you to jump in and get a piece of the action. Go ahead and download Solitaire Smash today!
Read More: