The 10 Best Free Food Apps You Should Have On Your Phone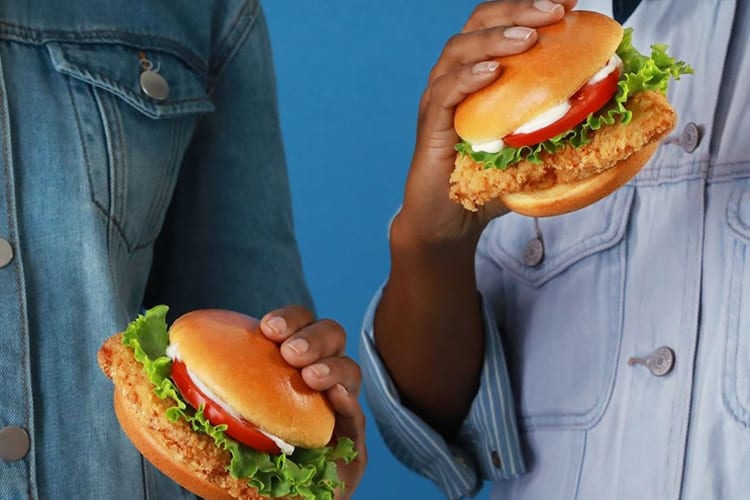 Disclosure: We're letting you know that this post contains sponsored links which The Smart Wallet receives compensation for, which may impact their order of appearance. This site doesn't include all available offers.
Free food. One of the best combinations of words in the world. I've always thought the only thing better than a great meal is a great meal that I don't have to pay for. That's what makes these food apps so amazing.
If you're on the hunt for freebies and deals at your favorite restaurants, they might be only a few taps away. Many popular restaurants have apps that give you free food just for downloading.
Here are the best food apps below and we also go over how to earn a $500 DoorDash gift card just by trying out some deals!
The Best Food Apps
1. Panera Bread
Panera has the MyPanera rewards club, where you can score a free treat and free delivery for 30 days.
And that's certainly not the last freebie the app will give you.
Panera has different promotions for different months. Some months they'll give members a free bagel every day, and others will offer free coffee daily.
The app has personalized rewards for each member, too, so you earn deals on items you actually like. 
The app makes ordering easier than ever too. If you have an account, you can save your favorite meals and order ahead with just a few clicks. You can also see a map of every Panera location near you to simplify the process.
2. Red Robin Gourmet Burgers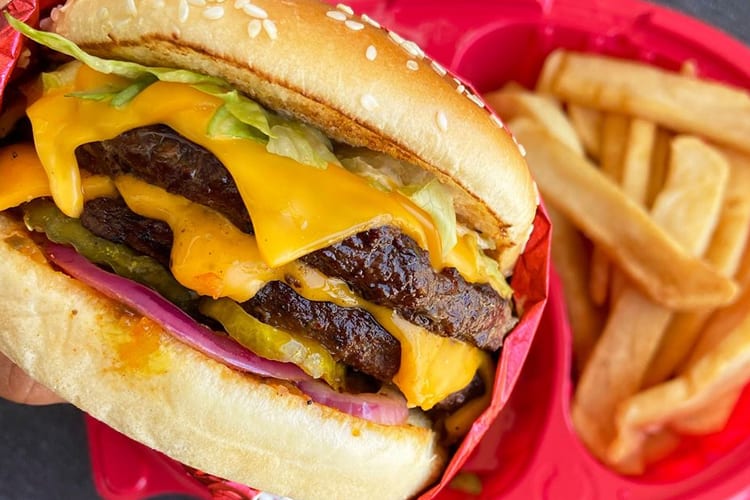 Red Robin's "Royalty" program doesn't give you anything upon sign up, but they have some pretty killer deals. While any Red Robin customer can get bottomless fries, Royalty members can get "bottomless rewards."
For example, the app offers a number of rewards that only get better the more often you dine at Red Robin. Royalty members get every 10th item they order for free and $20 off their sixth visit. As an added perk, members are entitled to a free burger any one day during their birthday month.
Red Robin will also donate 1% of what you spend to a school of your choice after you sign up. Helping the community has never been so delicious!
3. Burger King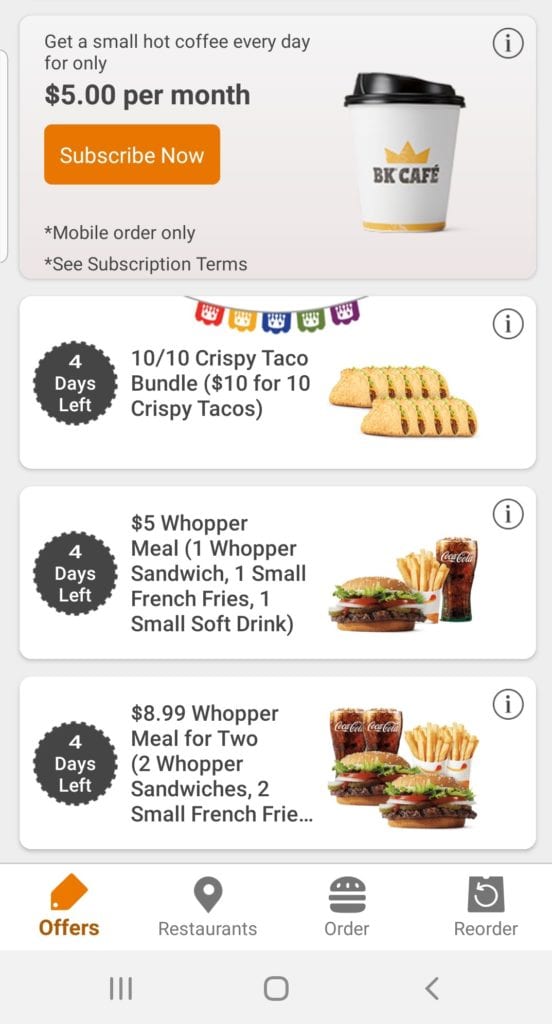 The BK app has deals, freebies, and buy one, get one offers only accessible to those with the app. They have an ever-changing list of coupons you can choose from to get the best deals at any Burger King location.
Deals change every few days, so you're always sure to find something that'll hit the spot. My current offers include a discounted whopper meal, BOGO Oreo shakes, and cheap burgers, fries, and chicken.
The app also offers an easy re-order button to get your favorite meals whenever you're craving BK quickly.
Unlike other food apps, Burger King offers a cafe subscription deal. For just $5 per month, you can get a free small hot coffee every day.
4. Chili's
When you download the My Chili's app you instantly get 60 rewards points, enough for a free menu item.
The more you spend after that, the more points you earn that can go toward other free food. In addition, My Chili's Rewards members are entitled to their choice of a free drink or chips and salsa any time they dine at a Chili's location.
The app lets you put in an order online for pick up, but it also has perks for customers who want to dine in. You can see in advance if your local Chili's has a wait for a table and get text alerts on when your table will be ready.
And if you stop by a Chili's on your birthday, you get an appetizer or dessert for free!
5. McDonald's
The McDonald's app definitely gives you the best bang for your buck. Signing up immediately gives you a buy one, get one free offer that isn't available without the app as well as discounted menu items.
It's also a gift that keeps giving. Coupons and freebies update regularly and give you new great offers. Deals change every day, but you'll always find something you'll end up lovin'.
The menu is easy to navigate, ordering and paying are simple, and overall the app finds a way to make fast food even faster.
To see current deals and download the app, head over to the McDonald's website.
6. Baskin-Robbins
If free ice cream doesn't hook you, I'm not sure what will. If you download the BR app, you'll get a free scoop in addition to loads of offers, deals, and promotions.
By allowing notifications, you'll be the first to know when Baskin-Robbins rolls out a new flavor or discount. iPhone alerts never sounded so sweet.
Baskin-Robbins has new deals and promotions nearly every day, including a rotating flavor of the month. You can also sign up for emails from the ice cream chain to get notified whenever new deals that you can take advantage of pop up!
Download the app and snag your free scoop. If you have T-Mobile Tuesdays, you can utilize the gift codes you get from there to stack!
7. Wendy's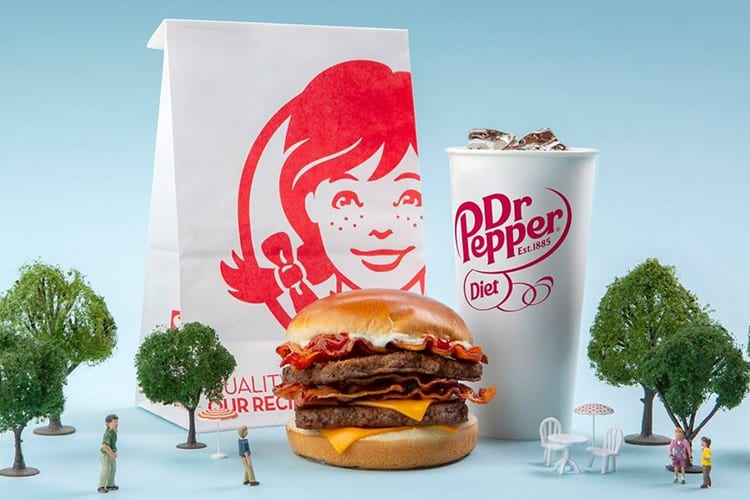 With the Wendy's app, you'll get access to exclusive offers on all your favorite food. Most deals are buy one get one, so if you take a friend, one of you can eat free!
The app also lets you order online so you can pick up your hot food whenever you want.
To download the app, head to Wendy's website next time you're craving a burger.
8. Buffalo Wild Wings
You won't get anything for free immediately by signing up for Buffalo Wild Wings rewards, but the value stacks up quickly. Every time you check-in at a BWW location you earn 10 points plus an additional 100 for every $10 spent. As you rack up points, you can redeem them for free food.
After a few trips with friends, you'll be dining on free wings in no time! You can sign up for the Blazin' Rewards program online. 
9. Chick-Fil-A
Chick-Fil-A is famous for its chicken sandwiches and its "Cow Appreciation Day" where you can get freebies when dressed up as a cow. With the app, you earn points as you spend that you can swap for free meals, and you'll get sporadic deals for free items or other offers.
The app is available for Android and iPhone, and you can find more info and download links on Chick-Fil-A's site! 
10. Jimmy John's Gourmet Sandwiches
This famous fast-sandwich joint has a rewards program loaded with freebies. With your first order through the Freaky Fast Rewards program, you get a free sub and rack up redeemable points on every purchase at Jimmy John's.
There are also free hoagies throughout the year, including on National Sandwich Day, and your birthday! You can sign up easily through Jimmy John's site.
Bonus: How to Get a $500 DoorDash Gift Card
You can get a $500 DoorDash; all you have to do is try out some deals. The catch? You can only do this once a year!
Seriously, anyone 18+ can participate in Flash Rewards, a rewards program that's been around since 2016 and has rewarded $12 million to members over time.
So how do you get the money? Answer: You just have to follow the instructions carefully!
Flash Rewards work by showing you "deals" they think you would like. This includes mobile apps and games, subscriptions, financial services, etc. Each type of deal you choose has its mini task to complete.
Head over to Flash Rewards and fill out basic info (Email, Name, etc.)
Take a quick Survey (it helps figure out the optional offers & required deals to recommend)
Complete deals by shopping Flash Rewards' great brand name partners.
Important: Follow the instructions on completing the specific number of deals for each level and get to Level 5 to get the maximum reward! (there are plenty of deals to try – some are free trials or app downloads, others require a purchase!)
Claim the reward and get it in about a week!
You won't get your reward if you don't complete the required amount of deals. Sure, it takes a little more effort but it's legit. Get your $500!