Mobile Gaming Side Hustles of 2021

Disclosure: We're letting you know that this post contains sponsored links which The Smart Wallet receives compensation for, which may impact their order of appearance because talking about money should always be an honest discussion.
All those times you've clocked in playing games on your phone can now be profitable. You're not wasting time if you're making money at the same time. *taps temple

You can do it with games that pay you to play.  So if you want fun games and apps that pay you to do what you probably do already every day, then this list is the place to start.
And yes, we know 2021 is still young but these are our favorite gaming side hustles so far! Take advantage of being able to earn cash from multiple apps and try them all to see which ones you like best. There's nothing better than getting paid to have fun.
1.

[Android] Make Easy Money Just Trying and Playing Games
Only focus on games that pay for your time.
You can do it with AppStation, an Android app that pays you to try out new games.
When you earn coins from trying new games, you can redeem for:
PayPal Cash
Amazon gift card
GameStop gift card
PlayStation Store gift card
Xbox Live gift card
And too much more to list
Nab a 4,444 coin welcome bonus too, which is basically around 50 cents in value. And if you don't like to wait, you can choose to payout as low as $1.
If your friends want to get it on the money action from afar, introduce them to AppStation on Google Play, where you'll get bonus coins and 25% of all their earnings. To make it a supportive group, your friends will also earn 25% of your earnings too!
2. Android Users Get Paid to Try New Games. Every Gamer's Dream.
Who would've thought you can play games to make some money? Especially now when that's easy to do from home.
All you need is Mistplay, an Android game platform where you can try new games to earn points redeemable for gift cards like Amazon, VISA, PlayStation Network, XBOX Live, and more.
In this Google Play app, all available free games are listed so just take your pick to try, especially high unit multiplier games! For example, the 4x unit multiplier games will earn you 8 times more units (and dollars) per level than the 0.5x unit multiplier games.
You'll only get paid for playing games if Mistplay is running so be sure to always install games from the Mistplay app!
3. Android Users: Try Games, Get Gift Cards. Play More to Earn More
You love playing mobile games so why not get rewarded for it? Earn your first $5 gift card within 48 hours for something you were already going to do!
Just play through Rewarded Play, a free-to-download Android app with hundreds of games to choose from; including Yahtzee, Scrabble Go, and Design Home.
You can also play board games, dice games, card games, casino games, and a lot more.
Then redeem points for gift cards from 20+ retailers including favorites like Target, Amazon, Walmart, Best Buy, etc. The games are fun and an easy way to earn some cash. As a bonus, there is an active customer support team!
4. [iPhone] Play B-I-N-G-O for Up to $25,000 C-A-S-H!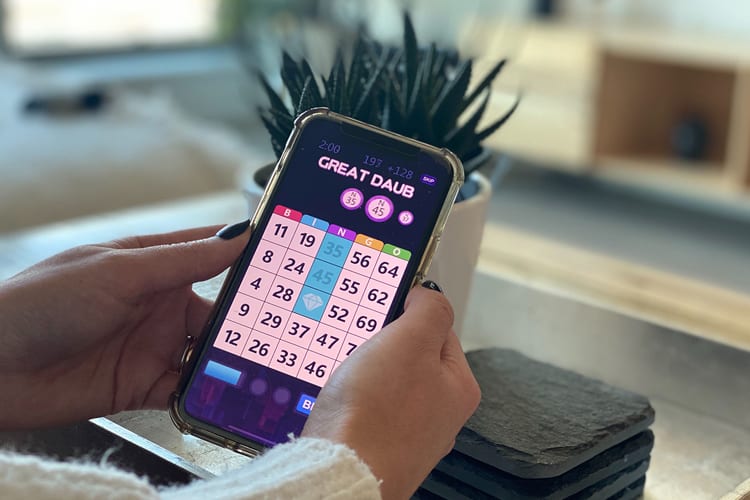 When you think of bingo, you probably envision a room full of seniors stamping number cards. In other words, not terribly exciting.
But Bingo Clash on iOS, is the free modern version where you can play on your iPhone, and win big with cash and real-life prizes. There are daily cash prizes as well as weeklong tournaments with prize pools that can go up to $25,000! You can also win items like iPads, kitchen appliances, LEGO sets, other electronics, even cars!
Pro-tip: Don't hit the Bingo button until almost the end of the game to rack up bonus points!
Play cash games for the bigger prizes but note that they aren't available in these states AZ, AK, CT, DE, LA, MT, SC, SD, TN, and VT. However, Bingo Clash iOS is free to play, is fun, and you could win cash/prizes, so check it out!
5. [iPhone] 9 Classic Games in 1 App = Cash
Check out Pocket7Games on iOS which despite the name, actually has 9 different classic games to choose from.
Bingo Clash is the most popular, followed by Solitaire!, Bubble Shot, 21 Gold, Block Blitz, 2048 Blitz, Dunk Shot, Bubble Gold, and Cube Blast. Easily switch between games to play for fun or for cash against real players 1v1 or in a group.
Every day over $1,000 free cash is awarded to players who join the free entry events. You can also win Amazon gift cards, and tech prizes like Xbox, AirPods, iPads, and more. Never be bored with plenty of surprise events and activities that give free cash plus earn up to $40 per friend you invite to play Pocket7Games!
More than $70M in prizes have already been rewarded so get in on your share of the fun. Note that cash games are not available in AZ, AR, CT, DE, LA, MT, SC, SD, TN, VT but you can still play for awesome prizes.
6.
7. Get Paid in Gift Cards if You're Chill with Lock Screen Ads
The average person unlocks their phone 110 times per day – that's a lot of time spent looking at a screen for free.
With S'more you get paid every day you unlock your Android. It's even easier than it sounds, and since you can cash out with as little as $1 there's no waiting around for your rewards.
New features make it even easier to earn for stuff you're already doing too. Earn rewards by using your lock screen, watching videos, shopping, and even trying out apps.
S'mores pays in gift cards so you can redeem for:
Amazon
Walmart
Target
CVS
GameStop
Domino's Pizza
Starbucks and more!
Just use your Android normally, and your earnings will apply daily. Pretty much the easiest thing to do and you'll be earning gift cards to use online while social distancing and for IRL fun when the pandemic is over!
8.

[iPhone] Play Solitaire to Win Cash. No Longer a Single Player Game.
Less than a few minutes. That's all you need to win real cash when you play Solitaire Cash, a fun Solitaire game with a modern twist on your iPhone.
It's like regular Solitaire but you compete against other players at the same skill-level as yours to see who can solve the deck the fastest, and for cash! Play in groups of 5 or more and the top 3 for each game wins.
Players have already won thousands of dollars! Solitaire Cash is free to download and play but cash tournaments are specifically not available in AZ, AR, IN, IA, LA, ME, MD, SC, MT & SD.
If you like playing quick games for chances to win cash with no ads, check it out.