People Love This Budgeting App That Figures Out Where You're Wasting Money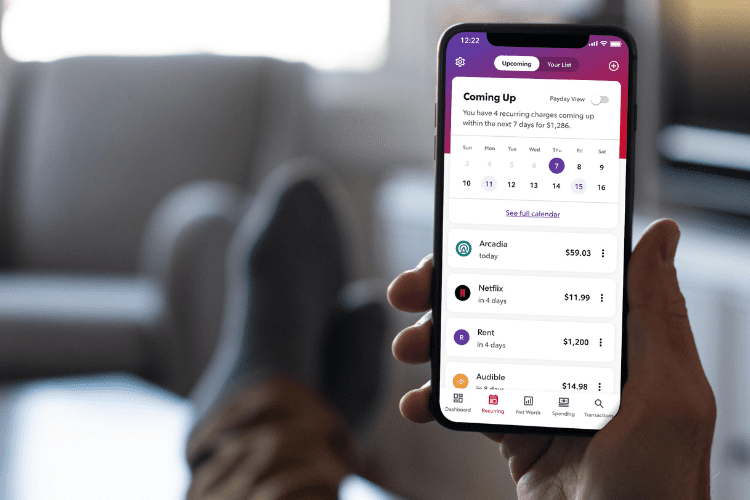 Disclosure: We're letting you know that this post contains sponsored links which The Smart Wallet receives compensation for, which may impact their order of appearance. This site doesn't include all available offers.
Life keeps rolling on whether you like it or not, but sometimes you wish there was some sort of custom blueprint for it, right?  "Yes, please tell me what to do with my life, cause yea, I need a little bit of help."
Rocket Money is basically like that, but for your finances. Which, we all know is a huge part of your life.
How Rocket MoneyWorks
We like to think of Rocket Money as the app that gives you ultra control over your money because:
It groups all your accounts and spending into one easy-to-view spot
It lets you finally simplify your finances and reduce money stress
It lets you budget even when you don't know how to
It can cancel subscriptions you don't use anymore or forget about
And it can negotiate bills down for you!
Jen M. said, "I downloaded this app on the recommendation of an article I read and have been so SO impressed. I have a snapshot of my financials at my fingertips and a team of people looking at my bills and negotiating to save me money. Since downloading this app just days ago, I have saved $1,244 annually and I still have a number of bills in active review. You don't realize how comfortable you get, this app reminds you that you should be keeping your money!"
She makes a great point that people get comfortable with accepting bills as they come. Particularly cable and internet bills. If you never ask for a better and lower rate, the service provider will never offer it. That's where Rocket Money steps in to negotiate for you, saving you time from waiting on the phone listening to elevator music.
The sleek app also reminds you of all your upcoming payments and makes life and your finances just easier.
Harry M., a financial advisor, has the same sentiment. "The experience of dealing with bills and personal finance is not fun, and Rocket Money has made the process of organizing my money simple, easy, and actually enjoyable. The intuitive user experience, friendly design, and flawless account syncing made that first step to getting on top of my spending a piece of cake… and I'm a Financial Advisor!! Love this app and highly recommend it to anyone looking to automate the management of their personal finances. And man do we need it when it's so easy to forget about all those automated subscription payments we have out there in the web-verse."
Finally, Get That Budget Up and Running
Most people don't know how to budget effectively as we either tend to overestimate or underestimate how much we need each month for separate categories like dining out, shopping, etc. Even if a close to realistic budget is set, multiple credit/debit cards, along with offline and online expenses, make it really hard (ok, almost impossible) to keep track of.
Since Rocket Money connects all your bank accounts and then reviews your spending, you'll be able to pick a budget and set spending limits that align more with your habits.
For instance, have 5 different coffee shops that you frequent? (No judgment) You'll be able to group them all, name it "Coffee," and easily see how much you're spending each month on that category. Using this method, you can set a budget in the app to see how much you have left to spend per day to stay within your goals.
Lauren S. raves, "This is giving me peace of mind with easy budgeting. I've always had a hard time organizing all of it and setting goals around money. Rocket Money simplifies it and makes it easy to manage your money.
Hayum N. chimes in with, "I'm a college student with two jobs, all the bills, and expenses, and this app helps me keep it all straight. It's organized and relaxing to use – much different from the stress I used to feel when checking my bank account. I love it!"
Reduce that Money Stress
Ever look at a bill and go, "what is this charge??" Since Rocket Money neatly organizes all your bills and recurring subscriptions in an interactive calendar, you won't get blindsided again.
Plus, they notify you of any annoying situations, like if a service provider decides to slyly increase your bill due to bill creep or you get charged an overdraft fee.
Rocket Money's bill negotiation and subscription canceling sets it apart from other plain budgeting apps. Kelley P. says, "This app is AWESOME. It's helped me so much and has saved me time and hassle in canceling subscriptions I didn't even KNOW I had that were charging me annually on iTunes! I recommend this to all! It really helps you get organized, put everything in order, and set an easy budget. I spend at least ten minutes every day on this app because I like it that much, and I'm excited to see how it will help me in the near future."
It Even Monitors Outages
When my internet or cable goes down, sure, I'll get frustrated or curse at my monitor but once it goes back up, it's business as usual.
But Rocket Money will monitor any outages for you and actually request credit back to your account. For doing no extra work, but you get to pocket the credit? That's a definite win.
How Much Does Rocket Money Cost?
Rocket Money is a free app with optional paid services and premium plans.
Over time, Rocket Money has saved $20,000,000+ for its users!
Chase P. says, "I have looked for a budgeting app that actually works for a long time! This is the one! It's worth it for the payment for premium! I love it and finally feel like I have some control over my finances because the graphs, the recurring bill pays, the net cash all of this provides a visual and makes it so easy to maintain."
If they successfully negotiate a bill down for you, then they'll charge a one-time fee of 40% of the first-year savings. So, for example, if they lowered a cellphone plan bill from $120 to $90, that's a saving of $30 per month or $360 a year, which Rocket Money will get $144.  Even with the fee, you still saved $216. There are payment plans available if you prefer to pay the fee in chunks too!
Since Rocket Money is free to download, there's no reason not to try it out and see how much easier your personal finance life could get. And since the premium plans are so affordable, your near-future self will thank you!