11 Ways to Prepare for Your Best Black Friday Ever

Disclosure: We're letting you know that this post contains sponsored links which The Smart Wallet receives compensation for, which may impact their order of appearance because talking about money should always be an honest discussion.
Semi-fun fact: Black Friday violence from extremely passionate shoppers became so bad that it actually led to a Twitter hashtag #WalmartFights
Some want to even call it Black-Eye Friday! Of course, retailers want to make it a positive day by showcasing deals but this is a good example of sometimes we just can't have nice things.
Since Black Friday is no longer just a one-day event though, it does make it easier for shoppers to get deals throughout the whole month of November. So whether you're a make lists kinda person or just wing it, we've got some tips to help make this Black Friday your best ever.
1. Don't Toss Those Receipts! Do This First for Free Money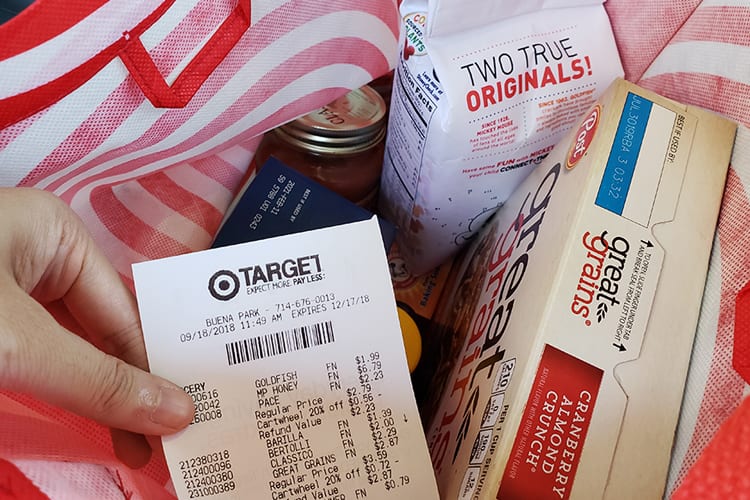 Before you crumple up that receipt in your pocket or forever lose it in the abyss of your purse, scan it into the Fetch Rewards app (iOS or Android), and earn points towards free money to use towards Black Friday and holiday shopping. I repeat, free money.
It's ridiculously simple and actually fun to use.
Shop at any grocery store, convenience store, club warehouse store, neighborhood store, or big box store, take a picture with the app, and that's it. (Favorites include Target, Kroger, Costco, and Walmart!)
Unlike other apps, you don't have to go to specific stores, there's nothing to pre-select prior to shopping, and there's no minimum spend. Just scan in any receipt on iOS or Android from a store that sells groceries (even when you didn't actually buy any groceries) and boom, points for money.
You can start cashing out as soon as $3 (3,000 points) and you can grab a $2 welcome bonus on us (2,000 points) when you use promo code REWARD before scanning your first receipt!
Welcome bonus: $2
Average savings a month (depends on purchases): $25
What it could add up to in a year: $302
Additional referral earnings: $2 per referral
2. Bought Something Online and Price Dropped? Here's How to Get $$ Back
We do a lot of price comparisons before we buy something, especially for Black Friday, but after the purchase, it's out of sight, out of mind.
That jacket you bought a few weeks ago, might have dropped $11 and you wouldn't have even known. However, major online retailers actually offer price drop refunds, but who spends time keeping track of their previous purchases?
A free tool called Paribus cross-references their list of major retailers with your email receipts and gets you money back if there's ever a qualifying price drop.
After the first initial set up, it'll monitor for any refunds to get back for you. In some cases, you might have to call or email the retailer to complete the refund, but hey, it's money back you wouldn't have gotten otherwise!
Your purchase from Target dropped $7? You'll get $7 back. Your shoes from Zappos dropped $12? You'll get $12 back.
Paribus is free to use and they don't take a cut for getting your money back. Why isn't everyone using this?
3. The App That'll Make Your Black Friday Shopping Easier
Whether you're the type to create detailed spreadsheets or just a casual shopper, Flipp (iOS or  Android) can help you plan, organize, and find deals you otherwise would've missed.
Since the free-to-use app contains deals and weekly ads/circulars from over 2,000 local and national retailers (including supermarkets), you can browse all the Black Friday offers in one spot. Got a wishlist? Flipp's shopping list feature (iOS or  Android) makes it really easy since it'll automatically find you deals for the items you're looking for.
If you've got your heart set on a specific item (e.g. digital camera), Flipp's search function lets you see everywhere that item is on sale so you can compare prices. No more researching prices on multiple sites! So prepare to plan ahead and avoid wasting time in the Black Friday craziness by using Flipp.
4. Get Paid in Gift Cards if You're Chill with Android Lock Screen Ads
The average person unlocks their phone 110 times per day – that's a lot of time spent looking at a screen for free.
With S'more (Android only) you get paid every day you unlock your phone. It's even easier than it sounds, and since you can cash out with as little as $1 there's no waiting around for your rewards!
They partner up with brands looking for more impressions (aka your eyeballs) and you don't need to click on anything to get paid either.
S'mores pays in gift cards to Android users so you can redeem for:
Amazon.com
AMC Theaters
Best Buy
CVS
Target
Domino's Pizza
Starbucks and more!
Just use your phone normally, and your earnings will apply daily. Pretty much the easiest thing to do.
5. Make Extra Black Friday Money by Cashing Out on the Everyday Stuff You Do Online
The average American spends 24 hours online a week(*), but for me, I know I definitely surpass that. If it's the same for you, capitalize on all that online time by earning points you can redeem towards gift cards, and even better, cash to use towards your Black Friday shopping.
You can do it with Swagbucks (iOS or Android) a free rewards program for the everyday things you do online.
Earn points by:
Watching entertaining videos
Shopping at your favorite retailers
Searching the web
Participating in surveys
Playing fun trivia games
Then you can redeem for a large variety of gift cards (Amazon, Target, Walmart, Starbucks are popular) or my favorite, Paypal Cash and Visa Gift Cards. Cash out in as little as $3!
You'll even get a $5 bonus when you earn 2,500 SB points within your first 60 days. While you obviously won't get rich doing this, you can nab an extra $10-$20 a month on iOS or Android.
Keeping your profile updated and doing the Daily To-Do List will also earn you extra SB. There are a lot of opportunities so you can cash out early and often!
More Surveys, More Cash
When you have the downtime, there's nothing easier than answering some questions in return for cash. If you want more surveys in your life, head over to MyPoints to sign up for free and similar to Swagbucks, you can participate in surveys, watch videos, and even read emails for points!
Points turn into gift cards from Amazon, Walmart, Starbucks, as well as PayPal Cash.
Get a $5 bonus when you complete your first 5 surveys!
6. Get Free Money Back on Your Purchases
Ibotta has grown a lot over the past 8 years. They started with groceries cash back, and now they've expanded into other destinations like Best Buy, Kohl's, Costco, Amazon, eBay, CVS, Sephora, Priceline, almost anywhere that's popular. (Target and Walmart are still my favorite spots).
Even restaurants and bars! Currently, there are over 750,000 locations that you can get cash back on.
That's why it's essential to keep the Ibotta, iOS or Android app in your cash back arsenal when you're shopping on Black Friday. With it, you can earn cash back on every purchase, whether it's in-store or in-app. On average, active users can get up to $25 a month cash back!
And it's simple.
Go shop at your fav stores, restaurants, and apps
Redeem the offer via uploading picture of receipt or online
Get cash back via PayPal, Venmo, or gift cards
A Facebook fan, Claudia Z. told us she's earned $1,672.36 since using Ibotta! Teammate Kelsey B. has earned over $500 since starting too.
Ibotta is free to download on iOS or Android and you'll also get up to $20 in Welcome Bonuses when you sign up so stop leaving free money around!
7. Just Leave This App On While Running Errands or Shopping & Get Paid
Panel App (iOS or Android) is a loyalty incentive app that will give you points just by leaving the app running in the background. This is passive earnings at it's best.
Because it gives you points on location, go ahead and enable location services. Then just turn the app on before you go about your day and head to school, work, gym, walk your dog, wherever.
After testing it we think it's a great (lazy) app that rewards you for doing almost nothing. If you're still skeptical, know this:
You don't have to complete offers
You don't have to watch ads
You don't have to buy anything
You don't have to do anything but leave the app running
We snagged a $5 Amazon gift card via email after leaving the app on and forgetting about it. You can also choose VISA gift cards, MasterCard gift cards or sweepstakes entries.
Overall, a solid choice for earning a bit of money for literally just leaving the app running on your iOS or Android!
TIP: When you're a new member, it'll ask you if you want to keep the app running in the background. Just tap "Yes" to continue getting paid!
8. Buy Stuff = Get Gift Cards You Actually Want
If you have room for 1 more app on your phone, then it needs to be this.
Actually, delete another app to make room for this one. It's that good.
It's called Drop (iOS or Android) a free app that gives you gift cards on stuff you already buy from your favorite stores and brands.
Your everyday purchases from Amazon, Target, Trader Joe's, and Walmart? You'll get points for that. Points translate to gift cards so the more you collect, the more you can redeem!
The only thing you need to do is link any credit or debit card you usually use for buying stuff and that's it! Drop (iOS or Android) will automatically recognize when you buy from your activated offers to reward.
There's literally no downside to using this free app to get more gift cards. Use it on top of your loyalty points and credit card points for even more rewards!
LIMITED TIME OFFER: Use promo code SMARTWALLET to unlock 5,000 points ($5) automatically when you link your first card on Drop!
9. In Line? Play Game and Boost Your Savings
When you need to kill some time while being in line or just in general, go ahead and Long Game Savings, (iOS or Android) a savings app that turns saving into a game.
Just play 1 game a day, and you could win cash daily. (That'll come in handy for the holiday shopping)
Yes, it's safe. Your money is FDIC-insured up to $250,000 and you can withdraw money at any time.
After setting up your savings account, you'll be able to play quick games like Spin to Win, Flip Cards, Slot Machines, and more for chances to win money to increase your savings. Eons better than 0.01% interest rate.
It's like you're getting paid to save and it only takes less than a minute of your day to play. 
10. Earn Money Back for Your Food Delivery, Concert Tickets, and More (Here's $10 to Start)
If you're not looking for every opportunity to earn cash back, don't worry, we got you. Even on stuff that you might not think you can get cash back on!
Take, for instance, food delivery. It's convenient, you don't have to leave the house, everyone can order from different places, and you don't have to deal with waitstaff and the crowds.
With Rakuten (iOS or Android) previously called Ebates, you can get cash back at Grubhub, Postmates, or Domino's which adds up when you're ordering delivery at least once a week.
And entertainment? You can get cash back on popular sites like Ticketmaster, Stubhub, Fandango, and SeatGeek for all your concerts, movies, and sporting events. You're basically getting free cash in your pocket!
Rakuten is also giving our readers a $10 welcome bonus to anyone that signs up to be a member on iOS or Android.
Membership is free and you also can earn up to 40% cash back at over 2,500+ stores including Amazon, Walmart, Kohl's, and Sephora. Plus, you'll find coupons, free shipping codes, and awesome sales. So… why aren't you a free member yet?
11. Don't Have a Credit Card for Shopping? This Cash Back Card Accepts Little to No Credit History
There's a catch-22 that millennials and those with little credit history are facing – you need credit to get credit. But if you don't have a credit history, it can be especially hard to get approved for credit cards that don't have fees.
This is where the Petal Cash Back Visa® Card steps in. It's a fee-free cash back credit card, with credit limits up to $10,000, and comes with an app that can help you manage your money in one place.
With variable APRs ranging from 14.74% – 25.74%, the Petal Card is one of the only credit cards you could get without credit history that doesn't require an upfront deposit fee. This is because if you don't have a credit score, your income, spending, and saving can be analyzed. Of course, those with credit scores are welcome to apply too – and if you do have a credit score, Petal will take a look at it.
Automatically earn a base 1% cash back on purchases with the Petal Visa® Card (which already rivals other starter cards and will be great for all that Black Friday shopping) and work your way up to 1.5% cash back after 12 on-time monthly payments. Utilize their AutoPay function to help you stay on top of payments to earn towards higher cash back.
With no fees and solid cash back, check out the Petal Card to see if that's what you're looking for!
*Petal Card is issued by WebBank, Member FDIC
*Paribus compensates us when you sign up for Paribus using the links we provided.