Try This 14-Day Quarantine Challenge for a Money Boost

Disclosure: We're letting you know that this post contains sponsored links which The Smart Wallet receives compensation for, which may impact their order of appearance because talking about money should always be an honest discussion.
Give yourself a pat on the back for being an unlikely hero by staying safer at home. It may not feel like you're doing much, but you're definitely helping the frontline of medical personnel.
But with at least another month or more of the same home schedule, you might be looking into other ways to be productive. (Even though it's entirely OK to relax whenever you need!)
So when you're ready to be more proactive, especially in your finances, try this quarantine challenge that we've put together that mixes a variety of making money, saving money, and some health rewards to help give you a money boost.
Take it day by day or complete multiple in a day, it's up to you!
Day 12: Take Advantage of Free Stuff During Quarantine
When you're going a little (ok, maybe a lot) stir-crazy at home, take advantage of the free entertainment, education, virtual field trips, workouts and more that are being offered by companies online.
We compiled a list here that can help your family pass the time quicker and have more fun doing it too. There's enough activity to last throughout the month!
Day 3: Keep Calm and Invest in Gold - Starting with Just $5
Yes, the COVID-19 news that's bombarding your feed can be scary. In addition to the Fed cutting interest rates and events getting banned, you might not even think about investing.
But it's actually the time to start if you haven't already. How about investing in a material that's been around since ancient times? Yep, gold.
There's a reason why people buy gold (coins, bricks, etc) because it tends to shine whenever there's political, economic, or financial unrest.
But there's an easier way to invest in gold, digitally, via Stash, a microinvesting app that lets you invest with as little as $5 and takes less than 2 minutes to get started. They'll even give you $10 to start investing.
They offer thousands of investments which include stocks and Exchange Traded Funds ("All That Glitters" is the gold ETF). You'll get to choose where to put your money based on things like your personal beliefs, interests, and goals. Their newest feature, Stock-BackⓇ rewards1 lets you invest in brands you spend on with the Stash debit card.2 Purchased something at Amazon? Earn Amazon stock rewards. It's like cash back but with stock!
Since paper money loses value over time, consider investing in gold, which is obviously popular as jewelry but is also widely used in dentistry and industrial electronics!
Day 2: Since You're Not Commuting, Save $610 a Year on Car Insurance
When everyone is staying at home or transitioning to a work or school from home lifestyle, this is the best time to re-evaluate your car insurance premiums. You might be overpaying on your current insurance premium since it can be a hassle finding another provider.
However, you can search for quotes easily on EverQuote. They help match you among dozens of regional agencies and insurance carriers to filter the best matches to save on your car insurance.
It takes about 4 minutes to fill out the form and you'll see a list of matches that show potential online quotes, email, and potential phone quotes.
EverQuote can save drivers $610 a year on average* compared to their current insurance premiums. Once you see your list of potential matches, choose the online ones you want or wait for more information via email or phone.
It's a pretty simple process, so try it out to see how much you could be saving on the road!
Day 5: Apply to Protect Your Income When You're Too Sick or Injured to Work
The coronavirus pandemic has added a great deal of uncertainty to everyday life. One way to financially prepare for the unexpected is to protect your income from serious illnesses.
The best time to prepare is when you're healthy. Yes, you're taking the precautions and practicing social distancing. But what happens when your state decides to re-open and life resumes? There are still chances to get sick as there's no vaccine currently. Plus, those who recover from COVID-19 may be at a greater risk for long-term health issues.
That's why disability insurance is recommended. You need it if you rely on your source of income to live life. This is especially true if you have loved ones who financially depend on you.
Disability insurance isn't just for injuries. In fact, illnesses (including mental health issues, such as depression) represent 90%* of long-term disability claims.
To make coverage more accessible and affordable, Breeze has built the first fully online disability insurance product. Answer some quick questions to get a rate in a matter of seconds. You can then choose your benefit period (most disabilities average 2 years) and complete a 15-minute online application.
If you're approved for coverage, you'll receive disability insurance benefits paid if you can't work to make up for lost income. Plans start at $9/month* and benefit amounts range from $500 to $20,000.
It's free to check out rates and you can apply online. Give yourself peace of mind, especially in these troubling times!
Day 8: Earn $200 Binging on Food, Entertainment, Health & Tech News TV
I can barely cook but I love watching food videos. The new season of Ugly Delicious? I'm there.
If you're a video junkie too, become an Inbox Dollars member where you can watch their TV and Videos section that ranges from Trending News, Entertainment, Food, Health, Tech, and even the latest World News to earn some cash. You'll also get $5 as a sign-up bonus too!
They set it up in playlists though and they'll tell you how long it takes as it can range from a few minutes to half an hour. Tip: You can set it to Play, open up another browser tab and let the videos run while you continue doing something else if you're multi-tasking!
Playlists and earning potential can change, but it's possible to earn up to $200 a month, watching videos!
Day 9: Scan the Stuff You Buy & Get Free Rewards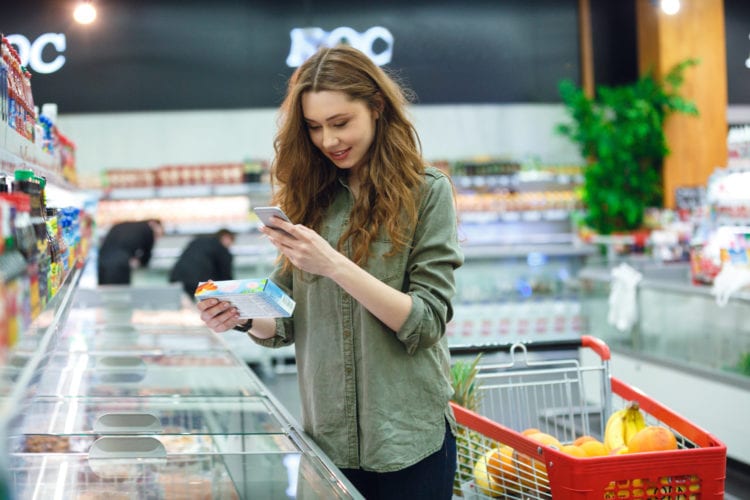 The exclusive National Consumer Panel (NCP) program is opening up again for more participants! This is your opportunity to make your consumer voice heard! (And get paid for it)
When you become a panelist, just use the app to scan the barcodes of items you purchase, provide a few additional transaction details, and you'll earn points for:
Gift Cards
Tablets
Electronic Equipment
Flat Screen TVs
and much more from their gift catalog!
Plus, all panelists are automatically entered into weekly, monthly, quarterly, and annual drawings to win extra points and gift cards – even a quarterly sweepstakes to win $5,000!
The more you share your shopping habits (scan barcodes), the more rewards you can get. You can also answer surveys and share information about your overall shopping trip.
"Scanning my purchases is fun! I also enjoy taking the surveys. Earning points is fast and easy and they have a great selection of rewards." – Jennifer B.
It's a fun way to earn more rewards on items you've already purchased and at no extra cost to you.
Register now to see if you're eligible to be a National Consumer Panelist. Eligibility will be based on your location. If you don't get accepted this time, don't worry! They're always expanding locations, so check back again.
Day 10: Shop. Scan. Score. Free Money for Your Receipts While Stocking Up
Obviously we have a lot of love for apps that make it easy to earn money for the things we normally do anyway. Like, going to the grocery store to stock up for the next few weeks.
This app is easy to use, you just need to scan in a receipt and you'll earn points towards free money. It's called Fetch Rewards. Shop at any grocery store, convenience store, club store, neighborhood store, or big box store, take a picture of your receipt with the app, and that's it. (Favorites include Target, Kroger, and Walmart!)
There's no minimum spend, no need to manually select items you plan to buy in the app, just scan in any receipt from a store that sells groceries (even if you didn't actually buy any groceries) and boom, points for money. You can even choose to donate the money you've earned to charity if you want to help out in these hard times!
Grab a $2 welcome bonus on us (2,000 points) when you use promo code REWARD before scanning your first receipt. Even scan older receipts up to 20 days old!
Day 14: Stay Healthy During These Times: Get Paid to Lose Weight
There's nothing like money motivation right? Especially for fitness. It'll also give you something else to do besides being a couch potato and reading about unhappy news.
You might be extra inspired because there's a health and wellness company that will pay you to lose weight. Seriously!
It's called HealthyWage.
They have a ton of testimonial/pictures on their site along with legit places reviewing them from CNN, The New York Times, Wall Street Journal, etc.
So if you need some money motivation to lose weight, here's how it works:
1. Start with the HealthyWage calculator (Read More )
2. Decide on a weight goal & amount of time to achieve it
3. Bet on yourself ranging from $20-$150 a month
4. Achieve your goal and you could win up to $10,000 depending on your HealthyWager!
5. If you don't achieve your goal, the money goes to support HealthyWage, including prizes for others who achieve their goals
Some of the sponsored links that appear on this page are from companies that offer investment advisory services. They compensate us; for details on our compensation arrangements, please click here.