Sponsored Content Disclosure
How to Save & Prep for Friendsgiving on a Budget

Disclosure: We're letting you know that this post contains sponsored links which The Smart Wallet receives compensation for, which may impact their order of appearance because talking about money should always be an honest discussion.
So you want to host or attend Friendsgiving, which is considered a teaser to the real Thanksgiving meal, but with the family you've picked versus blood-relations. Where to start and how to not spend too much?
Typically it's held the weekends (or weeknights!) before Thanksgiving with the menu being a potluck of different dishes (utilize those Google spreadsheets for organizing who brings what)
You don't want to look lame but you don't wanna blow your budget either prepping for these Friendsgiving parties. Utilize these cost-consious friendly apps to help!
1. Never Toss Receipts! Scan 'Em for Free Money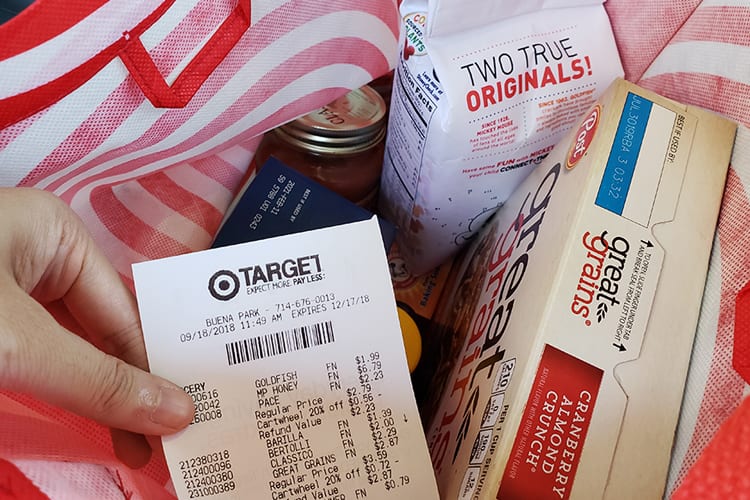 Before you crumple up that receipt in your pocket or forever lose it in the abyss of your purse, scan it into the Fetch Rewards app, and earn points towards free money. I repeat, free money.
It's ridiculously simple and actually fun to use. Shop at any grocery store, convenience store, club store, neighborhood store, or big box store, take a picture with the app, and that's it. (Favorites include Target, Kroger, and Walmart!)
Unlike other apps, you don't have to go to specific stores, there's nothing to pre-select prior to shopping, and there's no minimum spend. Just scan in any receipt from a store that sells groceries (even when you didn't actually buy any groceries) and boom, points for money.
You can start cashing out as soon as $3 (3,000 points) and you can grab a $2 welcome bonus on us (2,000 points) when you use promo code REWARD before scanning your first receipt!
Welcome bonus: $2
Average savings a month (depends on purchases): $25
What it could add up to in a year: $302
Additional referral earnings: $2 per referral
2. The Cash Back Elf to All Holiday Cooking, Shopping, and Travel
Santa's got his elves that make toys, but you can have your own hard-working buddy too.
Just download Ibotta, the app that gets you cash back on pretty much everything from groceries, electronics, beauty, toys, travel, and more!
You can even use it to get cash back from restaurants and bars too. Currently, there are over 750,000 locations that you can get cash back on (Target, Amazon, and Costco are my favorites).
Since there are so much cooking and gift-giving during the holidays, Ibotta will be essential to getting some of that money back. On average, active users can get up to $25 a month cash back!
And it's simple.
1. Add cash back offers in the Ibotta app
2. Go shop at your fav stores, restaurants, and apps
3. Redeem the offer via uploading picture of receipt or online
4. Get cash back via PayPal or gift cards
Ibotta is free to download and you'll also get up to $20 in Welcome Bonuses when you sign up so stop leaving free money around!
3. Just Leave This App On & Get Paid
Panel App is a loyalty incentive app that will give you points just by leaving the app running in the background.
Because it gives you points on location, go ahead and enable location services. Then just turn the app on before you go about your day and pick up ingredients, head to school, work, gym, walk your dog, wherever.
After testing it we think it's a great (lazy) app that rewards you for doing almost nothing. If you're still skeptical, know this:
You don't have to complete offers
You don't have to watch ads
You don't have to buy anything
We snagged a $5 Amazon gift card via email after leaving the app on and forgetting about it. You can also choose VISA gift cards, MasterCard gift cards or sweepstakes entries.
Overall, a solid choice for earning a bit of money for literally just leaving the app running on your phone!
TIP: When you're a new member, it'll ask you if you want to keep the app running in the background. Just tap "Yes" to continue getting paid!
4. Buy Stuff Normally = Get Gift Cards You Actually Want
If you have room for 1 more app on your phone, then it needs to be this.
Actually, delete another app to make room for this one. It's that good.
It's called Drop, a free app that gives you gift cards on stuff you already buy from your favorite stores and brands.
Your everyday purchases from Amazon, Target, Trader Joe's, and Walmart? You'll get points for that. Points translate to gift cards so the more you collect, the more you can redeem!
The only thing you need to do is link any credit or debit card you usually use for buying stuff and that's it! Drop will automatically recognize when you buy from your activated offers to reward.
There's literally no downside to using this free app to get more gift cards. Use it on top of your loyalty points and credit card points for even more rewards!
LIMITED TIME OFFER: Use promo code SMARTWALLET to unlock 5,000 points ($5) automatically when you link your first card on Drop!
5. Save Up To 50% On Your Weekly Groceries With One Single App
People coupon to cut costs, but it can be time-consuming and frustrating with all the different places to look for them.
An app is here to change that though. It's easy grocery planning and couponing with Flipp, an app that has all your weekly local store ads and coupons in one place.
Use the app to create a shopping list by tapping on the digital ads and clip coupons that match with the items you need. Long gone are the days of having a list in one hand and a stack of coupons in the other; all you need now is your phone.
You can search by category, retailer, or item and then 'clip' the coupon or load to your store loyalty card – it's that easy! Flipp also allows you to see trending nearby deals, so you never miss out on a chance to save a little extra dough. Additionally, you can set reminders for expiring clips to ensure you use them in time.
With 1,000+ weekly ads from local retailers and 100+ coupons from brands you love, Flipp has no shortage of saving options!
6. Bought Something Online and Price Dropped? Zero Effort to Get $$ Back
We do a lot of price comparisons before we buy something. But after the purchase, it's out of sight, out of mind.
That crockpot you bought a week ago for Friendsgiving prep, might have dropped $11 and you wouldn't have even known. However, major online retailers actually offer price drop refunds, but who spends time keeping track of their previous purchases?
A free tool called Paribus cross-references their list of major retailers with your email receipts and gets you money back if there's ever a qualifying price drop.
After the first initial set up, it'll monitor for any refunds to get back for you. In some cases, you might have to call or email the retailer to complete the refund, but hey, it's money back you wouldn't have gotten otherwise!
Your purchase from Target dropped $7? You'll get $7 back. Your shoes from Zappos dropped $12? You'll get $12 back.
Paribus is free to use and they don't take a cut for getting your money back. Why isn't everyone using this?
7. Get Paid to Try New Games
Who would've thought you can play games to make some money?
While you're killing time at the laundromat or waiting for the instapot to finish cooking, check out Mistplay, a game platform where you can try new games to earn points redeemable for gift cards like Amazon, VISA, PlayStation Network, XBOX Live, Starbucks, and more.
In the app, all available free games are listed so just take your pick to try! The more time spent on each game, the more money you can earn.
You'll only get paid for playing games if Mistplay is running so be sure to always install games from the Mistplay app!
BONUS: You'll automatically get 200 welcome points upon sign up but use promo code Bonus_100 to get an additional 100 points for a total of 300 total points!
8. 'Tis the Season to Never Pay Full Price on Purchases (Here's $10 On Us)
Every opportunity to get cash back on, we grab it. Especially during the holiday season when there's so much gift-giving or deals to be had!
Even on things you didn't know you could get some free money back on, like food delivery, concert tickets and rideshares.
With Rakuten (previously Ebates), you can get up to 40% cash back at over 2,500+ stores including Amazon, Walmart, Kohl's, and Sephora. Plus, you'll find coupons, free shipping codes, double cash back, and amazing sales.
Our readers get a special $10 welcome bonus so sign up for a free account to get free money back this season!
9. Play Games & Boost Your Money at the Same Time. Win-Win.
It's okay to relax from the holiday craziness with some mindless games. We just take it one step further by making it productive.
Go ahead and download Long Game Savings a savings app that turns saving into a game.
Just play 1 game a day, and you could win cash daily.
Yes, it's safe. Your money is FDIC-insured up to $250,000 and you can withdraw money at any time.
After setting up your savings account, you'll be able to play quick games like Spin to Win, Flip Cards, Slot Machines, and more for chances to win money to increase your savings. Eons better than 0.01% interest rate.
It's like you're getting paid to save and it only takes less than a minute of your day to play. And there's no judgment on playing too many games this new year.
10. Cashing Out on The Everyday Things You Do Online
The average American spends 24 hours online a week(*), but for me, I know I definitely surpass that. If it's the same for you, capitalize on all that online time by earning points you can redeem towards gift cards, and even better, cash.
You can do it with Swagbucks, a free rewards program for the everyday things you do online.
Earn points by:
Watching entertaining videos
Shopping at your favorite retailers
Searching the web
Participating in surveys
Playing fun trivia games
Then you can redeem for a large variety of gift cards (Amazon, Target, Walmart, Starbucks are popular) or my favorite, Paypal Cash and Visa Gift Cards. Cash out in as little as $3!
You'll even get a $5 bonus when you earn 2,500 SB points within your first 60 days. While you obviously won't get rich doing this, you can nab an extra $10-$20 a month on them.
Keeping your profile updated and doing the Daily To-Do List will also earn you extra SB. There are a lot of opportunities so you can cash out early and often!
More Surveys, More Cash
When you have the downtime, there's nothing easier than answering some questions in return for cash. If you want more surveys in your life, head over to MyPoints to sign up for free and similar to Swagbucks, you can participate in surveys, watch videos, and even read emails for points!
Points turn into gift cards from Amazon, Walmart, Starbucks, as well as PayPal Cash.
Get a $5 bonus when you complete your first 5 surveys!
11. Get Cash Back for All the Uber and Lyft Rides You're Already Taking
Everyone uses ride-sharing services nowadays, primarily Uber and Lyft. It's made going out for dinner and drinks so much easier now that you can rely on a phone app to get you home safely after a night out.
But here's another phone app you'll want because it can recoup some of your social life money, which we all know, can get pretty expensive. It also gives you points (redeemable for cash) on every ride you take anywhere!
Use Freebird to request your next Uber or Lyft to the bar, restaurant, movies, shopping, airport, (basically anywhere!) and get cash back and points for your ride.
Here's how it works:
Download Freebird
Connect your Uber or Lyft account
Connect the card(s) you want to get cash back on
Ride anywhere to participating locations to get cashback
Ride anywhere else to get points that turn into cash rewards
To earn cash rewards, just visit a participating location that has a cash offer and make a purchase there with your connected card. Once the transaction clears, you'll see the cash reward in your Freebird account!
You'll also earn points just for taking an Uber or Lyft anywhere which can be redeemed for cash rewards. However, to get the cash back and points rewards you have to request your Uber or Lyft through the Freebird app. You still earn Uber rewards through the Freebird app though, so there are no losses!
BONUS: For our readers only, use promo code SMARTWALLET to get $5 off the first 3 rides ($15 value!)
*Paribus compensates us when you sign up for Paribus using the links we provided.