13 Apps & Services to Try When You're Bored At Home

Disclosure: We're letting you know that this post contains sponsored links which The Smart Wallet receives compensation for, which may impact their order of appearance because talking about money should always be an honest discussion.
Since we're safer at home, everyone is burning through content and activities to a point where you're like "ok, done, what's next?"
So when you want to take a break from binge-watching shows, making pancake cereal, or putting together puzzles, we've got some ideas.
All you need is reliable internet and your smartphone that's already glued to your hands to check out the mix of productive and fun apps below that can ease some of that boredom. Some will even provide some financial guidance since that's on your New Year resolutions right?
1.

Get $5* to Invest in Amazon, Apple, Netflix, and More
You might think that investing is complicated. Or that you'll never get a share of these well-known brands like Apple, Facebook, Spotify, etc., but you can. And you don't have to be rich either.
That's because Stash, an investment app, lets you start investing1 with just $1. You can choose where to put your money in and they provide guidance and tools to help you along the way. You can invest in major companies that you use or buy from regularly to make the investing process custom to you. Plus, it's affordable.
As a bonus, Stash is giving new members $5 for any first investment so create an account to get started.*
2.

Get $5 to Check Your Finances & Feel More Empowered in the New Year
Financial advisors are expensive, so that's why we're suggesting the next best thing.
Status Money, a free-to-use budgeting app, tracks your finances and shows how your Spending, Income, Net Worth, Assets, Debts, and Credit Score anonymously compares to other people like you. Do you have more debt than others in your age group? How much do your peers spend on groceries every month?
It'll also help analyze your finances to help you make better money decisions. You can even chat with your peers anonymously to get tips and advice from the huge community.
Anonymous is the keyword here. You'll get access to a lot of insight without the pressure of feeling small. It's also important to start the new year with good financial know-how right?
For Status Money to get the whole picture of your finances, you'll need to link your bank accounts. It's safe. They use bank-grade security, encrypt your info, and will only have read-only access.
Get $5 when you sign up and continue getting cash bonuses like $1 for linking a first bank account and $1 for linking a credit report. Earn even more when you act on the app's personalized recommendations with no limit and no expiration!
3.

Never Pay Overdraft Fees Again - Banking That Has Your Back
On average, people pay $250/year just on overdraft fees!
Instead of punishing you for silly fees, Chime, has your back. It's an award-winning (and free to use) mobile banking app that lets you overdraft up to $100 with no fees1 via their SpotMe benefit. This means that $8 you were short on at the grocery store gets spotted and your account won't overdraft, saving you money. Plus, you get a sleek-looking debit card!
Combined with no hidden fees, the ability to get paid up to 2 days earlier,2 and auto-savings starting at 0.50% APY3 makes Chime a stellar online banking option that doesn't focus on profiting off of you like traditional banks.
Since Chime free to use, give it a shot!
4. Get Up to $2,500 in Credit to Shop
If you have anything leftover from the recent stimulus check, stretch the funds even further when you shop at Zebit instead.
They offer over 90,000 items in their marketplace featuring brands like Apple, Beats, LG, Cuisinart, eGift cards, and more with no membership fees, no hidden fees, and no penalties.
Once approved, you'll get up to $2,500 of credit to shop their marketplace and the ability to spread payments out over 6 months. It's great for large purchases like TVs, appliances, and new phones.
Signing up for Zebit is free and doesn't affect your FICO score. To prevent fraud and identity theft, they ask for the last 4 digits of your SSN and annual income, which they verify using certain credit reporting agencies, so not all applicants are approved, but there is no FICO score pulled! And don't worry, Zebit uses bank-grade encryption and they don't sell your info.
5. Switch to Car Insurance as Low as $29/Month to Save Big
When was the last time you thought about car insurance? Most people only think about their insurance if they're involved in an accident but rates change constantly.
Meaning you could be saving a lot of money and you wouldn't have even known. On average, you're probably spending $800+/year more than you need to.
You can easily check how much you can save with QuoteWizard, an auto insurance matching service provided by LendingTree. It's just one form, and they'll search through providers that include known companies like State Farm, Allstate, Farmers Insurance, and more.
Your monthly rate could be as low as $29/month! All you need is to fill out one form that asks the usual questions related to driver, car, and location and you'll be matched with the best-for-you options. It's easy and free to check, so see how you can save!
6. Freelancer or Independent Contractor? This is the Bank for You
1099-MISC. 1099-NEC. Business expenses. Deductions. Etc.
These are common items that freelancers and independent contractors have to deal with but it can be a hassle or get confusing. Particularly when it comes to separating personal and business spend. Everyone can agree, tax time is never fun.
That's why Lili, (awarded best bank account for freelancers from Fundera!), helps you focus on your business or side gig by offering mobile banking designed for freelancers.
There are no account fees, no overdraft fees, no minimum balance, no foreign transaction fees, and you can get paid up to 2 days earlier via direct deposit. Lili also provides tools like:
Expense reports – They're automatically generated!
Expense management – It's easy (and fun) to categorize by swiping left/right plus no need for separate bank accounts
Tax Bucket – Helps you plan & prepare taxes all year long (instead of at the last minute).
All you need is 3 minutes to sign up, along with your SSN, (this is a bank account after all), and you'll be on your way to a sleek, fee-free black VISA business debit card. Plus, there are over 38,000 free ATMs to withdraw money from.
They've even done the math and by using Lili, you'd save 60 hours and $1,700 per year. And yes, it's free to sign up!
7. Play Football Squares Anytime For Free to Win Huge Prizes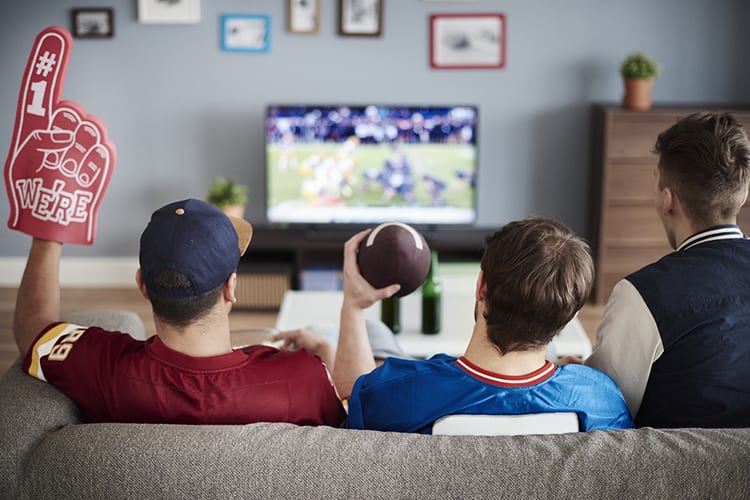 We're all missing attending live sporting events and parties but this free football squares game is making it a little easier – and rewarding. Over $275,000 has already been won this season.
Super Squares® is the world's first Predicter Squares™ game and works well when you're watching or listening to a live game. Just check-in before regional Sunday games and national evening games to play! You earn points by predicting outcomes, matching squares, rating sponsor ads, and answering a couple of quiz questions related to the ads.
It's free to play but the prizes are real. The sponsors (you'll see their ads in-game) help pay for the massive prizes. For instance, $480,000 is up for grabs this tournament, along with two never-been-awarded Rivian® Electric Adventure Vehicles valued at $80,000 each.
"Super fun free game to play to win prizes. Rate 2 ads, answer 3 Predicter questions about the game, and that's it" – Mark Giannini
Friends can play along with you and you can even join or create a SkyBox, which is a private leaderboard to compete head to head. There are also VIP Skyboxes where radio and Twitch personalities will host special contests!
8.

New Year, New Financially Responsible You Can Save Up to $720
How much did you spend over the holidays? On average, Americans spend about $1,000!
You can get up to 70% of that back in the new year by using Truebill, a free money management app that's like your own financial control center and personal finance assistant in one. The app groups all your banking accounts together so you can see your earnings and spending in one spot. Plus, it helps you budget even if you don't know how to.
Truebill will also alert you when services quietly raise fees, and will even cancel your hidden and unwanted subscriptions for you. Most importantly, Truebill can help lower your monthly bills by 20%! Yup, they negotiate for you so you don't have to deal with talking to reps.
It's also time to look forward to new life events since 2020 ruined most of our plans. But that usually comes with a cost. So prepare ahead of time by using Truebill which can save you over $720/year!
9. Get Up to 15x Cash Back Rewards with This Sleek, Black Premium Debit Card
A credit card isn't for everyone, particularly if you know your own spending habits. So when a debit card comes around that has credit-card like perks, take notice.
Current is the first mobile bank to offer up to 15x points whenever you swipe this sleek black premium (or white) debit card, at over 14,000 participating merchants. These points are redeemable for unlimited cash back!
For example, swiping the card at gas stations could net you back $165/year!
Along with the unique rewards program, a Current account has no hidden fees, no minimum balances, over 55,000 fee-free ATMs, and includes money management tools such as savings pods and round ups. Premium members ($4.99/mo) can also enjoy getting paid up to 2 days faster with direct deposit, as well as never worrying about a negative balance since they can use Overdrive™, a benefit that covers them up to $100 when they need it.
Current is free to use (with optional premium upgrade) so don't miss out on earning points for stuff you were already buying! It takes less than 2 minutes to sign up!
10. Find Out Why 1 Million People Start Their Day With This
While in college and preparing for the business world, Alex Lieberman and Austin Rief realized their classmates all felt the same way: traditional business news was dry, dense, and boring. Their fellow millennials wanted to keep up with what was happening but didn't have a news source that spoke to them.
That's why they started Morning Brew – the free daily email that delivers the latest news from Wall Street to Silicon Valley. Written in a conversational tone and sprinkled with punchy humor, it makes reading the news actually enjoyable.
From Elon Musk's latest move to the stock market's highs and lows, Morning Brew covers the top news shaping the business world. With a touch of culture and lifestyle stories, you'll get up-to-speed on what you need to know in just five minutes.
Find out why over 1 million people start their day with Morning Brew — sign up for free here.
11. Spin to Win - Earn Virtual Coins to Build Adventurous Villages (And Raid Others)
Coin Master is a free casual game that's amassed over 81 million downloads and has earned the rep of being one of the most interactive games on the market.
Spin to earn virtual coins, chances to raid other villages, and build up your own village to move to the next level. There are over 200 uniquely themed villages to build including Steampunk Land, LA Dreams, Magical Forest, Hell's Village, and more. Pets can also be raised to help you get more coins.
When you need a little break from the real world, head into Coin Master to play for free!
12. The Streaming Service That'll Actually Save You Money Over Time
Cable tv costs an average $60 a month which resulted in 40 million Americans* cutting the cord last year to save that chunk of money. No wonder streaming services that cost as low as $6.99 a month are so popular!
And for those that have kids or are just kids at heart (like me), renting/buying Disney property movies can add up too. Renting movies can cost up to $5 and buying can cost up to $20 each.
That's why Disney+, the new streaming platform makes complete sense for Disney, Marvel, National Geographic, Star Wars, The Simpsons, and Disney Channel watchers.
Get access to new original shows, TV series (7,500+ episodes!), and movies (100 freshly released from the theaters and 400+ from the library).
And you can stream on up to 4 screens/devices simultaneously. No need to wrestle for the "remote." Plus you can download shows to watch offline as much as you want. Check out Disney+ now for only $6.99/month and pull the plug on cable.