UserTesting Review – How Much Money Can You Really Make?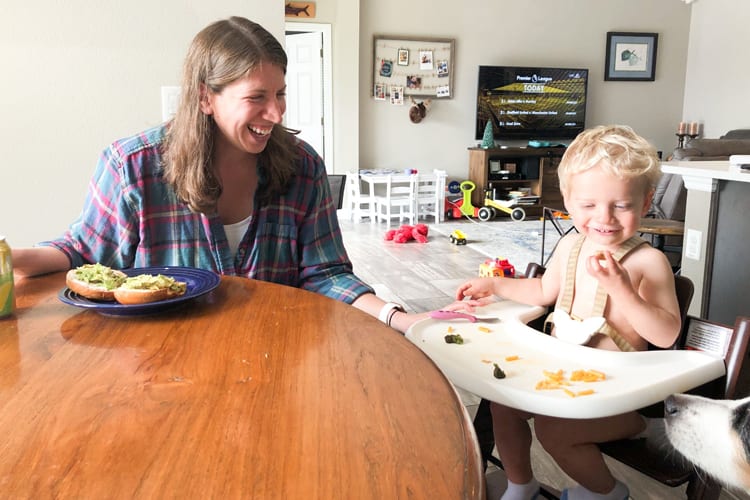 At The Smart Wallet, we're always looking out for money-making opportunities that can help supplement your primary job. We've been testing UserTesting for almost 3 months at the time of writing and will be sharing our feedback for you to decide if joining their free program is worth your time! UserTesting is not a paid sponsor and all opinions are the author's own.
Around the end of September, my teammate, Lindsay, started talking about UserTesting in our Slack group chat. I haven't heard of the company before, but I was sold once I read "get paid to share your opinions and experiences" on their site.
That first visit to their website led us to become qualified UserTesting participants and, eventually, a decent way to make fun side money.
I'll go over what UserTesting is, how you can start as a tester, and what our experience has been thus far. In addition, answering the question that everyone is curious about when starting a new side gig – "how much money can you really make?"
What is UserTesting & How Does it Work?
Founded in 2007, UserTesting is a human insight platform that gives companies an inside look into how their target audience behaves with their product. Major brands like Facebook, Wayfair, Ford, Alaska Airlines, Adobe, Walmart, and more have used this platform to gain more knowledge about how their products, messaging, or apps can be improved.
It's similar to a focus group but done remotely online and at most times, unmoderated. This means there typically isn't a live person to ask questions, there is no group setting, and the eligible participant can follow on-screen instructions that the brand has set.
Companies can use UserTesting to find testers to provide honest feedback for their new site, product, and user experience. Individual or Enterprise plans are available for companies that want to utilize UserTesting's tools.
Once the company has gathered enough information and feedback through UserTesting, it should have enough insight to improve its product further.
The Other Side of UserTesting – Getting Paid to Test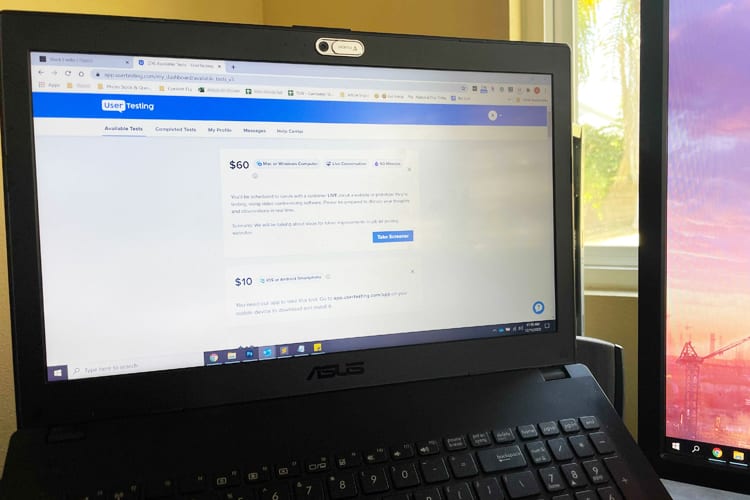 Now that we understand the purpose of UserTesting let's get to why you're really here.
Getting paid to test. It's literally what it sounds like, and people around the world ages 18 and up can sign up for free.
Once you qualify for a test or an interview (don't worry, it's not scary), you share your feedback through a microphone and your shared screen.
This means you'll need a computer, laptop, tablet, or mobile device to be able to participate, along with an Internet connection and microphone if your device doesn't have it already. My teammate, Lindsay, and I use both our laptops and phone.
Tests often revolve around site or app user experience, where retail sites, banking apps, and food ordering apps want real people to give honest feedback.
How it Works as a Member:
Log in to your account dashboard to see available tests
Each available test will have screener questions to see if you qualify for it
Once qualified, you'll start recording your voice and screen to follow the brand's instructions on what they want you to do
Upload your completed test video
Your earnings will appear in PayPal 7 days later
As brands sometimes look for a very specific group of people, know that you'll get disqualified often. However, it's a rewarding experience if you put effort into keeping up with checking for tests.
How Much Does UserTesting Pay?
Most tests pay $10 for successful completion.
On average, you can earn $10 per 20 minutes, which is the typical length of each test. At times, you can complete a test in 5 -10 minutes and you'll still get paid $10. It really depends on the brand and what they ask you to do on-screen.
Live Tests are longer tests that will have a moderator present, and you can earn $30 or $60 depending on the length of time.
What to Expect in a Live Test
I recently participated in a Live Test that paid $60, so here's a quick summary:
After getting accepted, they'll ask if you can appear for the Live Test at a certain date/time
I joined the Zoom call straight from the dashboard at my time slot
A moderator explained the scenario and sent a link to an NDA for me to sign virtually
After that, it's very similar to other UserTesting tests, where you have tasks to review and discuss your thoughts, but a live person takes notes and asks questions in real-time.
The Zoom portion took about 50 minutes (you'll have to share your screen)
The mod also sent a post-test survey that had about 5 additional questions to fill out
Overall a positive experience! It's just like being in a 1-person focus group.
Be Sure to Have PayPal
Their only payment method is PayPal, so be sure to have an account, which can be created for free. UserTesting is very prompt with payment, as they'll send your money 7 days after you've successfully completed a test.
You can keep track of your tests and payment status under the Completed Tests tab, which looks like this:
Payment Statuses
There are 3 payment statuses that you'll see:
Processing (this usually switches to Pending rather quickly)
Pending (The 7-day period where the brand reviews video)
Paid (Woohoo, you've got money!)
The Details button will show all the questions you were asked for that particular test.
As for what the Rating is, we'll get to those details later!
How to Become a UserTesting Tester
If you're the type of person that enjoys giving feedback on a site or product, can continuously speak your thoughts as you go through instructions, and genuinely want to help a brand improve by giving honest commentary, then you're well on your way to being an ideal tester.
It's free to become a UserTesting tester, but you have to pass their practice test.
Head to UserTesting and sign up via email
Open the email to click on the verification link
Watch the short video(s) that explain how UserTesting works and what's expected
Download the UserTesting software (a browser extension that records your voice and screen)
Take the practice test
Within 48 hours, you should know whether you've passed the practice test.
Be sure your microphone works (they'll prompt you to test audio), and find a quiet place to take the practice test and any future tests!
Also, close out any other browser tabs you might have open. I like to keep my screen displaying only the UserTesting test to be free of distraction. They don't need to know my Amazon habits, Facebook messages, or work information!
What is the UserTesting Practice Test?
Lindsay and I both had the same practice test, so I'll assume it's the same for most of those applying to be a member.
You'll be shown an Air & Space Museum website, and instructions on the screen recorder widget will appear. The scenario is that you're planning a trip to this museum, and they're interested in how you navigate the site to find specific information that will help you plan the visit. You'll be asked questions on why you went to specific parts of the site and if you can find what you need.
As you take the practice test and move through the site, it's VERY important to speak about what you're doing, why you're doing it, and to point out anything that's confusing or doesn't make sense.
I like to read the task aloud to ensure that I understand what I'm being asked to do, and then talk about my actions to complete the task. Tasks are broken into parts to make them easier to digest, and you can always see what step you're on.
The practice site will be based on how well you read the instructions and conveyed your thoughts clearly. Again, you should know within a few days of your test result.
After Passing the Practice Test
Once you've passed the practice test (congrats!), you'll provide your PayPal information so you can get paid for future tests and be directed to complete your profile. This helps UserTesting send you available tests that you might qualify for.
This information typically includes your location, age, household income, employment status, and other information.
Avoid My First Official Test Mistakes & What Ratings Mean
I was very excited when I qualified for my first official paid test, and the subject revolved around entertainment. For the task, I was shown a site that specialized in grouping together all major streaming platforms' content to easily show what movies/tv shows are available on which platforms like Netflix, Hulu, HBO Max, etc.
This was my first task:
You are about to be shown 4 different lists of TV shows that are popular and trending right now and asked which one you prefer.
And:
Examine this list of movies; what do you think of it?
How accurate does this list look to you? Does it look like what movies are "popular" or "trending" in your eyes?
I prattled on about the tv shows and movies themselves as I was excited about the topic and forgot to focus on the user testing aspect of it. You'll get a rating from a UserTesting staff member with notes about your performance and tips for improvement.
Avoid the same mistakes I made. Below were my improvement suggestions:
Overall, good job on your first test! Please note that your review was very long. Remember that most customers structure their tasks to be completed in 15-20 minutes. Your test was over 30 minutes in length.
Ensure you focus more on giving your feedback and less on reading what you see on a page. Customers are most interested in hearing your thoughts and the reasoning behind your actions.
Also, refrain from making general statements like "I don't like that" or "interesting" without explaining why. Remember, an essential part of being a test participant is the ability to speak your thoughts as you complete the tasks.
The more you explain why you do things and what you are expecting, the more useful your video will be for the customer.
Let's Talk Ratings
You'll get a 4 or 5-star rating from the UserTesting staff member so that you'll be more likely to get future tests.
You do not want to get a low rating from any test. Low ratings will make it harder for you to get more tests.
A no rating is better than a low rating. For example, I average 4.5 stars at the moment. But out of the 15 tests I've taken so far, only 2 have given me a rating. However, because I haven't received a low rating, I still maintain my 4.5 stars. Lindsay has taken many tests, but she's only gotten about 3-4 ratings which still keeps her at 5 stars.
To get a low rating, you would have to not follow instructions or not do a good job of explaining your thought process. I think it would be pretty hard to mess up. (Please don't try to prove me wrong). Just go into each test with a helpful mindset and be sure to understand the tasks presented.
Checking for Tests
This is where you'll have to be more proactive. UserTesting does not send emails when there's a new test because A. that would result in a lot of emails, and B. by the time you read the email, the test might be taken by someone else already.
We typically keep the UserTesting browser open in a separate tab, and there's a number that appears in parentheses to indicate how many there are to screen for:
If you have sound on, it'll also "ding" when there's a new test available for you.
Just be mentally prepared that you'll be disqualified more often than getting accepted, as they're always looking for specific types of testers. But the screening tests are quick, and you can always X out (closeout or decline) tests you know you won't qualify for or don't want to bother with.
How Much Money Have We Made?!
From the end of September 2020 until the time of writing in mid-December 2020, I have made $210.
On the other hand, Lindsay made $470 in that same period! Here's how she goes through the process:
"I would say that depending on how much time I have to devote to screener questions, I could qualify for at least 1 a day though I have done up to 6 in a day. The screener process can be a bit tedious as some tests look for a very specific type of user, but if you put in the time, there will always be a test for you. If I don't have the time to make my way through several screeners, I may not be able to take a test that day."
Here's what others are making:
Kelly shares: "If you're someone who is constantly on the computer waiting for your dashboard to ping, you should get a fair amount of testing done. If not, then it would be hard for you to get any. To give you insight into my experience, during a month when I was constantly checking for tests, I was able to get $200. However, during a month when I was inactive and would only check for surveys at the end of the day, I was only able to rack up $50 a month, which, to be honest, is still a good amount of money."
How would you spend that extra money?
Lindsay's plan for the money once she hits $500 is to resurface her kitchen table (pictured at the top!). As for me, I'll continue to use the side money to pay for my new iPhone's monthly payments!
Picture update 1/19/21: Lindsay achieved her $500 goal and shared a picture of her newly resurfaced table that fits more with the family vibe!
Update 5/17/22: I haven't logged in UserTesting much last year since I was planning for a wedding, but my PayPal earnings have increased to $500 from this site so far!
What About Taxes?
UserTesting makes it very clear that you'll be responsible for determining and paying any taxes, as they don't send out 1099-MISC forms. Consult with your CPA if your earnings are enough to report. Typically, once you earn $600, that's considered as "other income" to be entered in Box 3 on the 1099-MISC form.
Mobile Testing
UserTesting has an app for iOS and Android, as well.
Lindsay reported that it's a smooth experience on the phone and very similar to the desktop version, except you go through a retailer's app or mobile experience to test.
One of her favorite tests also converted her to use the brand's app too:
"I always think about the test I did for the Chipotle app. I probably go to Chipotle once a month and do pickup using their mobile site. However, through my UserTesting test, I realized that the app experience is exactly the same as their mobile site but with perks like points and freebies – so I became an app consumer following the test!"
The Bottom Line
UserTesting as a side gig won't make you rich, but it's a fantastic way to earn money if you like talking through your thought process and helping brands improve their user experience.
Be proactive in checking for tests, and know that you'll be rejected more often than accepted. Just keep taking screener tests and you'll get in. Also, be sure to follow the instructions so that you get a good rating or no rating to continue to have tests roll in. You do not want to get a LOW rating!
We've had positive experiences so far, but some negative commentary online has been focused on the following:
Lack of customer support
Not enough available tests
It takes too much effort
Based on our experience in the past 3 months, the UserTesting site is a very self-managed process. You must keep checking the dashboard for tests; otherwise, other people will take your place. And as with any side money-making opportunity, it will take initial effort to get into the groove. I'm a more casual tester than Lindsay, and I was still able to make $210!
If you're interested in other sites that are similar to UserTesting, I found the following:
We haven't tested these 3 yet so we suggest giving UserTesting a shot first and see if you can accommodate other similar sites to your schedule.
Good luck, and let us know if you have any questions! Feel free to use the Contact Us form, and we'll update this piece. Now, go make some money!