5 Ways to Cut Unnecessary Expenses for Big Savings

Disclosure: We're letting you know that this post contains sponsored links which The Smart Wallet receives compensation for, which may impact their order of appearance because talking about money should always be an honest discussion.
Do you ever feel like your bank account has sprung a leak?
How else can you explain the mystery of the disappearing dollars or the case of the zero balance? Before you go all Sherlock Holmes, you might want to take a long, hard look at your expenses.
While they might feel important or even necessary, it's likely that you're spending hundreds of dollars each month that you really don't need to spend. Just think what you could do with that kind of money if you weren't throwing it away! These smart tips will help you trim unnecessary spending from your budget so you can put that money to work where it really counts.
Whether you're tired of living paycheck to paycheck or the time has come to save for a big goal like a dream vacation or a new car, you can easily find more money in your budget by trimming these extra expenses.
[BUDGET, BUDGET, BUDGET]
1. Figure Out Where You're Wasting Money and Stop With This App
Realistic budgets are hard to make, especially if you're kind of lazy, to begin with. (No judgment)
But if you don't have one, then you're just spending blindly. Not many people know how to create one but here's an easy solution: Truebill.
Their simple to follow budgeting pulls your historical spending, organizes it, and allows you to clearly see your spending so you can set a target budget with context. (Aka you can see where you're wasting money on).
It'll also track budget pacing, which sounds fancy, but it just means you'll see the percentage of how much you've spent so far in each category. Like it's only the 2nd week of the month, and I've already spent 74% of my dining budget? Time to eat out less.
Truebill will also alert you if you're getting a little too spend-happy in your budgeted categories so you know when to curb it.
It's simple but actionable budgeting that anyone can follow and it's free to use!
[SKIP THE FOOD DELIVERY, EAT OUT LESS]
2. Become a Flexitarian & Save Tons on Your Grocery Budget 
A flexitarian is just being flexible in what you eat. You're not completely vegetarian but you're not eating crazy amounts of meat either. Incorporating a few meatless nights into your week can really save your food budget!
Plus its also 325% more expensive to eat out versus eating at home.* That's good enough reason to start cooking more, right? You'll be aware of all the ingredients in your meal,  in addition, you'll get paid just for shopping!
It's simple. All you have to do is take a picture of your grocery receipt and Ibotta will pay you cash.
Here's how it works: Before you go to the store, search for your shopping list items in the Ibotta app. After your store visit, take a photo of your receipt to get cash back.
Ibotta is free to download and you'll also get up to $20 in Welcome Bonuses when you sign up!
Popular stores are Walmart and Target, but Ibotta also works at restaurants, online shopping sites, and at the bar! On average, active Ibotta users save up to $240 a year or more. Not including the money you're already saving by eating out less! What would you do with that extra money?
3. Don't Toss That Receipt! Definitely Do This First for Free Money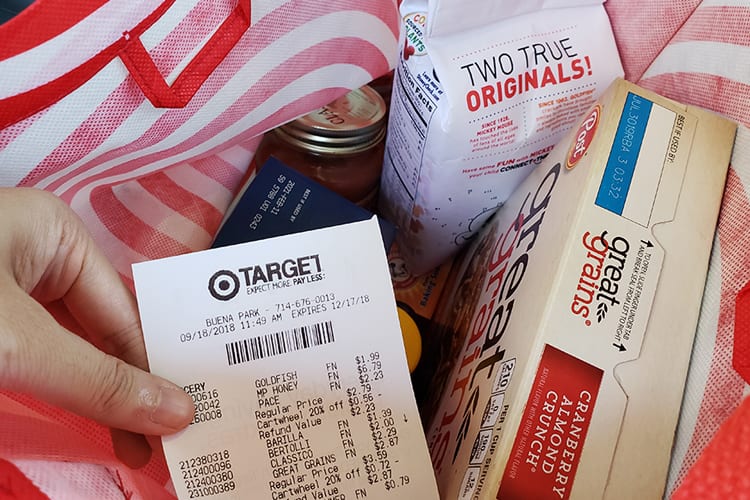 Before you crumple up that receipt in your pocket or forever lose it in the abyss of your purse, scan it into the Fetch Rewards app, and earn points towards free money. I repeat, free money.
It's ridiculously simple and actually fun to use.
Shop at any grocery store, convenience store, club store, neighborhood store, or big box store, take a picture with the app, and that's it. (Favorites include Target, Kroger, and Walmart!)
Unlike other apps, you don't have to go to specific stores, there's nothing to pre-select prior to shopping, and there's no minimum spend. Just scan in any receipt from a store that sells groceries (even when you didn't actually buy any groceries) and boom, points for money.
You can start cashing out as soon as $3 (3,000 points) and you can grab a $2 welcome bonus on us (2,000 points) when you use promo code REWARD before scanning your first receipt!
Welcome bonus: $2
Average savings a month (depends on purchases): $25
What it could add up to in a year: $302
Additional referral earnings: $2 per referral
[NEVER PAY FULL PRICE ON SHOPPING]
4. Earn Money Back for Your Food Delivery, Concert Tickets, and More (Here's $10 to Start)
If you're not looking for every opportunity to earn cash back, don't worry, we got you. Even on stuff that you might not think you can get cash back on!
Take, for instance, food delivery. It's convenient, you don't have to leave the house, everyone can order from different places, and you don't have to deal with waitstaff and the crowds.
With Rakuten (previously called Ebates), you can get cash back at DoorDash or Grubhub, which adds up when you're ordering delivery at least once a week.
And entertainment? You can get cash back on popular sites like Ticketmaster, Stubhub, Fandango, and SeatGeek for all your concerts, movies, and sporting events. You're basically getting free cash in your pocket!
Rakuten is also giving our readers a $10 welcome bonus to anyone that signs up to be a member.
Membership is free and you also can earn up to 40% cash back at over 2,500+ stores including Amazon, Walmart, Kohl's, and Sephora. Plus, you'll find coupons, free shipping codes, and awesome sales. So… why aren't you a free member yet?
5. Get Free Gift Cards Just For Buying Stuff Normally 
If you have room for 1 more app on your phone, then it needs to be this.
Actually, delete another app to make room for this one. It's that good.
It's called Drop, a free app that gives you gift cards on stuff you already buy from your favorite stores and brands.
Your everyday purchases from Amazon, Trader Joe's, and Walmart? You'll get points for that. Points translate to gift cards so the more you collect, the more you can redeem!
The only thing you need to do is link any credit or debit card you usually use for buying stuff and that's it! Drop will automatically recognize when you buy from your activated offers to reward.
There's literally no downside to using this free app to get more gift cards. Use it on top of your loyalty points and credit card points for even more rewards!
LIMITED TIME OFFER: Use promo code SMARTWALLET to unlock 5,000 points ($5) automatically when you link your first card on Drop!
Extra Tips:
Remove your debit/card card from sites – Saving your card details on shopping sites just make it easier for you to spend. Remove it all and we hope you don't have the card memorized.
Don't spend when you're emotional – If you had a great day or even a bad day, hold off on going crazy with the spending. This could really blow your budget so find some other ways to ride out that urge like exercise, cook, or binge-watch!
"Do I really need this?" – Tape a small note on the back of your credit card so you can see it whenever you want to purchase. Really think about this question too to make sure it's not an impulse buy disguised as a need.