9 Financial Apps To Level Up Your Money Status

Disclosure: We're letting you know that this post contains sponsored links which The Smart Wallet receives compensation for, which may impact their order of appearance because talking about money should always be an honest discussion.
There are so many financial apps that it can get overwhelming. And besides your normal banking apps, you could be missing out on some unique apps that can really help level your financial game.
For instance, how does instantly adding 12 points to your credit score sound? Or never paying overdraft fees – ever – again?
We've handpicked a few of our favorites below that can give you a nice variety. They're all free to download so try them out to see what works for you!
1. Investing is Your Money Making Babies. Here are 3 Apps to Try:
No rule says you have to only use one investing app. Try different portfolios on each!
Stash lets you start investing with just $5! You can choose where to put your money (even in Google, Amazon, Tesla, Netflix, etc), and they'll provide guidance and tools to help.3
With Stash Growth and Stash+, you can also choose the Smart Portfolio4 option which offers hands-off stress-free investing based on your risk tolerance.5 Plus claim bonus stock when you attend Stash's virtual Stock Parties!
BONUS: Stash is giving new members $10 for any first investment so create an account to get started.2
Get free stock worth up to $200 with Robinhood, the free-trading app that lets you trade stocks, ETFs, and options, along with cryptocurrency all for free. No commission fees! It makes it really easy for new investors to get started with just $1.
You'll also earn interest on any uninvested cash too. With a near-perfect 4.8 score from 2.3 million people, it's a popular app that you should check out if you're interested in investing.
Public is a social-investing app where you can buy any stock you want for as little as $1, all commission-free. Follow other investors on the app (financial experts, entrepreneurs, celebrities, athletes, etc.) and get a first-hand look at what they're investing in and why. You'll be able to buy the same stock or ETF with however much money you're comfortable with!
Learn tips from the transparent community to build your financial literacy, invite friends and earn free stock, and see what Wall Street Thinks to buy, hold, or sell what you have.
2. Apply for a Loan with OppLoans
OppLoans can help! If approved, you may receive money in your account as soon as the same business day!1
No one likes to borrow money, but personal loans are a valid option when you need them for repairs, medical reasons, or emergencies.
Eligibility requirements:
Be at least 18 years old
Reside in AL, AK, AZ, AR, CA, DE, FL, GA, ID, IN, KS, KY, LA, MI, MN, MS, MO, MT, NV, NJ, NC, ND, OH, OK, OR, RI, SC, TN, TX, UT, VA, WA, WI, or WY
Have a regular source of income
Have a checking or savings account
Receive paychecks through direct deposit
OppLoans is committed to the financial health of its customers. They report your payment history to the three major credit bureaus, so every on-time payment you make may improve your credit score.2
3. The #1 Most-Loved Banking App Has No Monthly Fees
Chime,®️ has your back. It's an award-winning mobile financial app and debit card that'll help you save with no monthly fees, including:
On average, people pay $250/year just on overdraft fees! Skip the fees since
No minimum balance
Fee-free overdraft with SpotMe*
No foreign transaction fees
No transfer fees
Additional perks:
Get paid up to 2 days early1 with direct deposit
Get 2.00% APY2 (which is 11x3 the national average!)
Access to apply for Credit Builder4 for a better way to build credit history
"Getting a Chime card and account was my best idea in years. No overdraft fees, no surprises, and the app is amazing!! Big banks scam, but Chime isn't one of them. I can't say enough about it, and I've had it for over a year now!!!" – Anita from TN.
Give Chime a shot and see how online banking can be made easy.
4. The Best Financial App That'll Save You $720/Year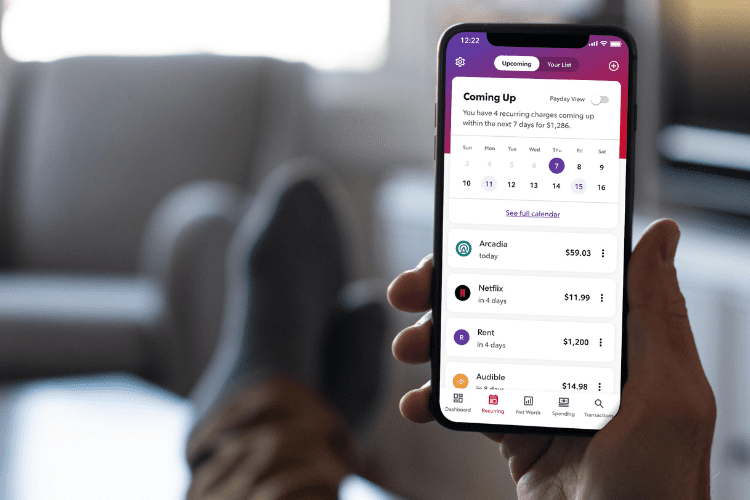 Knowing your net worth isn't just for rich people. It's a financial report card that can tell you if you're on the right track or if you need a wake-up call. To calculate it, you need the value of all your assets (things you own) minus your liabilities (things you owe). But wouldn't it be nice if there were a tool that tracked your net worth over time for you?
Enter Rocket Money, the free money management app that's like your personal finance assistant. It groups all your banking accounts together so you can see your earnings and spending in one spot. Plus, it helps you budget even if you don't know how to.
The app will find all your recurring bills and subscriptions (even those you forgot about)
Rocket Money can help lower your bills by 20% (they negotiate for you)
The app also helps you start budgeting and set up auto-savings too
Their newest feature easily tracks your net worth
See what your savings could be with Rocket Money and start tracking your net worth too!
5. The Money App That's Backed by Paypal, Dwayne Johnson, Ashton Kutcher, and More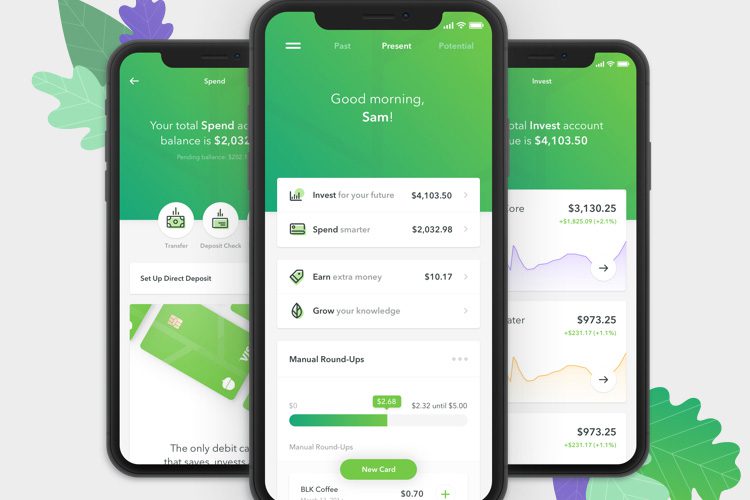 Acorns has caught the attention (and their investments) of Blackrock, Paypal, and major names like Dwayne Johnson and more. Not to mention, they already have 4.7 million+ customers!
Celebrities and leading investors can be particular about where they put their money, but
That's because Acorns Banking does more than other types of accounts as it automatically saves and invests for you. Every time you purchase on your new metal debit card, your spare change gets invested into an expert-designed, diversified portfolio of stocks and bonds. When you make your first investment, you'll get a $20 bonus!
You can get started in under 3 minutes with no financial experience or expertise needed. You'll also get access to retirement, investing for families, rewards, and more, all in one app.
With no hidden fees, Acorns makes it easy to invest in your future with your spare change.
Some of the sponsored links that appear on this page are from companies that offer investment advisory services. They compensate us; for details on our compensation arrangements, please click here.