How to Save up to $2,666 on Groceries This Year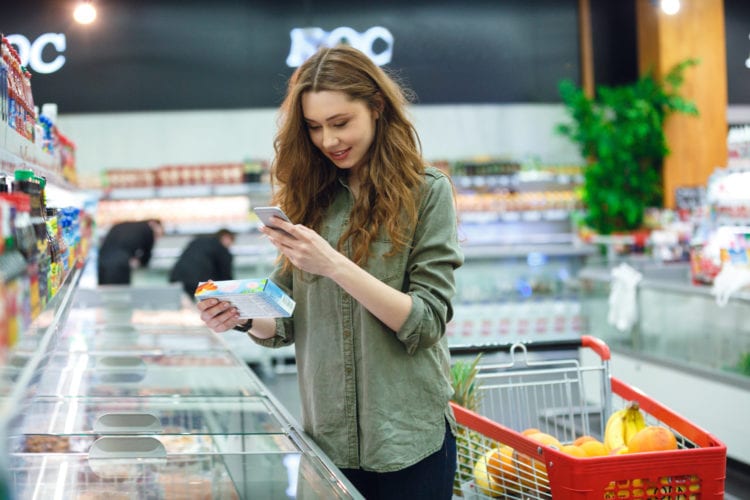 Disclosure: We're letting you know that this post contains sponsored links which The Smart Wallet receives compensation for, which may impact their order of appearance because talking about money should always be an honest discussion.
Did you know on average, Americans ages 25-35 spend up to $4,249* a year on food away from home?
That's a lot of restaurants, takeout, and potentially junk food.
Time to keep the most popular resolution of eating healthier and go on a weekly date with your local grocery market. Sure, you may spend more on one trip, but over time, your meals made at home will be cheaper than eating out.
If you're still worried about the grocery bill, we've got some ways to help you save.
Get Up to $240 Cash Back From Grocery Shopping
Following nutrition or meal planners online can help give you ideas and plan out the grocery lists that you can follow easier. Just search for "meal prep ideas" on Google to get a ton of recipes. Or you can search for the #mealprep hashtag on Instagram.
Having a grocery list is key to sticking to your budget. And when you're ready to head to the market, you can get cash back.
It's simple. All you have to do is take a picture of your grocery receipt and Ibotta will pay you cash.
Here's how it works:
Before you go to the store, search for your shopping list items in the Ibotta app. After your store visit, take a photo of your receipt to get cash back.
Ibotta is free to download and you'll also get up to $20 in Welcome Bonuses when you sign up!
Some offers we found:
25 cents back on any item
$3 – $5 back on various wine
$2 back on KIND Protein Bars
25 cents – $4 back on ice cream
$2 back on Herbal Essence Haircare
Popular stores are Walmart and Target, but Ibotta also works at restaurants, online shopping sites, and at the bar! On average, active Ibotta users save up to $240 a year or more. What would you do with that extra money?
Welcome Bonus: Up to $20
Average savings a month: $20
What it could add up to in a year: $240
Additional Referral Earnings: $5 per referral
Free Gift Cards Just for Going Shopping? Yes, please. (Up to $302/Yr)
Go on your normal grocery shopping trips. Scan your receipt after. Get points towards gift cards.
No extra fuss. No digital coupons to pre-select or specific stores to go to.
It's perfect for the lazy but smart saver.
And it's called Fetch Rewards, an app where you can scan ANY grocery receipt to get rewards.
Scan receipts from supermarkets, neighborhood corner shops, wholesale clubs, drugstores, convenience stores, and even liquor stores. Unlike other apps, you're not restricted to specific stores. As long as your receipt has any of the thousands of participating products, you'll earn points to redeem for gift cards.
You can start redeeming points for rewards with as little as 3,000 points ($3). Grab a 2,000 points bonus ($2!) when you enter this referral code: REWARD before you scan your first receipt.
Welcome bonus: $2
Average savings a month (depends on purchases): $25
What it could add up to in a year: $302
Additional referral earnings: $2 per referral
Always on the Go Means More Gift Cards for Your Wallet
You're rarely at home, and that's ok. Do your thing at work, school, hanging out with friends or exploring new areas. Wherever you are, you'll easily get compensated for just being you.
Panel App is a loyalty incentive app that will give you points just by leaving the app running in the background.
Because it gives you points on location, go ahead and enable location services. Then just turn the app on before you go about your day and head to your normal spots.
After testing it we think it's a great (lazy) app that rewards you for doing almost nothing. If you're still skeptical, know this:
You don't have to complete offers
You don't have to watch ads
You don't have to buy anything
We snagged a $5 Visa gift card via email after a few weeks of just leaving the app on and forgetting about it. You can also choose Amazon, MasterCard gift cards or sweepstakes entries.
Overall, a solid choice for earning a bit of spending money towards groceries for literally just leaving the app running on your phone!
Cash Back on Your Everyday Purchases = More Money for Your Groceries (Cash Back Up to $396 a Year)
Saving money and getting cash back on purchases always sounds like a great idea – until you completely forget to take the steps to get the savings. There are SO many ways to save money while shopping, who can remember if it's not automatic?
Ebates can help you get cash back on everyday shopping as well as apparel, beauty, and more, automatically. With Ebates, you don't even have to upload your receipts after your purchases. They'll send you simple push notifications when your favorite stores increase their cash back deals or have a good sale.
Offering simple one-tap savings with no points or fees helps ensure that you get the most out of your purchases. So, before buying anything, hop into the app to see if you can get up to 40% cash back at over 2,500 stores.
They also have an amazing referral program where you can earn $25 for each eligible friend. New members get a $10 bonus too!
Welcome bonus: $10
Average savings a month (depends on purchases): $33
What it could add up to in a year: $396
Additional referral earnings: $25 per referral
 Automate Your Current Savings and Save an Average $1,720 a Year 
If you're part of the 80% of Americans that have some sort of savings but could use a little more help, you're definitely not alone. The key to saving is automation.
You won't even notice it but Digit will make it happen.
Just link a checking account and their smart algorithm will determine small but safe amounts to withdraw into your separate FDIC-Insured Digit savings account.
Regular savers will get a 1% bonus every three months, netting you some free money!
It's the perfect set-it-and-forget-it app where the AI will watch your savings back.
You can withdraw your money at any time you need and it's free to use for the first 30 days. After, it's just $5 a month.
Average savings in a month (varies): $144 or more
What it could add up to in a year: $1,728 or more
Quarterly bonus: 1% on your total savings amount
Additional Referral Earnings: $5 per referral
Automatically Get Savings Sent To Your Phone with this Useful Bot
Think of Trim as your personal finance assistant bot that will non-judgementally inform you of your spending, negotiate down your cable/internet bills so you don't have to, as well as your auto-saver.
How to Sign Up:
Choose if you want to communicate via SMS Text or Facebook Messenger
Connect a Credit Card or Bank Account by providing login info (256-Bit SSL Encryption ensures your info is safe! Trim has no access to moving money or making any changes)
Let the savings begin!
Cashing Out on The Everyday Things You Do Online
Capitalize on all that time spent online by earning points you can redeem towards gift cards, and even better, cash for future grocery trips.
You can do it with Swagbucks, a free rewards program for the everyday things you do online.
Earn points by
Watching entertaining videos
Shopping at your favorite retailers
Searching the web
Participating in surveys
Playing fun trivia games
Then you can redeem for a large variety of gift cards (Amazon, Target, Walmart, Starbucks are popular) or my favorite, Paypal Cash and Visa Gift Cards. Cash out in as little as $3!
You'll even get a $5 bonus when you earn 2,500 SB points within your first 30 days.
Want more opportunities?
Survey Junkie pays cash to members who participate in surveys about their shopping habits, cell phone usage, and more. Basic stuff.
Completing a survey earns you 20 to 100 points. Each point is worth one cent, and when you hit 1,000 points (or $10) you can cash out.
Redeem via:
Online gift cards
Paypal cash
Bank transfer
Signing up for Survey Junkie only takes a few minutes and you'll earn your first 100 ($1 value!) points just by creating an account, filling out an intro questionnaire, and verifying your email address. Easy.
Extra Tips:
Stick to your grocery list and use a calculator while you shop to stay under budget
Get creative with ingredients you already have on hand instead of buying more
Cook big meals, divide into portions and freeze to store for later
Buy larger quantities of what's on sale and freeze it
Try growing a garden if you can swing it (herbs, vegetables etc)
Try going meatless once a week
It's ok to buy generic brands at the store
Spruce up leftovers for lunch the next day
Keep the overspenders (aka significant other) at home while you shop
*Average spending of $4,243 a year on food away from home: Business Insider