10 Money Moves to Make in 2021

Disclosure: We're letting you know that this post contains sponsored links which The Smart Wallet receives compensation for, which may impact their order of appearance because talking about money should always be an honest discussion.
Your priorities may feel like they've shifted, especially after the "year that shall not be named," but one thing always stays constant.
Money.
Even if you feel like you've saved a lot of money by not going out as much, having that cushion will make any unforeseen future less scary. And if you spent too much last year, well, let's get things back on track.
We've rounded up the following money moves that will help give your finances some diversity. The best part is how easy it is to get started!
1. iPhone Users Get Unlimited Daily Cash - Here's How
If your credit card roster needs a boost, consider the Apple Card.
Upon approval, you'll get a sleek titanium white Apple Card issued by Goldman Sachs that has NO fees (not even late fees!) as you'll only be responsible for the interest charged to your balance. Plus, perks like unlimited daily cash and extra security features that only the iPhone can provide.
Earn from these cash back categories:
3% on all types of Apple purchases (includes in-app purchases, games, services, etc.)
3% on a growing list of merchants that include T-Mobile, Uber Eats, Duane Reade, Panera Bread, and more
2% on basically everything else you use Apple Pay for in-store or online
1% when you use the physical card if the retailer doesn't accept Apple Pay
You'll earn the Daily Cash immediately which can be used right away or saved. Unlike other credit card rewards, Apple Cash doesn't expire!
And since the Apple Card lives in your Apple Pay wallet, it's extra security built-in as a potential phone thief would have to go through Face ID or Touch ID in order to purchase anything.
2. Get Free Stock Worth Up to $200
Investing may seem expensive and most people put it off until they have "enough" money for it.
But time is the most important factor and Robinhood makes it really easy for new investors to get started with just $1.
This free trading app lets you trade stocks, ETFs and options, along with cryptocurrency all for free. No commission fees! When your application is approved, they'll give free stock worth $2.50 up to $200 for new members, with chances to get a high-value stock in Facebook, Microsoft, etc.
You'll also earn interest on any uninvested cash too. With a near-perfect 4.8 score from 2.3 million people, it's a popular app that you should check out if you're interested in investing.
3.

New Year, New Financially Responsible You Can Save Up to $720
How much did you spend over the holidays? On average, Americans spend about $1,000!
You can get up to 70% of that back in the new year by using Truebill, a free money management app that's like your own financial control center and personal finance assistant in one. The app groups all your banking accounts together so you can see your earnings and spending in one spot. Plus, it helps you budget even if you don't know how to.
Truebill will also alert you when services quietly raise fees, and will even cancel your hidden and unwanted subscriptions for you. Most importantly, Truebill can help lower your monthly bills by 20%! Yup, they negotiate for you so you don't have to deal with talking to reps.
It's also time to look forward to new life events since 2020 ruined most of our plans. But that usually comes with a cost. So prepare ahead of time by using Truebill which can save you over $720/year!
4.

Get $5* to Invest in Amazon, Apple, Netflix, and More
You might think that investing is complicated. Or that you'll never get a share of these well-known brands like Apple, Facebook, Spotify, etc., but you can. And you don't have to be rich either.
That's because Stash, an investment app, lets you start investing1 with just $1. You can choose where to put your money in and they provide guidance and tools to help you along the way. You can invest in major companies that you use or buy from regularly to make the investing process custom to you. Plus, it's affordable.
As a bonus, Stash is giving new members $5 for any first investment so create an account to get started.*
5.

Never Pay Overdraft Fees Again - Banking That Has Your Back
On average, people pay $250/year just on overdraft fees!
Instead of punishing you for silly fees, Chime, has your back. It's an award-winning (and free to use) mobile banking app that lets you overdraft up to $100 with no fees1 via their SpotMe benefit. This means that $8 you were short on at the grocery store gets spotted and your account won't overdraft, saving you money. Plus, you get a sleek-looking debit card!
Combined with no hidden fees, the ability to get paid up to 2 days earlier,2 and auto-savings starting at 0.50% APY3 makes Chime a stellar online banking option that doesn't focus on profiting off of you like traditional banks.
Since Chime free to use, give it a shot!
6. Get Up to 15x Cash Back Rewards with This Sleek, Black Premium Debit Card
A credit card isn't for everyone, particularly if you know your own spending habits. So when a debit card comes around that has credit-card like perks, take notice.
Current is the first mobile bank to offer up to 15x points whenever you swipe this sleek black premium (or white) debit card, at over 14,000 participating merchants. These points are redeemable for unlimited cash back!
For example, swiping the card at gas stations could net you back $165/year!
Along with the unique rewards program, a Current account has no hidden fees, no minimum balances, over 55,000 fee-free ATMs, and includes money management tools such as savings pods and round ups. Premium members ($4.99/mo) can also enjoy getting paid up to 2 days faster with direct deposit, as well as never worrying about a negative balance since they can use Overdrive™, a benefit that covers them up to $100 when they need it.
Current is free to use (with optional premium upgrade) so don't miss out on earning points for stuff you were already buying! It takes less than 2 minutes to sign up!
7.

Get $5 to Check Your Finances & Feel More Empowered in the New Year
Financial advisors are expensive, so that's why we're suggesting the next best thing.
Status Money, a free-to-use budgeting app, tracks your finances and shows how your Spending, Income, Net Worth, Assets, Debts, and Credit Score anonymously compares to other people like you. Do you have more debt than others in your age group? How much do your peers spend on groceries every month?
It'll also help analyze your finances to help you make better money decisions. You can even chat with your peers anonymously to get tips and advice from the huge community.
Anonymous is the keyword here. You'll get access to a lot of insight without the pressure of feeling small. It's also important to start the new year with good financial know-how right?
For Status Money to get the whole picture of your finances, you'll need to link your bank accounts. It's safe. They use bank-grade security, encrypt your info, and will only have read-only access.
Get $5 when you sign up and continue getting cash bonuses like $1 for linking a first bank account and $1 for linking a credit report. Earn even more when you act on the app's personalized recommendations with no limit and no expiration!
8.

Unlimited 4% Cash Back? Yes, Please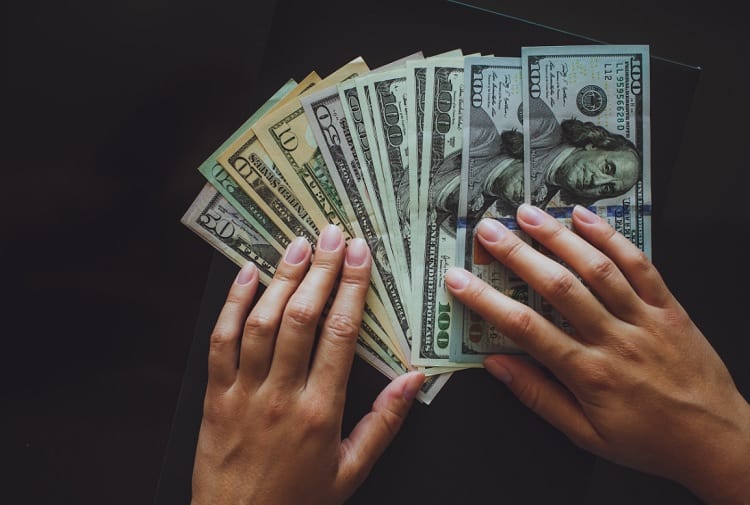 Here's how to make sure you get all the deals and cash back that you can while shopping.
Instead of having to clip coupons, just use Slide, a free app where you can earn unlimited 4% cash back on top of your current credit card rewards. It's the best contactless way to pay in-store and online at over 150 partners like Bath & Body Works, GameStop, Ulta, Petco, Michaels, Lowe's, and more.
It's simple:
Open Slide and select the brand
Enter total purchase amount
Show your unique barcode and pay! (For online purchases, copy/paste the serial number into the gift card field)
When you connect Apple Pay or credit card as a payment method and show your unique Slide barcode, it'll act like a gift card with no leftover balance. And you'll get 4% unlimited cash back!
Withdraw your earnings via Venmo or Payal once you've hit $15.
Shop smart, and get cash back this new year with this free-to-use app that has no hidden fees and no receipts to upload!
9. Freelancer or Independent Contractor? This is the Bank for You
1099-MISC. 1099-NEC. Business expenses. Deductions. Tax time is never fun for freelancers and independent contractors. Plus it's confusing on separating personal and business spend.
That's why Lili, (awarded best bank account for freelancers from Fundera!), helps you focus on your business or side gig by offering mobile banking designed for freelancers.
There are no account fees, no overdraft fees, no minimum balance, no foreign transaction fees, and you can get paid up to 2 days earlier via direct deposit. Lili also provides tools like:
Expense reports – They're automatically generated!
Expense management – It's easy (and fun) to categorize by swiping left/right plus no need for separate bank accounts
Tax Bucket – Helps you plan & prepare taxes all year long (instead of at the last minute).
All you need is 3 minutes to sign up, along with your SSN, (this is a bank account after all), and you'll be on your way to a sleek, fee-free black VISA business debit card. Plus, there are over 38,000 free ATMs to withdraw money from.
They've even done the math and by using Lili, you'd save 60 hours and $1,700 per year. And yes, it's free to sign up!
BONUS: Starting in February, any member that sets up direct deposit will automatically be entered to win $1,000 every week until the end of March! (8 chances to win!)