Smart Money Moves That Parents Can Make…Right Now

Disclosure: We're letting you know that this post contains sponsored links which The Smart Wallet receives compensation for, which may impact their order of appearance because talking about money should always be an honest discussion.
Parents have had to be the MVPs during this past year juggling both work, kids, and not strangling each other. Congrats for making it this far!
And now that things are slowly heading back into the new normal, it's time to re-evaluate family finances if you don't do so on a regular basis. It's easy to forget when the day-to-day flies by and all you want do is sleep.
So here are some smart money moves to kickstart your money gears if you haven't oiled them lately!
How to Leave Your Family $1.5 Million Dollars
People are thinking about their future more than ever. If anything should happen to you, will your family be financially protected?
What if you could leave them up to $1.5 million dollars?
The savings route to $1 million would take many years (35+ depending on retirement) plus consistent high monthly savings. However, you can help protect your family's future by applying for an affordable term life insurance policy up to $1.5 million in coverage at affordable rates offered by Bestow.
The application takes as little as 5 minutes to complete with no medical exam needed. (Other life insurance companies can take up to 2.5 months.)
Plus, the payout is tax-free and your beneficiaries can have the ability to spend the money on funeral costs, mortgage payments, education, basically anything!
Each policy has a "free look" period (usually 30 days) which means you can cancel if it's not right for you and get a full refund. See what your rates are in as little as 5 minutes. It's the biggest "I love you" you can give to your loved ones!
*Bestow is currently not available in New York
Switch to Car Insurance as Low as $29/Month to Save Big
When was the last time you thought about car insurance? Most people only think about their insurance if they're involved in an accident but rates change constantly.
Meaning you could be saving a lot of money and you wouldn't have even known. On average, you're probably spending $800+/year more than you need to.
You can easily check how much you can save with QuoteWizard, an auto insurance matching service provided by LendingTree. It's just one form, and they'll search through providers that include known companies like State Farm, Allstate, Farmers Insurance, and more.
Your monthly rate could be as low as $29/month! All you need is to fill out one form that asks the usual questions related to driver, car, and location and you'll be matched with the best-for-you options. It's easy and free to check, so see how you can save!
Set Up a Free Debit Card for Your Teen to Build Smart Money Habits
Since schools aren't universally teaching kids about personal finance, it's up to you to look for other ways.
Copper Banking is a free banking app built specifically for teens, and it gives you and your teen(s) freedom and convenience. You'd be able to track their spending in real-time as well as send money instantly whenever they need it. No more having to pull out cash or letting them borrow your card.
Teens will get a debit card in their own name and will be able to withdraw money for free at over 55,000 ATMs, plus use it for spending anywhere in-store, online, and with Apple or Google Pay! There are no credit checks, overdraft fees, hidden fees, and money is FDIC-insured up to $250,000.
Your teen will also learn about saving, budgeting, goal setting and just making smarter money decisions on their own with the help of Copper's Financial Literacy experts. They'll even earn $3 for every friend they refer. It only takes minutes to set up an account so help your teen build better money habits now!
Get Free Stock Worth Up to $200
Investing may seem expensive and most people put it off until they have "enough" money for it.
But time is the most important factor and Robinhood makes it really easy for new investors to get started with just $1.
This free trading app lets you trade stocks, ETFs and options, along with cryptocurrency all for free. No commission fees! When your application is approved, they'll give free stock worth $2.50 up to $200 for new members, with chances to get a high-value stock in Facebook, Microsoft, etc.
You'll also earn interest on any uninvested cash too. With a near-perfect 4.8 score from 2.3 million people, it's a popular app that you should check out if you're interested in investing.
This Side Gig, Cash Rewards & Financial Health App is Amazing
Side gigs and work-from-home opportunities are here to stay, and one of the easiest ways to find these jobs is via the free Steady app. Their community of over 2.7 million people agrees that it's one of the best free ways to find flexible jobs to earn extra money!
Once you link your bank account, the app's Income Tracker feature will give you personal insights into the extra income you're making. Emergency Cash Grants up to $1,000 are also available but only after you link accounts. The process is entirely secure and uses Plaid, the same technology used by other popular applications like Venmo, PayPal, and Cash App.
And not only can you find thousands of new part-time opportunities every day, but you can also earn cash rewards through their Income Boosters perk. Basically, they pay you to try out useful brands to help manage your money even more.
"I've made more money from my part-time gigs through Steady last month than my actual salary and I enjoy these jobs much more than my regular work!" – one of many positive reviews.
On average, Steady Members earn over $5,500 in extra income per year. It only takes a few minutes to sign up for free and answer some work history questions and what type of job you're looking to see opportunities immediately!
Safely Build Your Credit and Save at the Same Time
It's a catch-22 when you need credit to build credit. A good credit score can help you get easier approval for renting, lower interest rates on credit cards and loans, better car insurance rates, and more. Even a better cell phone contract!
If you don't have a credit score or can use help building your credit, there's a safe way. You can use SeedFi, the credit building plan that also helps you save money.
Here's how it works:
Get a $500 Credit Builder Plan from SeedFi (all plans are special loans where the loan funds get locked in a savings account)
You make payments from each paycheck, which SeedFi then reports to the 3 credit bureaus (on-time payments help build your credit).
Once the loan is paid in full, your savings account is unlocked for your use!
Through this method, you'll be able to build credit and save at the same time. In fact, SeedFi customers getting started on their credit building journey saw an average increase of 45 points after 6 months of on-time payments!1
The best part is that it only costs $1 a month,2 but it's free after you refer a friend! Then you get a $10 bonus for every new referral after that. So if you need a bit of help to build your credit, definitely look into SeedFi.
Scan the Stuff You Buy & Get Free Rewards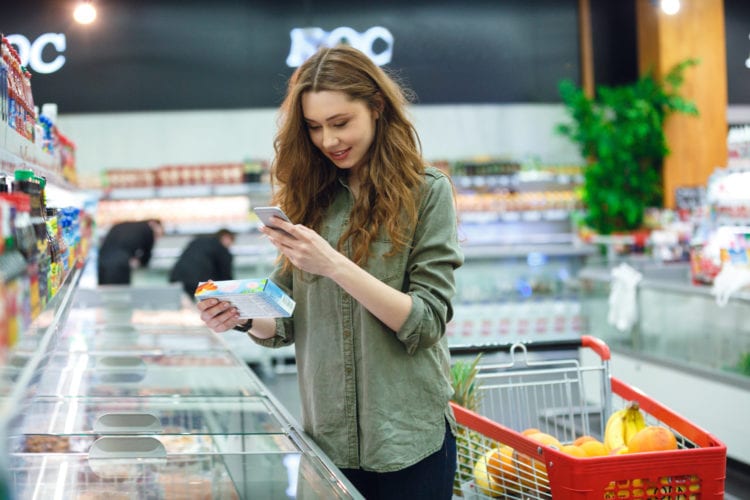 The exclusive National Consumer Panel (NCP) program is opening up again for more participants! This is your opportunity to make your consumer voice heard! (And get paid for it)
When you become a panelist, just use the app to scan the barcodes of items you purchase, provide a few additional transaction details, and you'll earn points for:
Gift Cards
Tablets
Electronic Equipment
Flat Screen TVs
and much more from their gift catalog!
Plus, all panelists are automatically entered into weekly, monthly, quarterly, and annual drawings to win extra points and gift cards – even a quarterly sweepstakes to win $5,000!
The more you share your shopping habits (scan barcodes), the more rewards you can get. You can also answer surveys and share information about your overall shopping trip.
"Scanning my purchases is fun! I also enjoy taking the surveys. Earning points is fast and easy and they have a great selection of rewards." – Jennifer B.
It's a fun way to earn more rewards on items you've already purchased and at no extra cost to you.
Register now to see if you're eligible to be a National Consumer Panelist. Eligibility will be based on your location. If you don't get accepted this time, don't worry! They're always expanding locations, so check back again.
Check Your Credit Score For Free
It's smart to keep an eye on your credit score to make sure it doesn't decrease due to unknown errors. Did you know that a low credit score could affect your ability to get a low mortgage rate or even get a car? Those 3 numbers are extremely important!
Credit Sesame is a free credit monitoring service that helps you improve and maintain your score. No credit card is needed!
You'll get an easy-to-read view of your total debt plus everything that's contributing to your current score like credit usage, credit age, inquiries, and payment history. It also comes with personal recommendations to help increase your score.
Credit Sesame alerted me immediately when my score decreased because of a credit card and I was able to fix it right away. It's free to use so this is definitely a must-have in everyone's life.
You're Probably Wasting $720 Without Even Knowing It - Here's How to Check
We know you've had a lot on your mind. Everyone is going through mental Olympics to stay sane during this on-going pandemic.
But if you realized you could be wasting $720 and didn't know, you'd race to figure out how to stop it. And you can do it easily with Truebill, a free money management app that shows you exactly where you're wasting money, all your subscriptions, your bills, and teaches you how to budget even if you've never tried.
Also, the average American thinks they pay about $80/month on various subscriptions but it's actually over $200/month. Let Truebill root out all the subs you forgot about and cancel the ones you don't want anymore. You don't have to make any phone calls since they do the legwork for you. They'll even find opportunities to lower monthly bills. On average, Truebill members save over $720/year!
5-star reviews include "It's like having a personal accountant tracking my money" and "this app is a lifesaver." They've already helped people save over $14M in unwanted subs, lower bills, and refunds on fees and outages so check to see where you can save too!