How To Get Cash Back on Gas and More with the Upside App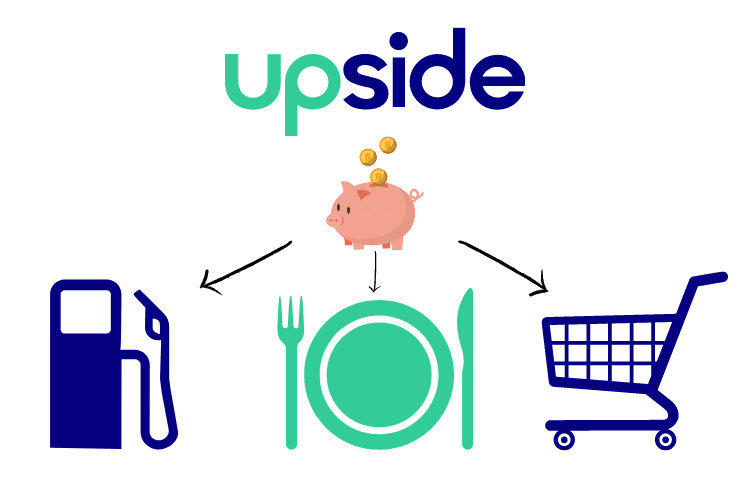 Disclosure: We're letting you know that this post contains sponsored links which The Smart Wallet receives compensation for, which may impact their order of appearance. This site doesn't include all available offers.

Are you worried about how much money you're saving? Are you looking for a quick, easy, and stress-free way to save a few extra dollars every week?
At a time when our economy is still very uncertain, we need all the help we can get to manage our finances. Well, look no further!
Upside is an up-and-coming app that gives you cash back on your purchases at select gas stations, fast food chains, restaurants, grocery, and convenience stores. Upside offers one of the best cash-back programs available on the market today.
Since its inception in 2016, Upside continues expanding and diversifying its many partnerships, offering consumers more cashback options within their locations.
Setting Up Your Upside Account
Today, app users may gain cash back from over 50,000 locations nationwide. Once you download the Upside app, you can create an account using your email, Apple ID, Google, or Facebook login information. You can also grant the app access to your location to identify the latest and most relevant deals near you.
Upside will show you a selection of participating businesses and deals near you. The user-friendly interface allows you to spot places on a map or through a list on the app:
The Upside app makes it easy to access and claim discounts and offers nationwide. Be sure to keep track of your claimed offers and complete purchases promptly to get the cash back!
How To Get Gas Cash Back Offers on Upside
Upside's most significant selling point is inarguably its discounts and offers on gas. With the escalating and unpredictable rise in gas prices, Upside offers its users multiple options to get cash back. I'm sure every driver (myself included) is happy to take advantage of all the help they can get!
Their search tool allows you to compare local gas prices based on location. Simply enter your zip code into the app, and Upside will show your local gas station's fuel price as well as your price per gallon after the cash back savings. Once you find a preferred location, the app will automatically guide you to the next steps. You might be shocked at how saving between $0.05-$0.10 per gallon for every fill-up can make a huge difference!
Upside also rewards users for using some of its partner stations, such as Circle K, BP, Exxon, Chevron, Marathon, Mobil, Shell, Valero, Sunoco, Phillips 66, and RaceTrac.
Here are a few additional points to note about cash back on Upside:
You can get up to 25¢ per gallon, up to 30% back on groceries, and up to 45% back at restaurants.

You can earn an extra $148 a year (on average)!

New members can use a welcome code: TSW25 to get an additional 25¢ a gallon on their first gas purchase!
How Do You Get Paid on Upside?
Upside distributes cash back through Receipt Offers and Check-In Offers. You can benefit from Upside's offers if gas stations have high coverage in your locality. You can view your claimed offers under the section in your drop-down menu. To complete the deal, be sure to make your purchase within the given time frame (check out the screenshots below to see an example!)
Usually, you can tap and claim receipt offers on the app. You have about 1-2 hours to fill up (depending on the particular location) and around 24 hours to upload your receipt to the app, showing the location, date, and time.
For Check-In offers, you can link a debit or credit card to your account. When you "Check In" (usually indicated with a blue shield icon on the app), Upside compares your offers with your current location. Once you confirm, you can fill up, pay directly with your card, and "upload" your receipt.
When you upload your receipt, you'll get a notification from the app confirming your payment information, date and time, number of gallons purchased, and the total amount paid.
If you would like to cash out, ensure you click the icon. The app will allow you to use your bank account, PayPal, or a gift card. Yet, some payment methods will require a minimum amount for withdrawal. There's a $1 fee for bank cashouts less than $10, a $1 fee for PayPal cashouts less than $15, but no fee for gift card cashouts. Although, certain retailers may have a minimum required amount to cash out for each gift card.
How To Refer Friends and Get Extra Cash on Upside
Upside offers its users an excellent two-tier referral program, benefitting both the user and the referral.
There's a gift icon on the right side of the map, under the "Free Gas referral" section, where you can gain additional rewards every time you refer a friend to use the app. You can give your friends an invite code, spread the word, and get them to benefit from these deals and discounts.
You stand to gain from both First-Purchase bonuses as well as Per-Gallon earnings. If your referral claims an offer and spends more than $10 on gas, you both stand to receive referral bonuses. This offer can usually range between $0.10-$0.20 per gallon but can also go as high as $0.35 to $0.45 per gallon, depending on usage. You can also easily earn extra cash back for every gallon your referrals purchase. Note that some offers might state minimum and maximum spending amounts for cash back eligibility.
Take Advantage of Other Upside Cash Back Offers
Fast Food Restaurants and Chains
While Upside specializes in gas cash back offers and discounts, users can also gain cash back from chains such as Burger King, Dunkin', Papa John's, Qdoba, Wendy's, and Popeyes. Even though restaurant offers are more specific to location, Upside does offer some discounts with local restaurants and eateries, usually within the range of 5% to 10% on a meal.
Grocery Purchases
The Upside app is still continuing to develop its grocery deals. While some of these stores are lesser known, they are known to be region specific. Some common grocery chains include Cardenas Markets (in California, Arizona, and Nevada), Charlie C's, IGA, Gelson's Markets, Piggly Wiggly, Vincente Foods, Woodman's Market, and Lund & Byerlys. Upside is working on expanding to different local chains and other grocery locations across the country.
You can claim an offer by shopping in-store and uploading pictures of your receipt within 24 hours of your weekly grocery shop. Like Upside's gas offers, you must also shop with either a debit or credit card for cash back or be eligible for rewards and other promotions.
The Bottom Line
Overall, Upside is an app that offers choice and accessibility to its users. It's a legitimate way to earn cash back today, provided you shop with either a debit or credit card.
They're constantly upgrading and revamping the platform, offering consumers more options, deals, and selections, especially at different restaurants, fast food chains, and grocery outlets across the country. The platform also boasts a higher number of offers for gas than other popular platforms, such as GasBuddy.
So, what are you waiting for? Download the Upside app now!
Read More: How To Earn Free Money With Google Opinion Rewards